EMMY award winning animation artist Nassos Vakalis unveils his new CG-animation short film DINNER FOR FEW, an allegorical depiction of society in its struggle to survive and evolve.
[youtube id="n3dD_6j21a8″ width="600″ height="350″]
Inspired by the economic recession that shook Southern Europe, DINNER FOR FEW depicts a sociopolitical allegory of modern society. During dinner, 'the system' works like a well-oiled machine; feeding only the select few who sit at the table, while the majority survive on the scraps tossed aside. The more the elite consume, the more they diminish everyone's resources. Inevitably, when the supply is depleted, the battle for what remains leads to catastrophic change. Sadly, the offspring of this profound transition turns out not to be a sign of hope, but the spitting image of the parents.
Vakalis wrote, directed and animated the 10-minute film which was produced in the U.S. and his native Greece. He also brought in German-based Eva Vomhoff for technical and artistic collaboration, producer Katerina Stergiopoulou and composer Kostas Christides to create the original score which is performed by the Bratislava Symphonic Orchestra.
Vakalis purposefully employed a non-traditional CG look, using flat graphic colors with dark outlines and hard shadows. He believes this stylistic approach is more relevant to the theme of the story and is reminiscent to the hand drawn two-dimensional animation style in comparison to the photo-realistic renderings audiences are used to seeing in many contemporary CG animations. The film's finale includes a bloodshed sequence animated in a cut out graphic approach using only red and black silhouettes.
Vakalis is excited to bring this passion project to audiences, explaining "I wanted to express my concern about social injustice and imbalance in the world through a colorful metaphor, reminiscent of 'Animal Farm', allowing audiences to come to their own conclusions."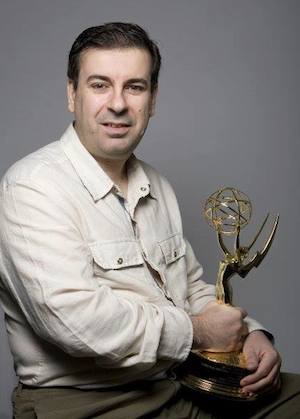 Born and raised in Athens, Greece, Vakalis studied animation at the famed California Institute of the Arts. He has worked as an animator, animation supervisor and storyboard artist for DreamWorks Animation, Warner Bros, Paramount, Sullivan-Bluth and Universal/Illumination. Vakalis was the main pre-production and storyboard artist for the popular ESPN channel series "Off Mikes" for which he received an EMMY award.
He was also nominated for an Annie award, animation's highest honor in America, for his work on DreamWorks Animation's film "Bee Movie," voiced and produced by comedian Jerry Seinfeld. His continued long-term working relationship with DreamWorks Animation also includes the films: "Over the Hedge," "Flushed Away," "Kung Fu Panda," "Monsters vs. Aliens," "Puss in Boots," "Turbo" and numerous others.
In addition, Vakalis wrote and directed 130 episodes of the animated web series "Crime Time," which has reached over 25 million views worldwide. He is also the co-founder/co-owner of the Greece-based company Time-Lapse Pictures, through which he has produced numerous projects including two animated television specials.
Read more about Dinner For Few here.