The producers of the award-winning documentary "Palikari: Louis Tikas and the Ludlow Massacre" are preparing for a second screening tour of the United States and Canada, bringing the film that won the Chalkis Documentary Festival and was an official selection at the Thessaloniki International Film Festival to a theater near you.
Current plans include several university screenings in Boston, New York, Baltimore, Chicago and elsewhere. A detailed schedule will follow in The Pappas Post once dates are confirmed.
The documentary features footage, photos and top historians telling the amazing— yet largely unknown story of Louis Tikas, an immigrant from Crete and naturalized American citizen and his efforts to organize striking coal miners in Colorado in the early 1900s. It is estimated that there were tens of thousands of Greek immigrants working in the American Rockies in the first decade of the 20th century.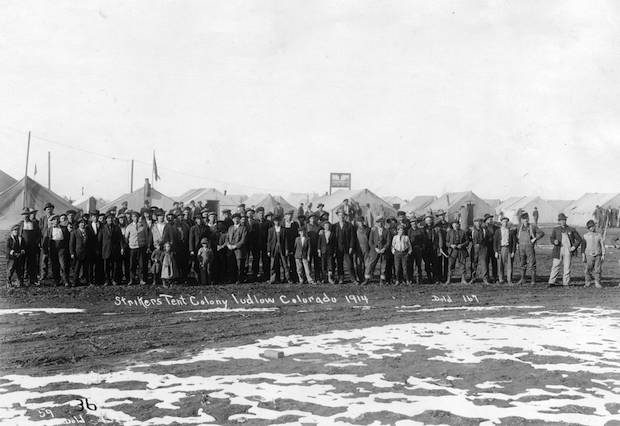 The documentary covers one of the most important events in US history, a strike by more than 1,200 workers in Ludlow, against a Rockefeller-owned company. They were striking for better conditions and more humane treatment. The strike, which was in its 8th month, culminated in a massacre that killed dozens of people, led by the US National Guard.
Although a tragic ending, the Ludlow Massacre and the murder of Louis Tikas by a United States lieutenant led to a Congressional commission, ordered by President Woodrow Wilson, and ultimately changed US labor laws.
Prominent American historian, the late Howard Zinn called Ludlow "the culminating act of perhaps the most violent struggle between corporate power and laboring men in American history."
Director Nikos Ventouras and producer Lamprini Thoma— both journalists from Greece, stumbled upon the story while doing research in Colorado for another project. Seven years later "Palikari" was released to international critical acclaim. Both Ventouras and Thoma will accompany the screening tour, scheduled for March of 2015, to share further insight and offer post-screening remarks about the life of Tikas and other stories surrounding the important events.
Produced by Non Organic Productions and Iota Film Productions, the tour's goal is to share the story of Tikas with more Americans and to bring this long-forgotten story to the American mainstream.
Gregory Pappas, executive producer of the project noted that "in times when second and third generation Greek Americans look to the distant Greek past for heroes and role models, we can find these rare Greek qualities in one of our own, a Greek immigrant to America who fought and worked to become a naturalized American citizen, and paid the ultimate price for his service to the ideals of the nation he adopted."
If your organization, university club or community would like to bring a screening of "Palikari: Louis Tikas and the Ludlow Massacre" to your town, please visit the following announcement for details or contact Gregory Pappas