Greek Easter and Mom's Lenten Koulourakia Known in Greek as Pascha, or, more traditionally, Lampri, Easter is Christianity's most important holiday. Undoubtedly, whether religious or not, there is no more beautiful time than Easter to visit Greece, especially during the Holy Week.
Celebrations really start two days prior, with Lazarus' Saturday, when children between the ages of 4-12 have their own "resurrection." Decorating their baskets with flowers, they go door to door singing "carols" and letting neighbors know that Easter is coming and it's time to pay. Not for their sins, but, because that's the tradition. Yes, carolers get paid handsomely.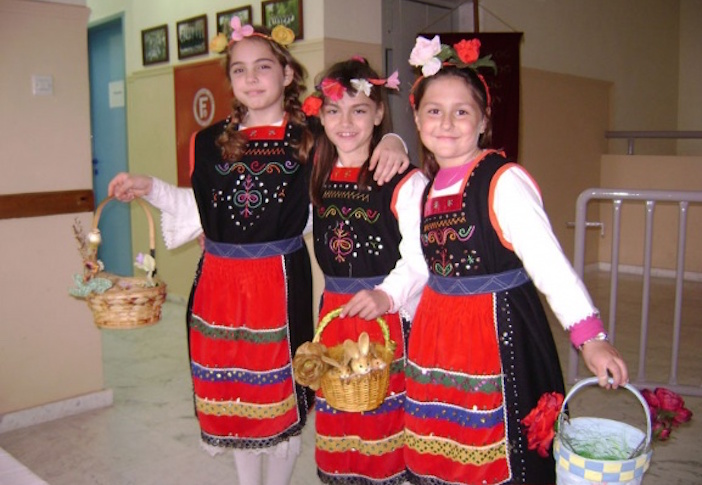 Palm Sunday is the threshold for Holy Week, which, if you are a teacher or a student, you can rejoice and start celebrating for a week-long weekend.
Easter to me:
Easter is nature blooming. It's about the end of winter with Earth throwing off its winter cloak and being resurrected, turning into Spring. It's about The Savior conquering death with life and for us receiving His Resurrection in our hearts. Easter is roses and violets growing in gardens, and with the rebirth of nature we can all be reborn come Easter Sunday.
I cannot describe the crescendo of feelings starting on Good Friday leading to Easter Sunday. Following the tradition of "Epitaphios," Christ's body is being removed from the cross. At each church, women adorn a wooden temple with flowers and candles and later that night parishioners parade it all over the city. Followers hold candles and everyone watches in silence. Try to speak or laugh and you risk getting an angry look from Pater Dimitrios. Processions from every parish gather at the town square where – unofficially – there is always a contest for the prettiest Epitaphios. From then on, because Greeks love their food and their socializing, all observers run and occupy taverns where it's all about seeing and being seen.
Saturday morning, the First Resurrection is being celebrated. At 7 am, clay pots are thrown off windows to "break the evil" of Christ's death, leading to Saturday's midnight Resurrection . Lampades (candles) and fireworks set the tone for believers to sing "Christos Anesti" and go back to their homes and feast after the 40 days of Lent.
Last Easter at home:
The last time I celebrated Easter in Greece was in 2009. Wanting to make amends and have the most traditional Easter experience possible, I decided to fast during Holy Week and repent over a rack of lamb on Sunday. My mother almost had a heart attack. As I had been waiting for Easter vacation, she had been waiting to feed me like a lamb for slaughter, and had prepared meals and ordered delicacies like Cephalonian feta. But nope – no meat or dairy for me!
Inventive as always, she had to think of a Lent-appropriate tasty snack for me to devour daily and not to miss out on any calories. So she revamped her traditional "koulourakia" (Greek Easter cookies) recipe into a Lenten appropriate one. And she did not wait for Good Thursday – the day where cookies are traditionally made and are supposed to be eaten after Anastasi – but made them first thing on Good Monday morning. The orange smelled so good it woke me up! Hot out of the oven, she shoved a couple down my throat, and said, "You love them koukla mou? Have some more!"
Even though they are butter and egg-free, they truly are delicious and smell divine! You can have them with or sans coffee, and are enjoyed equally by both kids and adults.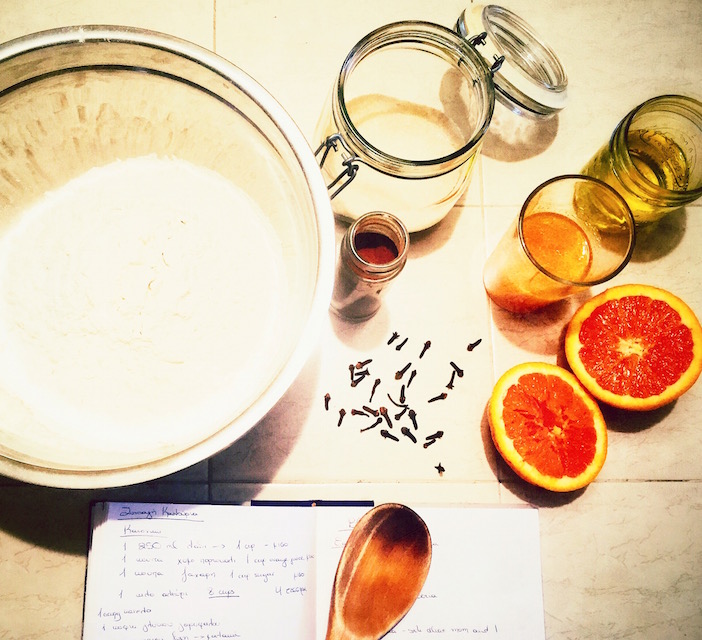 Mom's Orange Lent-Appropriate Koulourakia
(makes about 60)
Prep time 1 hr.
Ingredients:
6 cups all-purpose flour
1 tablespoon baking powder
1 cup sugar
1 cup olive oil
1 cup orange juice
1 teaspoon orange zest
1 teaspoon baking soda
1 teaspoon cinnamon
1 teaspoon cloves
In a bowl, mix all dry ingredients: flour, baking powder, sugar and spices.
In a separate bowl, mix olive oil, orange juice, and baking soda.
Mix together well, until forming a ball that does not stick to the mixing bowl.
Let rest for 30'. Separate in smaller balls the size of a clementine.
You can shape into braids or a more traditional shape like the own shown in pictures.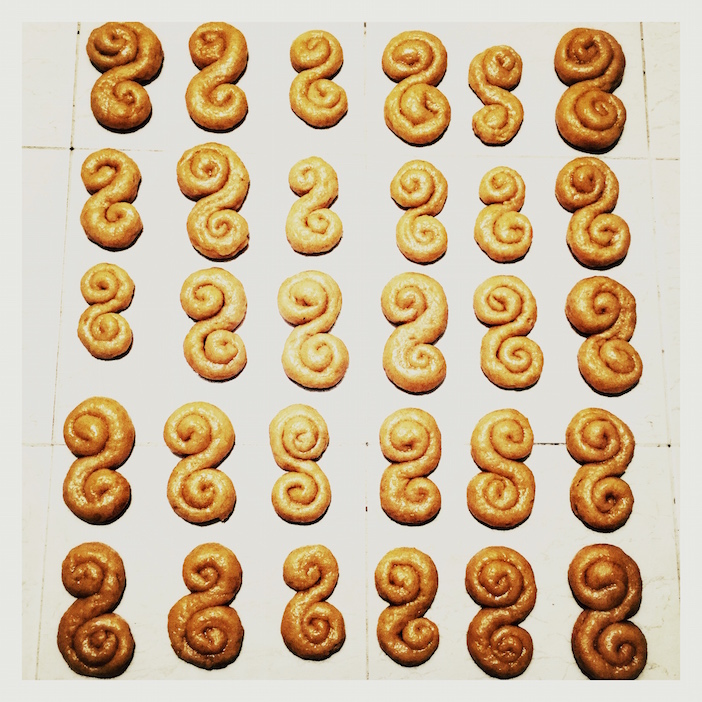 Preheat oven to 350 degrees, and bake on parchment paper for about 30', or until golden brown.
If you store them in an airtight container, they will last up to three weeks, although they are usually gone within a week! Kali Anastasi!