When tragedy struck Marianthi Koritsaris in the form of a breast cancer diagnosis, her family and notably— her community— rallied and responded. Never one to take things sitting down, Marianthi and those around her mobilized— and punched back. After all, she has grandchildren to help raise– and a school to run.
Marianthi is one of the people at the very core of the heart and soul of Plato Academy, a historic Chicago Greek school that has been in operation since 1952 and has been the seeding ground for some of the Greek community's most successful business and community leaders over the years.
Her diagnosis over 6 years ago devastated her family and the Plato Academy community, as her daughter Filisa wrote in The Huffington Post.
But that devastation quickly turned to action as the school and its supporters mobilized to form a support group and instill in students the need to raise awareness and research funds for a disease that has impacted so many people.
This year, Greek Americans Against Breast Cancer will host its third event— a casino night to benefit Northwestern University's Robert H. Lurie Comprehensive Cancer Center.
A small portion of the funds raised will go to Plato Academy's continuing education training for its students on matters of social justice and community service projects. The importance of community service is a big part of the school's curriculum.
The group's first event in 2013 featured Sen. Olympia Snowe, whose mother died of breast cancer when she was 8 years old. The second event featured Dr. Sandy Goldberg, founder of A Silver Lining. Over $40,000 has been raised at past events.
This year, the theme is 50 Shades of Pink and will recognize 50 Greek American women that have been affected by breast cancer.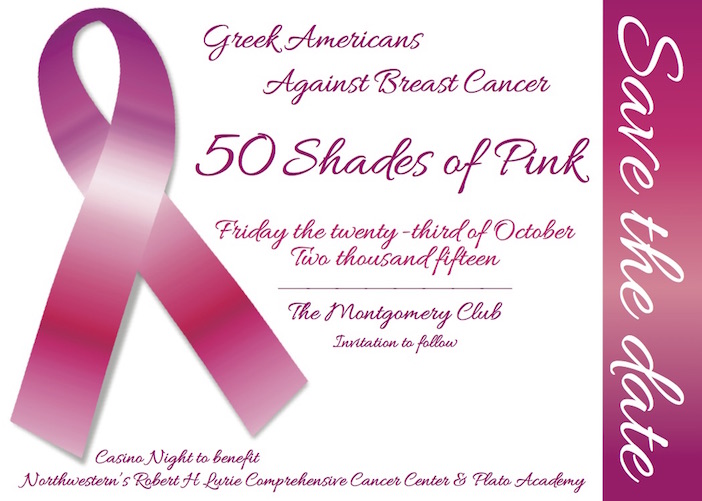 Are you a breast cancer survivor and have a story to tell? Would you like to donate and/or support the event by attending? Please contact Filisa Koritsaris Mantas.