In a recent report, the international medical organization Doctors Without Borders (Médecins Sans Frontières) condemned EU policy for causing "unacceptable" living conditions for migrants trapped on Greek islands.
The organization's report, released last Thursday, states that the conditions further exemplify EU failures to establish effective policy regarding migration.
Its release also came one day after Greek police fired tear gas at hundreds of children who protested in a packed migrant camp in Lesvos.
"Some 24,000 men, women and children seeking protection in Europe are trapped on the Greek islands in horrendous conditions while being deliberately neglected by Greek and European authorities," Doctors Without Borders said in an official statement.
In the Vathi camp (pictured at the top of this article) on the island of Samos, Doctors Without Borders called the situation "unsustainable. There, 5,000 people live in a camp camp designed for 650 and the majority live outside of the camp in an area known as "the jungle."
The organization added that health resources for migrants are inadequate, creating dire circumstances in and around the camps.  Its pediatric mental health teams working on Lesvos said that child referrals doubled in July compared to previous months.
In July and August, 73 children were referred to the teams: three had attempted to kill themselves and 17 were self-harming. Ten of the 73 children were under the age of six, with the youngest just two years old.
Doctor's Without Borders' pediatric clinic currently accommodates 100 children with complex or chronic medical conditions. The organization's staff say all of the children need to be relocated to better facilities to receive adequate treatment. 
"More and more of these children stop playing, have nightmares, are afraid to go out of their tents and start to withdraw from life," Lesvos Mental Health Activity Manager Katrin Brubakk said.
She added that: "Some of them completely stop talking. With the increasing overcrowding, violence and lack of safety in the camp, the situation for children is deteriorating day by day. To prevent permanent damage, these children need to be removed from Moria camp immediately."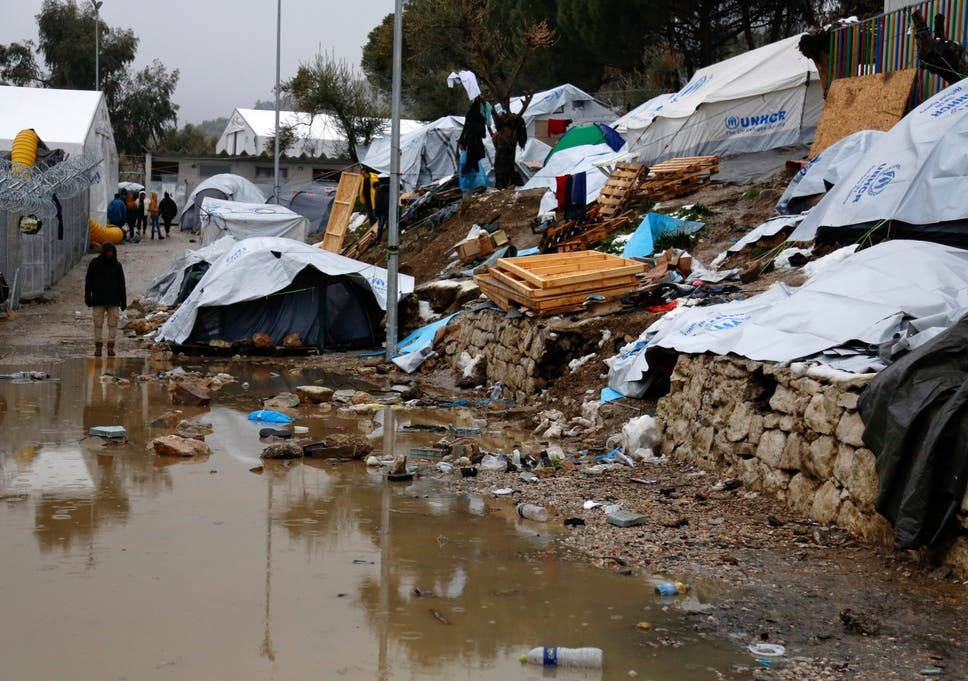 Doctors Without Borders has called on the Greek government and the EU and its member states to take appropriate actions to address the migrant crisis. The organization said they must coordinate the evacuation of children and other highly vulnerable people from the islands, as well as increase the number of medical staff in Greek reception centers.
Doctors Without Borders specifically criticized the EU's "containment policy," claiming that it strips migrants of their dignity, violates their fundamental rights and perpetuates unnecessary suffering. 
"This is not a new emergency: the severe overcrowding in the reception centers is a policy-driven crisis harming thousands of men, women and children every day, for years," Head of Mission in Greece Tommaso Santo said. "We have seen it in the past and we continue to see it today."
He added that: "More than three years after locking up asylum seekers in desperate conditions on the Greek islands, should we conclude that the Greek and EU authorities are hoping to rely on this shameful reception failure as a way to deter new migrants' arrivals to the EU? The recent spike in arrivals indicates that this temporary solution is not sustainable and keeps on harming people."
The Greek government recently transferred approximately 1,500 "vulnerable" migrants from Lesvos to the mainland. But Doctors Without Borders says that moving them to tents on the Greek mainland is not a "safe or effective response" to the island crisis.
The organization also condemned the fact that at least 2,500 people who have been officially recognized as "vulnerable" remain on Lesvos — despite being entitled to move elsewhere to receive specialist care.
---
Is The Pappas Post worth $5 a month for all of the content you read? On any given month, we publish dozens of articles that educate, inform, entertain, inspire and enrich thousands who read The Pappas Post. I'm asking those who frequent the site to chip in and help keep the quality of our content high — and free. Click here and start your monthly or annual support today. If you choose to pay (a) $5/month or more or (b) $50/year or more then you will be able to browse our site completely ad-free!

Click here if you would like to subscribe to The Pappas Post Weekly News Update