Just what Astoria needs… Another Greek restaurant, right?
But when you've experienced a kebab from Stix– you'll understand why this Greek and Mediterranean is actually a cut above your basic souvlaki.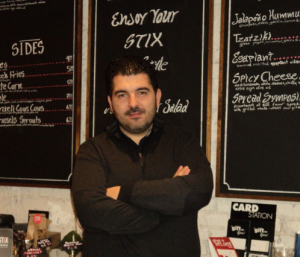 Stathis Antonakopoulos is bringing STIX Mediterranean Grill, his popular Manhattan eatery concept, "home" to Astoria. Home, not only because Astoria is the epicenter of all things Greek in America, but home– because it's where Antonakopoulos moved and where he lived, when he emigrated from Greece a decade ago.
The second STIX will open at 40-17 30th Avenue by mid September
Antonakopoulos came to the United States in 1999 to study business. During his college days he worked as a waiter at the iconic Uncle George's, which was located at 33-19 Broadway, while attending Baruch College.
STIX Astoria's menu will serve the same, popular kebabs that are all the rage in Manhattan on East 23rd Street, just steps from the iconic Flatiron Building. In addition to the traditional pork kebab, marinated and slow cooked to an almost "melt in your mouth" experience, other varieties include steak, chicken, tuna and lamb.
Add unique and delicious salads and sides, and you've got a unique dining experience at STIX, beyond the baklava and moussaka that so many other places in Astoria offer.
But the sky is the limit for STIX and Stathis. He plans on opening two other STIX locations in coming months—one at 127 West 28th Street at the Hotel Indigo and the other at 36 Water Street. Plans are also underway to franchise the business.