Our flight tracking system has alerted us to numerous seat sales on Swiss, Air Canada and Scandinavian Airways (SAS) on flights from various North American gateway cities to Athens.
We have set a random two-week period in June 2018.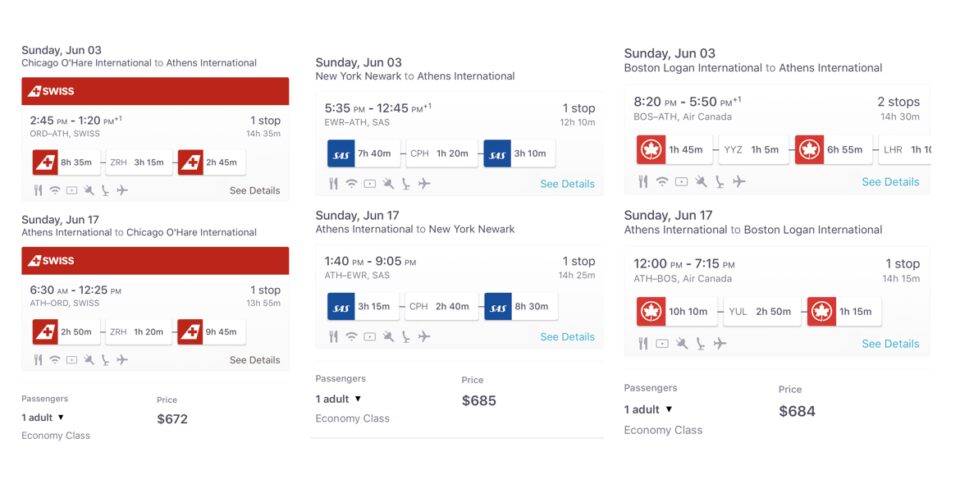 Round trip flights from Chicago to Athens on Swiss have come in at $672.
Round trip flights from Newark to Athens on Scandinavian Airways have come in at $685.
Round trip flights from Boston to Athens on Air Canada have come in at $684.
Set your own alerts on your mobile phone
The best way to get the cheapest flights to Athens? Why, use technology, of course. And on the market today, nothing beats the Skyscanner app. Skyscanner works for you 24/7 to scan hundreds of airline sites and find what you're looking for based on date and trip duration criteria you select.
After you install the app on your Apple or Android phone, you set an alert for your desired departure city, followed by your arrival city. You select your dates and set the alert.
Periodically you'll get updates on your phone when low fares are available.
We've downloaded the app and have set alerts— prices for Fall travel to the Greek capital recently popped up at $349 round trip. Of course, airfares can change on a moment's notice sometimes as airlines use algorithms and crazy computer metrics to lower and raise fares daily.
Check your desired departure dates below and remember to book if you find what you're looking for.