Cold temperatures in your area? Maybe you're feeling a bit under the weather? No matter what the case may be, comfort foods are always a safe go-to option.
These are our four favorite Greek comfort foods for you to try at your leisure.
1. Diane Kochilas' Ikarian Longevity Stew With Black Eyed Peas
This hearty vegetarian stew from the island of Ikaria has been praised by the Blue Zones' author and specialist Dan Buettner and is full of all of the anti-aging ingredients eaten by locals on the island who are known to live beyond a century. Legumes, like the black-eyed peas in this recipe, are a great source of fiber and plant-based protein. Diane's stew is known as a Blue Zones superfood. This recipe is from Kochilas' award-winning cookbook 'Ikaria'.
Ingredients
½ cup extra-virgin olive oil, divided
1 large red onion, finely chopped
4 garlic cloves, finely chopped
1 fennel bulb, cored and chopped
15 oz can black-eyed peas, rinsed and drained
1 tomato, finely chopped
2 tsp tomato paste, diluted in ¼ cup water
2 bay leaves
Salt to taste
1 bunch dill, finely chopped
Instructions
Heat ¼ cup oil over medium heat. Add onion, garlic and fennel; cook, stirring occasionally, until soft, about 12 minutes. Add peas, and toss to coat in oil.
Add tomato, tomato paste and enough water to cover the beans by about 1 inch. Add bay leaves. Bring to a boil, reduce heat and simmer 40 minutes.
Add dill and season with salt. Remove from heat, and stir in remaining ¼ cup olive oil.
2. Youvarlakia (Meatball soup in Avgolemono)
This could be, perhaps, the mother of all Greek comfort foods. Of course, you have to deal with your fear of making the perfect avgolemono sauce and not turning your pot into a steaming scrambled egg mess. The recipe comes from My Greek Dish, a popular Greek food blog. This recipe uses dill, although other regions of Greece use parsley instead and some recipes call for both dill and parsley.
Ingredients
For the meatballs:
500g lean minced beef (18 ounces)
¼ of a cup long-grain rice (not boiled)
½ cup parsley, finely chopped
1 medium sized onion, finely chopped
1 egg
2 tbsps olive oil
½ carrot, grated (optional)
3 tbsps fresh dill, finely chopped (optional)
1 tsp salt
a pinch of coriander
freshly ground pepper
For the egg lemon sauce:
2 eggs
juice of 2 lemons
1 tbsp flour
Instructions
To prepare this Greek meatball soup, start by making the meatballs (youvarlakia). Place all the meatball ingredients into a large bowl, knead the mixture squeezing the ingredients with your hand until smooth. Leave the mixture to rest in the fridge for 15 minutes. (This will prevent the youvarlakia to break up when boiled.) Form the meatballs (youvarlakia) and set them aside.
Pour into a large pan 2 ½ cups of water and bring to the boil. Turn the heat down and gently add the meatballs (youvarlakia) in the water, put the lid back on and cook for 20-25 minutes. (The water should be enough to cover the meatballs, so add some more warm water if needed)
To prepare the egg lemon sauce for the Greek meatball soup, crack the eggs into a bowl and whisk. Add the lemon juice and the flour and whisk well. Add into the bowl a ladle of hot soup and whisk quickly. Add one more ladle and whisk again until combined.
Stir in the egg lemon sauce into the youvarlakia soup and cook for 2-3 minutes over medium heat, until warm but not boiling.
Serve this extra warming Greek meatball soup, while still hot with a sprinkle of chopped parsley.
Make sure that you do not cover any left overs until they have cooled; the sauce may curdle otherwise!
---

Click to shop the Olive Grove Market
---
3. Chef Michael Psilakis' Greek Mac & Cheese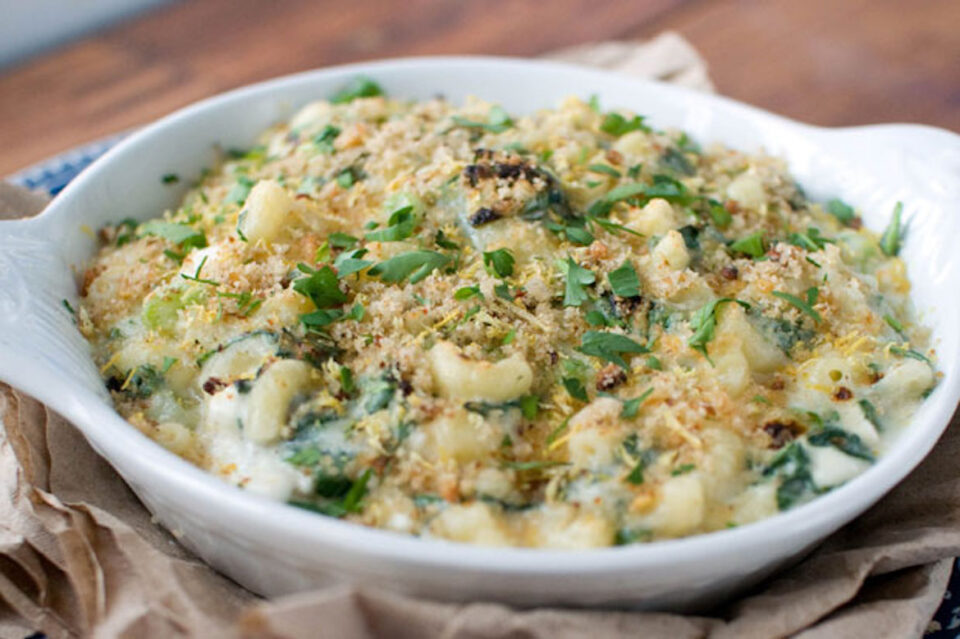 Studded with spinach, topped with feta cheese and infused with a hint of cinnamon and Greek cheeses, this savory casserole is based on a recipe from New York City chef, author and restaurateur Michael Psilakis. His oversized coffee table cookbook 'How to Roast a Lamb' was an international best seller.
Ingredients
3 slices crustless white bread, torn into small pieces
9 tbsp. unsalted butter, melted
Kosher salt, to taste
8 oz. hollow pasta, preferably elbow macaroni
1/4 cup flour
3 cups milk
4 cups grated graviera or kefalotyri cheese (about 12 oz.)
3/4 tsp. ground cinnamon
1/8 tsp. freshly grated nutmeg
Freshly ground black pepper, to taste
2 tbsp. extra-virgin olive oil
8 large shallots, finely chopped
16 oz. baby spinach, roughly chopped
8 scallions cut into 1/4"-thick rounds
1/3 cup roughly chopped fresh dill
1 3/4 cups crumbled feta (about 8 oz.)
Instructions
Put bread into the bowl of a food processor and pulse until finely ground. Put bread crumbs and 3 tbsp. butter into a small bowl and combine; set aside. Bring a 6-qt. pot of salted water to a boil. Add pasta and cook until cooked halfway through, about 3 minutes. Drain pasta, rinse with cold water, and set aside.
Heat remaining butter in a 4-qt. saucepan over medium heat. Add flour and cook, whisking constantly, for 1 minute. Still whisking constantly, slowly drizzle in milk and cook until sauce has thickened and coats the back of a spoon, 10–15 minutes. Remove pan from heat. Stir in graviera, cinnamon, and nutmeg and season with salt and pepper; set béchamel sauce aside.
Heat oven to 350°. Heat oil in a 5-qt. pot over medium heat. Add shallots and cook, stirring often, until soft, 3–4 minutes. Add spinach and scallions and cook, covered, stirring occasionally, until wilted, about 3 minutes. Stir in the reserved béchamel sauce, the dill, and the reserved pasta and transfer mixture to a 9″ x 13″ baking dish. Sprinkle evenly with reserved bread crumbs and the feta. Bake until golden brown and bubbly, about 30 minutes. Let cool for 10 minutes before serving.
4. Chef Maria Loi's Mediterranean Chicken Stew
From her village in Greece's central region to the kitchen of her world-famous Loi Estiatorio in Manhattan, chef Maria Loi has brought recipes taught to her by her mother and grandmother to thousands. Her best-selling book The Greek Diet, published by HarperCollins and based on a new, scientific approach to eating a well-balanced Greek diet, includes great recipes such as this hearty chicken stew.
Ingredients
1 Tbsp tomato paste
4 c chicken stock, vegetable stock, or water
1 whole chicken (3 lb), cut into 8 pieces
3 med eggplants, diced into 1-inch cubes
2 green bell peppers, roughly chopped
2 red bell peppers, roughly chopped
2 garlic cloves, minced
4 med tomatoes, diced
1 bunch fresh flat-leaf parsley, stemmed and chopped
½ c olive oil
Salt and freshly ground black pepper
Greek yogurt, for serving
Instructions
Preheat the oven to 375˚F.
Dissolve the tomato paste in the chicken stock in a medium bowl.
Combine the chicken, eggplant, bell peppers, garlic, tomatoes, parsley, olive oil, and salt and pepper to taste on a large baking pan.
Pour the tomato paste mixture over the baking pan. Cover and bake for 30 minutes. Uncover and bake until the chicken is thoroughly cooked and golden, another 30 minutes.
Serve with Greek yogurt.
---
Is The Pappas Post worth $5 a month for all of the content you read? On any given month, we publish dozens of articles that educate, inform, entertain, inspire and enrich thousands who read The Pappas Post. I'm asking those who frequent the site to chip in and help keep the quality of our content high — and free. Click here and start your monthly or annual support today. If you choose to pay (a) $5/month or more or (b) $50/year or more then you will be able to browse our site completely ad-free!

Click here if you would like to subscribe to The Pappas Post Weekly News Update