Michael Ivanovitch is president of MSI Global, a New York-based economic research company. He also served as a senior economist at the OECD in Paris, international economist at the Federal Reserve Bank of New York and taught economics at Columbia. His opinion piece about the growing German-French divide is here:
Staring at a disaster of Europe's economic and political implosion, Washington stepped up its pressure last week on Germany and Greece to come to an agreement. Siding with the U.S., France helped that effort by delegating its financial experts and Brussels insiders to help Greece prepare and present an offer creditors could not refuse.
And that's what happened. Last Saturday, the creditors' troika (apparently in the loop during the preparations of the Greek proposal) – the IMF (where the U.S. holds sway), the ECB and the E.U. Commission – found the Greek proposal acceptable.
That infuriated Germany's Finance Minister Wolfgang Schaeuble who, through his governing party network, controls the political fortunes of Chancellor Merkel. Running short of further draconian conditions with some economic rationale to impose on Greece, he argued that he had no confidence that Athens would implement the commitments it is ready to make.
The lack of confidence argument then served to impose on Greece new conditions, including flagrantly humiliating "collateral" in the form of a special agency, based in Luxembourg, to manage Greek assets. Suspecting that this would be unacceptable to Greece, Germany then presented an alternative proposal: Greece's "temporary" (five years) exit from the monetary union.
According to witness reports, Germany's obvious attempts to dictate its conditions led to an acrimonious and violent debate within the Eurogroup, forcing even an ever-tactful and placid Mario Draghi, the ECB's president, to give his piece of mind to the German finance minister.
The same atmosphere prevailed in the euro area summit that followed on Sunday evening: after seven hours of an ill-tempered exchange, the jamboree was broken up because France and Germany could not agree on the way forward.
After 20 hours of talks, on Monday the euro zone leaders came to what European Council president Donald Tusk said was a unanimous agreement, that entailed serious serious reforms by Greece in return for financial support.
The question is: What does the nature of the marathon negotiations mean about the future of the monetary union and about the entire European Union as it stands at the moment?
The answer is simple: Europe has to accept the German dominance (some call it "leadership") in the way both the monetary union and the E.U. are being run.
Such a humiliating submission is clearly unacceptable to France. You just have to see Monday morning headlines – "What does Germany want?" (A quoi joue l'Allemagne) hitting the Parisian newsstands. And then there is the emphatic statement by the French President Francois Hollande that he wanted a solution "now" (i.e., Sunday evening Brussels time), and that pushing Greece out of the euro area was "out of the question."
And here is Germany's response. There will be a solution if Greece accepts the conditions imposed by Germany. Otherwise, Greece has to leave the monetary union.
The terms of the long brewing French-German political confrontation are clear. A temporary reprieve to a flammable full-scale collision is only possible if Greece were to cave in to the German onslaught by accepting conditions that will deepen its ongoing recession, accelerate its rampant job losses and worsen its debilitating poverty.
Whether Greece will accept that will depend on the political assessment of its governing party. The Prime Minister Tsipras knows that regime change in Greece is Germany's main objective. That would be a replay of what Berlin did to the Socialist Prime Minister George Papandreou – he man who told the truth about the fiscal mismanagement of the center-right government he defeated in 2009 – just because he wanted to consult the Greek people in a referendum about the lending conditions imposed by Germany.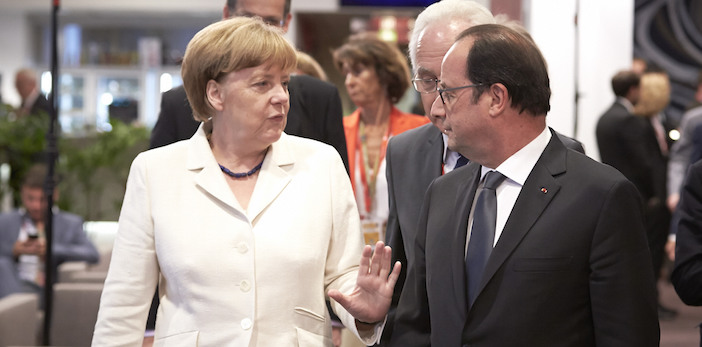 Looking at all the waste, misery and human suffering caused by German intransigence, it is difficult to find any rational answer to that French headline "What does Germany want?" Some German media, such as the weekly newsmagazine Der Spiegel, are asking the same question, pointing out that a "confused" Chancellor Merkel had no clue how to address the biggest political challenge she was facing in her ten years in office. Ominously, they are comparing her to the German Emperor Wilhelm II who led Europe into the First World War, causing the largest slaughter the humanity has ever known.
One may agree with the IMF that Greece – 0.5 percent of the world economy – may be a small parenthesis in the global trade and finance, but Greece is a vitally important part for the credibility of the monetary union and for the security architecture of the Western world. Blowing up the key concept of the irreversibility of the European monetary union is like throwing a bomb at the entire European construction started by the French (Jean Monet and Robert Schuman) in the early 1950s.
France cannot back down without a huge damage to its role in Europe and in global affairs. Caving in to German pressure would be fatal to President Hollande, who promised the French that "Germany will not be deciding for all of Europe." He is vigorously supported in his standoff with Berlin by the entire spectrum of center-left parties – a political family of his voters and parliamentary constituencies.
Could Washington also be President Hollande's trump card? I believe it could. Here is why.
First, Greece is hosting key NATO installations controlling Eastern Mediterranean, Middle East and North Africa.
Second, it is imperative, therefore, to keep Greece firmly anchored in the West and in the military alliance at a time when the country is courted by Russia and China. Greece is the planned European entry point for China's Maritime Silk Road connecting East Asia to Europe. China already owns and operates most of Greece's two principal ports of Piraeus and Thessaloniki. Beijing also plans investments in high-speed rail lines from Greece to Central Europe. Russia is part of that game as well. As a first humanitarian gesture, Moscow is offering free oil and gas supplies to Greece.
Third, tearing up the euro area and throwing Greece out would have unpredictable political, economic and financial consequences for Europe and the rest of the world. The West's entire security architecture is at stake as Russia and China continue to challenge the existing world order built and underwritten by the United States.
Greece's acute financial crisis will probably have a temporary reprieve. But so much bad blood has been created between Germany, Greece, France and Italy (the Prime Minister Matteo Renzi shouted at Germany "Basta!" – enough – last Saturday) that it is difficult to see how Greece's serious and complex economic problems can be put on a stable solution path.
Germany is killing its golden goose. Germany made a cool 300 billion euros (net) on its euro area trade since the crisis erupted in 2010. Over the same period, thanks to the low euro interest rates, Germany's net interest payments on its high public debt – 82.3 percent of GDP in 2014 — were nearly halved to 1.3 percent of GDP.
Former U.S. Treasury Secretary Timothy Geithner wrote in his memoirs that he was "frightened" when the German finance minister told him in the summer 2012 of his plan to throw Greece out of the euro area; Geithner immediately shared his alarm with President Obama.
So keep in mind that American diplomacy must be working around the clock to keep the Germans from wreaking havoc on the rest of the world. And, while you are thinking of that, here is Geithner's prophecy. He told the Europeans in his muscular Brooklynese vernacular (expletives included) that their policies of hate and exclusion would put off international investors. He must feel relieved and vindicated to see that the euro is down 20 percent from its peak against the dollar.
The ECB will hold things together as long as there is political support for the common currency. But whether, and how long, France and Germany can agree to provide that support is anybody's guess. Marine Le Pen's far right anti-euro Front National is currently polling.