Chrysovalantis Kefalas, a son and grandson of immigrants from the Dodecanese islands, has faced uphill battles before and successfully overcome them for himself, the people of Maryland and the United States, as previously chronicled by The Pappas Post. Now the former speechwriter to U.S. Attorney General Eric Holder, Deputy Legal Counsel to Republican Governor Robert L. Ehrlich, Jr. (MD), business champion and next-generation conservative confronts another momentous challenge.
Can he win a statewide election in one of the bluest states in the nation and become the only U.S. Senator of Greek descent? "Republican Governor Larry Hogan showed us Maryland can go red, but it'll take a different kind of Republican and different kind of leader to win in a presidential election cycle," said Kefalas in an exclusive interview with The Pappas Post.
For over two years, the estimated more than 3 million American people of Greek descent have not had anyone of the same ethnic background in the U.S. Senate. On January 13, 2013, after announcing her retirement, Sen. Olympia Snowe (R-MA), a Greek-American of Spartan ancestry, ended her third term in office and the long run of Hellenes in the upper chamber.
Others have tried to build on the legacies of Snowe, Sen. Paul Sarbanes (D-MD) and Sen. Paul Tsongas (D-MA). Former Illinois State Treasurer Alexi Giannoulias narrowly lost to then-Rep. Mark Kirk (R-IL) in 2010. In 2012, Rep. Shelly Berkley (D-NV), whose mother's family were Sephardic Jews from Greek Macedonia, was handedly defeated by Sen. Dean Heller (R-NV).
Some had speculated that Greek-American Rep. Dina Titus (D-NV) might run for retiring Minority Leader Harry Reid's (R-NV) seat, but the state's 1st District representative told CQ Roll Call in May, "I'd hate to start over as a freshman in the Senate from a small state," when she announced she would not seek the Democratic nomination for the Senate. That leaves Kefalas as potentially the only Greek standard bearer.
Like Giannoulias before him, the Republican wunderkind, who at twenty-five years old became the youngest attorney in the history of Maryland to serve as a counsel to the Governor, is finding national media attention gravitating to his effort. At only the announcement of a committee to begin the steps to run for U.S. Senate, Kefalas already garnered the type of coverage typically reserved for formal senate candidates—such as by Fox News' On The Record with Greta Van Susteren, The Washington Post, The Baltimore Sun, Washingtonian and ABC 7 Washington.
In part, it's his narrative driving the stories: openly gay Republican, former Holder aide trying to renew so-called consistent conservative principles for the 21st century. His bonafides in business, starting in his family's Baltimore restaurants, including Costas Inn, a steamed crab institution as much as restaurant, and serving on the leadership team of the National Association of Manufacturers—as well as pioneering criminal justice reforms in the Ehrlich Administration and stepping ahead of the Republican Party to embrace, and fight for, marriage equality add more chapters to the emerging political drama. If elected, he would also be the first openly gay Republican elected to the U.S. Congress in American history, shattering another glass ceiling in politics and growing the diversity of federal candidates within the Republican Party.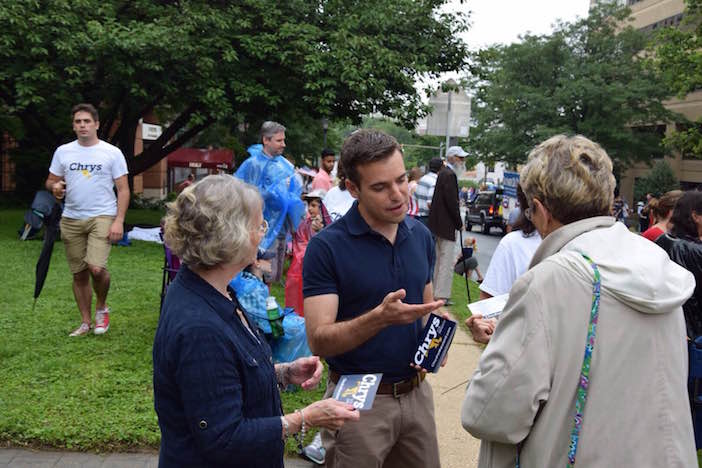 But as much as his profile frames talk about his potential bid, Kefalas' commitment to the foundational principles of the Republican Party and to U.S. economic competitiveness and global leadership may define the race and his candidacy.
Peggy Ellis, former Director of Congressional and Public Affairs for the Republican National Committee and Director of Government Affairs for the Cato Institute, who is advising Kefalas as a senior strategist, says, "Chrys is a natural–the best kind of politician who genuinely listens to and cares about the lives of his neighbors. He's the future of the [Republican] party."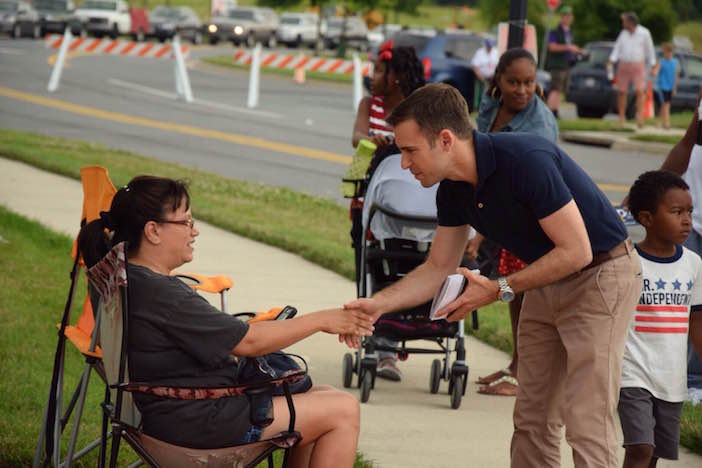 At a time when the bonds between Greece and the United States and the need for Greek congressional representation may be as important as ever, The Pappas Post talked with Kefalas to get an update on his apparent readying campaign for the U.S. Senate.
You still haven't formally filed paperwork with the State of Maryland to run for the U.S. Senate, but have rolled out your federal campaign committee. Any new developments since launching your committee?
From union leaders to hardworking Marylanders to political heavyweights who've joined our fight, I'm encouraged by the first few weeks of our effort. Day after day, meeting after meeting, people are seeing, and believing in, our path to victory.
Now, we're still on a listening tour in Maryland, and trying to raise the resources for a historic campaign and a different direction in Washington. Know anyone who might want to donate? Seriously, this is going to be an expensive race. I'm not a career politician. So I don't have a large list of donors at the ready. I don't have a pile of political favors that I can call in from special interests. What I have is a growing team of people in Maryland and across the country who think it's time to try something different.
Larry Sabato's Crystal Ball lists you as the only Republican candidate for U.S. Senate in Maryland in 2016 with several Democratic candidates and characterizes the seat as "Safe D." Do you really have a viable shot in a state that Gallup says is 20.9 percent more favorable to Democrats than Republicans?
If Maryland can elect a Republican business owner who never won a campaign before, who was outraised six to one by his Democratic opponent and who effectively tabled a discussion on social issues, then an unabashedly pro-jobs, pro-economic growth, smart-defense and pro-Israel Republican who served Attorney General Eric Holder to advance criminal justice reform and equal rights can win. Listen, is it going to be easy? Of course not. But we just had an election [in 2014], with Governor Hogan's victory, that showed that Marylanders care more about leadership than about what party leads the way.
What are you hearing from Maryland voters so far?
So one of the first people I met since launching our effort was Kenny, a small business owner who I met at Jimmy's Famous Seafood in Dundalk,[Maryland]. Kenny told me about taxes and regulations that are harming his competitiveness and business growth. His is a refrain I hear over and over again, which includes statements along the lines of 'taxes are unfair' and 'we're falling behind the rest of the world.' That's un-American—and we're better than this in so many ways.
Wherever I go, whether it's Easton or Bel Air or Gaithersburg, people feel like politics have let them down. Our schools aren't good enough. Our taxes are not good enough. Our foreign policy isn't good enough. Our roads are not good enough. The violence in Baltimore City, which many saw on national television recently, that's unacceptable.
Obviously, we have to turn all this around. And, although I've adopted it as part of our argument for why we should win a U.S. Senate race, I've heard this repeatedly on the trail: 'the same politicians who got us into the messes we're in can't possibly get us out.'
What does it mean to you to be the only Greek-American vying for the U.S. Senate?
Responsibility, to measure up not just to the Greek-American legacy of contribution and achievement but to measure up to the profound everyday work by Greek-Americans going on 24 hours across the country and around the globe. I'm talking about a Greek-American serving in Afghanistan, a newly-minted Greek-American washing dishes at 2 a.m. to provide for his or her family, my father who left a lucrative career at Exxon to be closer to his family and work in the family restaurant business and my mother who gives all she can for my local parish's Philoptochos, among so many others. I wouldn't put my name in even a mention about this race if I didn't think I could win because it would be a disservice to the heritage and community that I'm so proud to be a part of.
What do you think would change if a Greek-American returned to the U.S. Senate?
The Greek community has a strong advocacy community in Washington, but to know someone is to understand them better. There are few forces more potent for strengthening the ties between Greece and the United States, if in America's best interest, and for championing an end to the occupation of Cyprus than a Greek U.S. Senator. It would again take the arguments from abstract to personal on the floor of the Senate.
What is your view on the recent referendum in Greece?
It pains me to see the country of my father and of my grandparents fall further into crisis—and to witness Greek leaders thus far incapable of forging consensus with European and U.S. leaders to prevent a potential economic disaster. Marylanders and Americans are really just left watching and waiting, and we should obviously respect the will of the people.
The people were forced to vote because of the government's failure to lead. We have seen the same failure of leadership throughout Europe and in Washington, DC. We cannot control for every eventuality, but we must be relevant and effective again in protecting and defending our economic and national security interests. There are no excuses for the decades of policies that stifled economic growth, productivity, innovation and investment. There are no excuses for the torrent of corruption and waves of debt that mortgaged Greece's future. And there is no excuse for a feckless U.S. foreign policy that makes us a bystander during another critical moment. The people of Maryland and our country expect and deserve more
You've publicly supported marriage equality laws since 2008 in Maryland, what do you have to say about the Supreme Court's recent decision?
You know it's a good when the rainbow flag goes up and the Confederate flag does down. The Supreme Court vindicated the conservative and American values of personal freedom, limited government, stable families, equal justice and religious freedom for all.
How do you feel about other members of the Republican Party strongly objecting to the Supreme Court's decision?
I can only speak for myself, but I think the Amicus brief I signed, with more than 300 leading conservatives, independents and libertarians, to urge the Court to adopt this ruling is representative of what is happening all over the country as people across partisan, ideological, racial and religious lines come to recognize that people don't want unique rights, but freedom and opportunity that belong to all Americans. That's the different leadership we need.
Do you think the decision will have an impact on any run for U.S. Senate?
This decision shows what we can accomplish with the right leadership—the kind I've shown on this issue, in Maryland, for years. We need to bring the same energy, the same optimism, the same belief in ourselves to other places where opportunities are denied. There are far too many neighborhoods in Maryland and across this country where opportunity, education, and employment are out of reach. This decision proves that we have the power to change that — but only with different leadership.