Germans, angry at their government's handling of Greek debt negotiations and what they perceive to be unfair treatment against Greece, have organized demonstrations in 14 German cities, including a large one outside the German finance ministry in Berlin — seat of Dr. Wolgang Schauble.
Protesters have vowed to continue demonstrations, with protests set to take place outside the German Parliament and again at the finance ministry in Berlin every Wednesday, aiming to share their opposition to their government's treatment of Greece.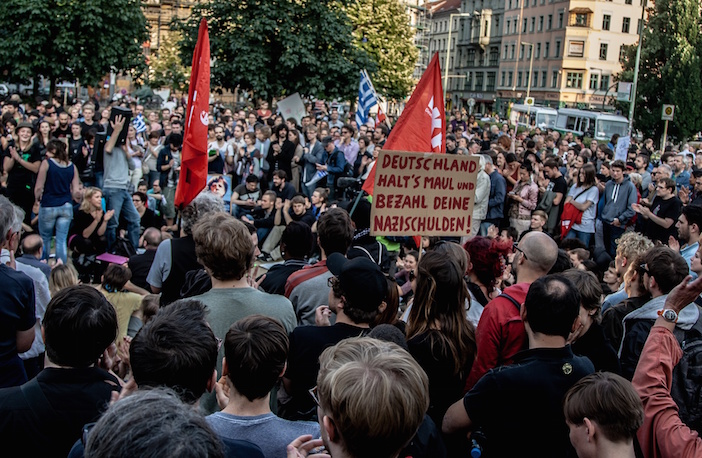 "I'm furious with these criminals," a Greek teacher who has lived in Germany all her life told the Guardian. "I don't want my taxes supporting this criminal coup."
Hannah Eberle, spokeswoman for the movement organizing the protests in Germany, told Newsweek in an interview that Merkel's government's behavior has been undemocratic and aggressive. She says the protests aim to show Greece and the rest of Europe that there is another sympathetic side to Germany.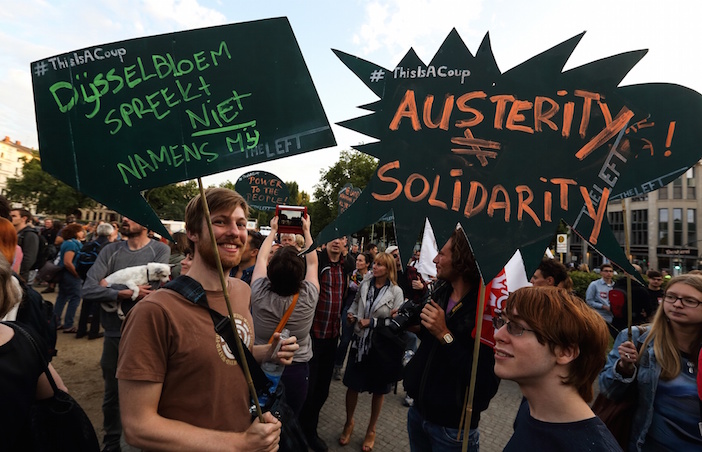 While the demonstrations are vocal, their opinion is still the minority view in Germany, as polls show that the majority of Germans agree with Angela Merkel's tough stance.
"Many Germans feel ashamed by what the German government is doing at the moment," Eberle says, adding "we want everybody to see the other face of Europe. A face of solidarity."
Eberle says she expects numbers of protesters on Friday to be in the thousands and that peaceful protests are set to continue for the foreseeable future.
One protester, 21-year-old Hans (fictitious name for anonymity), an archaeology student at the Free University in Berlin, said that "The way that Merkel's government dealt with the crisis in Greece is a brief glimpse into the future of EU politics."
Hans added that "Sovereign countries' policies will continue to be dictated by the disciplinarian, quasi-fascist German state — something that has to be opposed at all costs. We have seen the results of unrestricted German hegemony."
People frustrated with the treatment of Greece by Eurozone leaders have also taken to social media to protest the measures from across Europe.
---
Is The Pappas Post worth $5 a month for all of the content you read? On any given month, we publish dozens of articles that educate, inform, entertain, inspire and enrich thousands who read The Pappas Post. I'm asking those who frequent the site to chip in and help keep the quality of our content high — and free. Click here and start your monthly or annual support today. If you choose to pay (a) $5/month or more or (b) $50/year or more then you will be able to browse our site completely ad-free!

Click here if you would like to subscribe to The Pappas Post Weekly News Update