Metropolitan Isaiah of Denver issued a statement on the school shooting in Texas, notifying his faithful that parents of the alleged perpetrator of the massacre were members of a Greek Orthodox Church in the Metropolis of Denver.
Thousands of news reports throughout the world have already shared details of the accused teen's Greek heritage and background, including the village from where his father emigrated and photos and posts from the family's social media accounts taking part in Greek celebrations and festivals at the Assumption of the Virgin Mary Greek Orthodox Church in Galveston, Texas.
In his statement (complete letter below), Isaiah states that "the spirit of dissension and division is affecting all expressions of public life in our society" and called on his faithful to "demonstrate more publicly that all people are to be respected on the principle of the golden rule."
"This way those who spread the evil based on division and hatred in our society will cease in being successful," the Metropolitan wrote.
The Metropolitan's complete letter is below: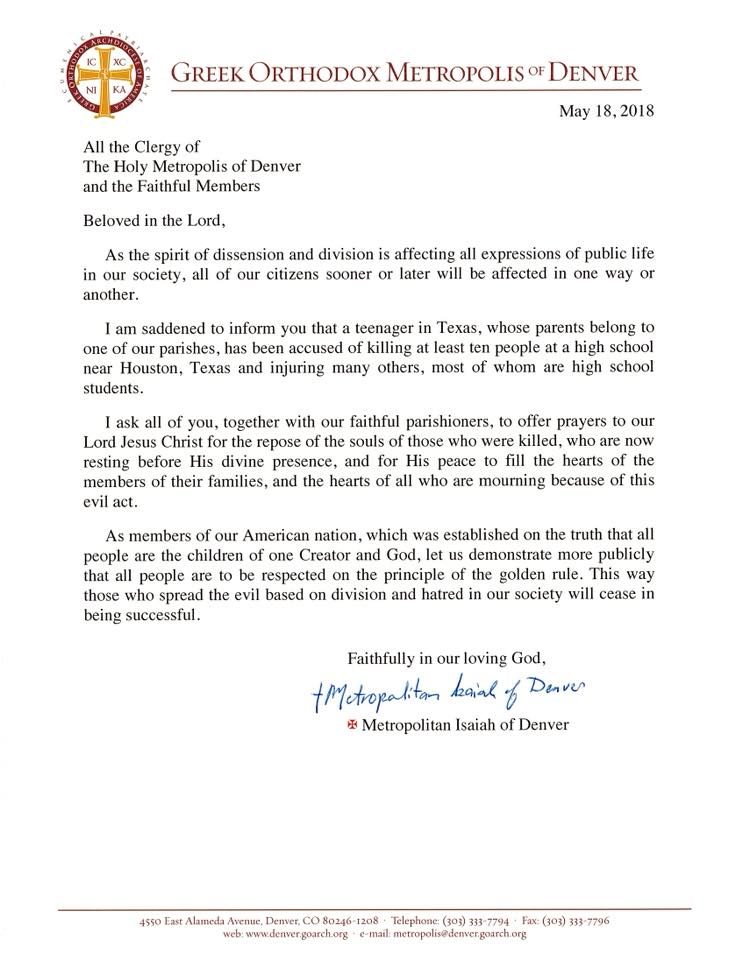 *****
Since you're here… I have a small favor to ask.
More and more people than ever before are reading The Pappas Post and despite increasing costs to maintain the site and provide you with the quality content that you deserve, I will never "force" you to pay for our website or add a paywall. I believe in the democracy of the internet and want to keep this site and its enriching content free for everyone. But at the same time I'm asking those who frequent the site to chip in and help keep it both high quality— and free. We've implemented a "free-will" annual subscription for those who want to support our efforts. I guess it's fair to call it a philotimo subscription… because you don't have to do it but it's really the right thing to do if you love the site and the content we publish. So if you like The Pappas Post and want to help, please consider becoming a "philotimo subscriber". Click here to subscribe. If you'd rather make a one time donation, we will gladly accept any amount, with appreciation. Click here to donate any amount.