Featured prominently in a USA Today story about the European refugee crisis, Greek fisherman Kostas Pinteris explained how his full time job of fishing has been replaced by a new full time job of saving people.
As thousands of refugees— predominantly Syrians fleeing their country's civil war— make their way across the sea straights between the Turkish mainland and Greek islands, the too often scene of people in distress has become commonplace for people like Pinteris, a fisherman from Lesvos.
"Their boat is plastic, it can tip over easily. It can be very dangerous," Pinteris says. Because of  that risk, it has become daily routine for the local fisherman to roam the island's northern waters on the lookout for migrants in danger.
Drownings have become tragically commonplace in the sea around the Greek islands, and as someone with 20 years of experience on the sea, the Greek fisherman says he feels bound to help. "If we didn't go out, people would die, of course they would."
Fishing has all but become a secondary job for Pinteris, 40, who says with a laugh, "Now, no fish, just people."
"I live here, and while the boats come, I can't stop helping," he says. "When you see a situation like this, you can't stop. When the refugees are in trouble, you hear their voices first, screaming for help. At night, the light from lighters being lit by them gets my attention as they try to show their boat is in trouble. Sometimes I find them overboard in the water trying to swim," he said in the USA Today interview.
Read the USA Today story here. (Photo of Kostas Pinteris: Andrea DiCenzo, USA Today)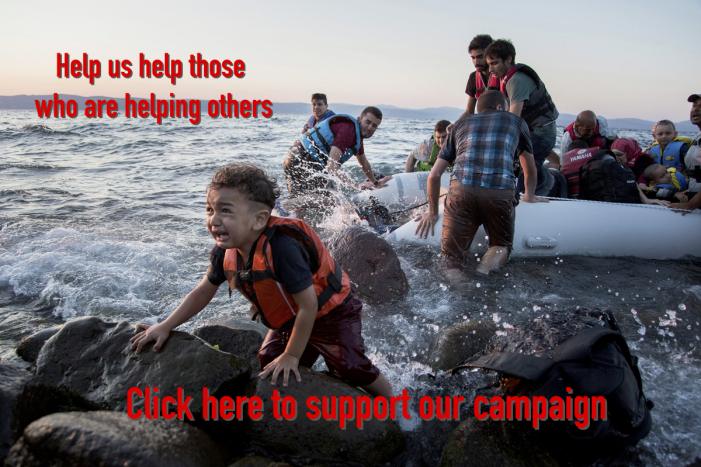 The Pappas Post has recently embarked on a fundraising endeavor to "support those supporting the refugees." There are dozens of people and organizations throughout Greece who, although facing their own financial and economic stress, are involved in superhuman endeavors to help those arriving in Greece en route to other European countries. Please consider sharing and/or supporting this campaign. Click here to donate and see the campaign details.