Almost 60 years after the film's release and despite a dismal box office record at the time, Boy on a Dolphin remains a timeless classic and a historic film as Sophia Loren's English language debut on the big screen and the film that propelled her career as an international sex symbol. For those filmgoers who were seeing her for the first time, Loren would never again belong just to Italy.
Released in 1957 by 20th Century Fox, the romantic film was shot in Greece, in CinemaScope, a new innovation in cinema pioneered by Spyros Skouras that widened the screen and viewing experience for the audience. It was directed by Jean Negulesco and produced by Samuel G. Engel from a screenplay by Ivan Moffat and Dwight Taylor, based on the novel by David Divine. Cinematography was by Milton R. Krasner.
The film is noteworthy as Sophia Loren's English language debut. She also used her Greek language skills to sing "T'in'afto pou to lene agapi" (What is this they call love?) in Greek and do a bit of Greek dancing in the process.
Opposite Loren were stars Alan Ladd and Clifton Webb. Hugo Friedhofer's score was nominated for a Best Music at the 1958 Academy Awards. With all the spotlight on the Italian beauty, things weren't always so rosy for her co-star Alan Ladd.
Originally, the film was to star Cary Grant and Loren, fresh off The Pride and the Passion (1957), where the two had sparked up a real-life romance. Boy on a Dolphin was four days into shooting in Greece when Grant cancelled. His wife, Betsy Drake, had survived the sinking of the Andrea Doria ocean liner and he went to be with her.
Robert Mitchum was next up, but in the end, Alan Ladd was signed by Twentieth Century-Fox president Spyros Skouras, a considerable surprise to director Jean Negulesco, who thought Ladd was all wrong for the part; he was too diminutive in size (5'4″) and presence to visually compliment his much taller costar Loren. "It sounded then and sounds now pure insanity," Negulesco says in his autobiography, Things I Did and Things I Think I Did.
Ladd's smallish frame was overweight and reportedly bloated from alcohol, while his bigger-than-life costar would very likely dominate every scene. Reportedly, Ladd, who had stood on boxes for many of his films, felt the practice was beneath him at that stage in his career, so Loren spent the film standing in holes and walking in trenches so they could at least meet eye to eye.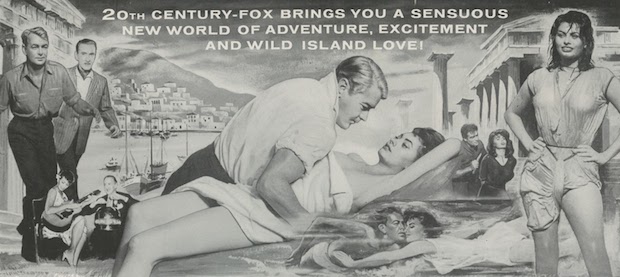 If the chemistry between the two leads seems to be missing onscreen, it was. Offscreen they didn't have much to say to each other either. Loren has observed that Ladd is the only male costar who didn't want to be her friend. "We spent hours together for two months," she recalls in Warren G. Harris' biography, Sophia Loren.
"He was always polite but never seemed to want to have any social contact. I liked Alan, but he didn't seem to like me. I couldn't understand it." Negulesco remembers their bleak introduction: "The first meeting between Sophia and Alan confirmed our worst fears…'Sophia, this is Alan Ladd,' I said. These were the only words exchanged in this encounter. They both mumbled, 'How do,' and sat there open-mouthed measuring each other. They both lost."
Similarly, Ladd and Clifton Webb were reportedly not overly fond of each other. In general, Ladd is said to have been withdrawn and indifferent throughout the entire production. Accounts vary as to the cause of his on-set tension. Some said he was embarrassed by Loren's stature, as well as crew whisperings that his unhealthy appearance and aloofness were related to his fondness for ouzo. He was clearly annoyed that Negulesco gave his co-star more and better camera time.
In Beverly Linet's biography, Ladd: The Life, the Legend, the Legacy of Alan Ladd, he remembers, "Negulesco fell in 'love' with her, so she got all good close-ups. All you ever saw of me in most scenes was the back of my neck. I got fed up with it."
Sophia Loren plays Phaedra, a poor Greek sponge diver who accidentally finds an ancient Greek statue of a boy riding a dolphin on the bottom of the Aegean Sea. Her efforts to sell it to the highest bidder lead her to two competing individuals— Alan Ladd, an honest archaeologist with an academic's bankroll, and Clifton Webb, a wealthy but unscrupulous art collector.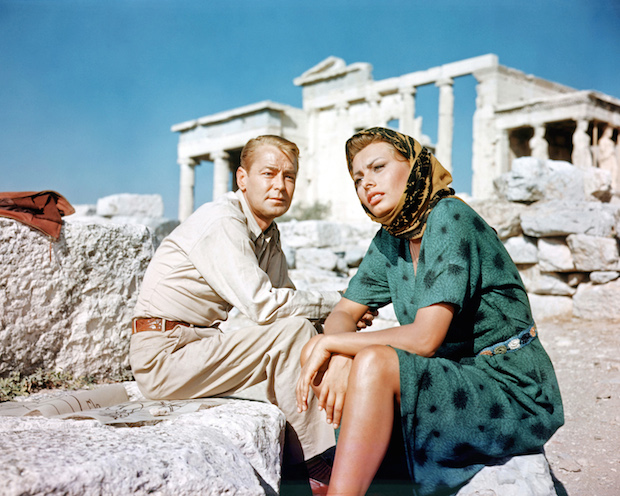 Ladd (museum curator Dr. James Calder) is committed to seeing the statue handed over to the rightful Greek authorities. Webb (millionaire Victor Parmalee) seeks to outwit him and add the treasure to his private collection. Loren throws in with Parmalee, but ends up romantically involved with Ladd, with predictable complications all round.
Much of the film was shot on location on the Greek island of Hydra with additional shots in Athens, Rhodes and Delos.
Though the setting of the film was breathtaking, it didn't do much to improve Ladd's disposition. He was reportedly eager to get home to the States, his children and his various California properties. Overseas travel wasn't easy for Ladd, who was afraid to fly. To add to the strain, he and his wife were robbed on the Orient Express en route to Greece, losing her best jewelry and his evening clothes, which seemed to set his overseas adventure off on the wrong foot.
To add to the mix, in 1956 fighting was raging in Cyprus, the Suez Crisis was underway and there was fear that a Middle East war was impending. The State Department had begun evacuating American personnel from the area and Boy on a Dolphin was in a race to the finish line.
Loren's famous dripping sponge-diving outfit was devised by Negulesco from a photograph he had of a Japanese pearl diver. He had Loren try it out in her warm bathtub and then double-lined the dress so that they could get past censors. But when it came time to shoot in the cold Aegean Sea, the results were even more striking: "When Sophia surfaced, her lovelies were pointing at us with daring accuracy. The still man dropped his camera. The sound man raised his boom. The Greek laborers were thunderstruck," he recalled in his autobiography. The image became a best-selling poster around the world and helped launch Loren, in her first American film, as one of the sexiest actresses of the era.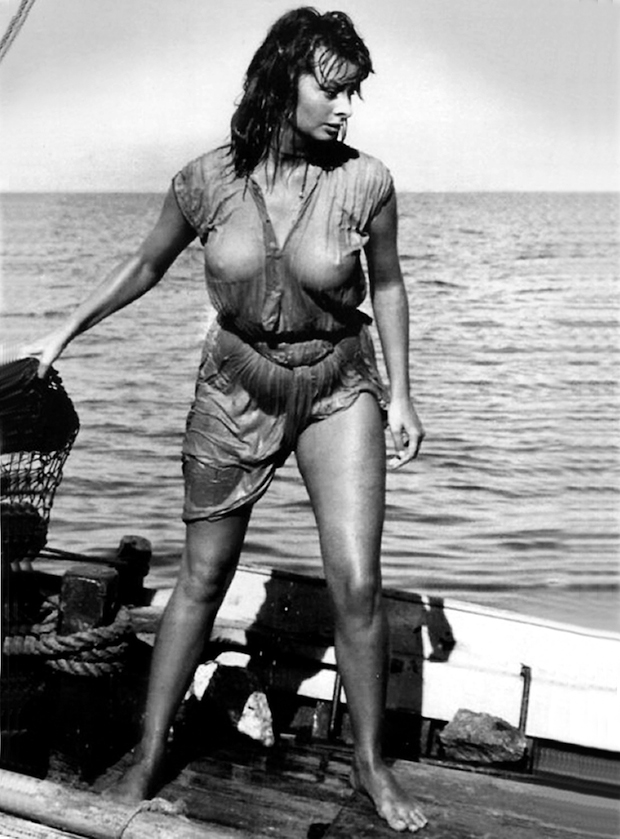 Boy on a Dolphin was great exposure for Sophia's career, but was otherwise not lauded by critics. The New York Times gave its verdict on April 20, 1957. Though the Grecian scenery and Loren came off well, Ladd was said to be "merely a moody scientist who doesn't give the impression that he's really her type." The New York Herald Tribune was less impressed all around, saying of Loren, "….She waggles her hips, she exposes her legs. Can she act? That's a matter of definition."
Though the studio launched a major advertising campaign featuring Loren and her many assets, Boy on a Dolphin didn't perform at the box office as they'd hoped. For those filmgoers who were seeing her for the first time, however, Loren would never again belong just to Italy.
Add the timeless film to your DVD library by clicking here.