After 5,000 years, contemporary artwork has arrived on a small island in the Aegean Sea.
British contemporary artist Antony Gormley has installed numerous sculptures known as "bodyforms" on the island — and archaeological site — of Delos.
The "bodyforms" are life-size sculptures that Gormley creates according to casts of his own body.
The installation, titled "SIGHT," features 29 of Gormley's sculptures, which sit perched among the site's ancient temples, agoras and theaters overlooking the Aegean Sea. The sculptures will remain in place through October 2019.
The Greek Archaeological Council unanimously approved Gormley's installation on Delos, which is the birthplace of Apollo and his twin sister Artemis, according to ancient Greek mythology.
Delos once served as the headquarters of the Delian League, a military alliance of Greek states during the classical period. The island later turned into a commercial hub after it was declared a free port in 167 BCE.
The entire island is now a UNESCO World Heritage Monument.
According to Smithsonian Magazine, it took 18 months for Greek Archaeological Council officials to devise a plan to install Gormley's sculptures without damaging Delos' archaeological sites.
Gormley's signature "bodyforms" have appeared in locations ranging from a Scottish river to New York City rooftops. His work primarily explores the relationship of the body to space and time.
Photos of Gormley's "SIGHT" Installation on Delos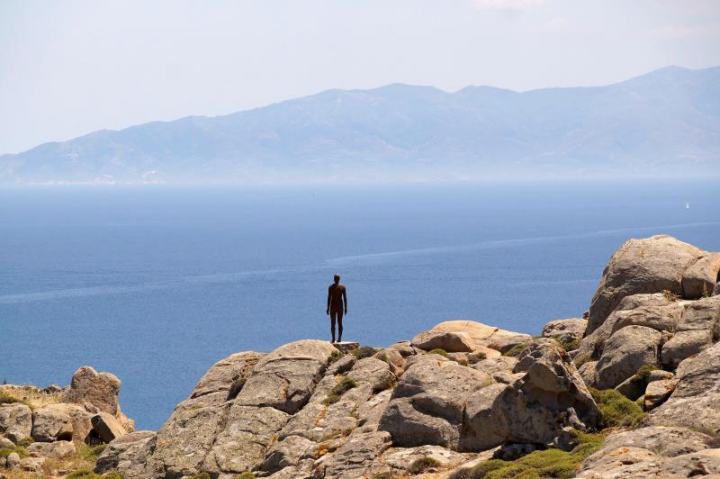 ---
Is The Pappas Post worth $5 a month for all of the content you read? On any given month, we publish dozens of articles that educate, inform, entertain, inspire and enrich thousands who read The Pappas Post. I'm asking those who frequent the site to chip in and help keep the quality of our content high — and free. Click here and start your monthly or annual support today. If you choose to pay (a) $5/month or more or (b) $50/year or more then you will be able to browse our site completely ad-free!

Click here if you would like to subscribe to The Pappas Post Weekly News Update