A Greek Orthodox Metropolitan of the Church of Greece is under fire for comments he posted publicly on his blog, lashing out against gays and atheists. In an angry rant he encouraged his readers and followers to "spit on them" and "blacken them" with violence, stating that they are not humans.
Ambrosios is the Metropolitan of Kalavryta and Aigialeia— a region in north central Peloponnese and ranks as the 8th in order of hierarchy and influence in the Church's synod, or governing body. Numerous politicians, media and public figures have called for condemnation of the bishop's comments.
His vitriolic blog post (in Greek) followed legislation set forth by the ruling government to extend domestic partnership status to same-sex couples, granting them similar rights to those who are married.
Justice Ministry's general secretary for human rights, Costas Papaioannou said "The state recognizes that there are other forms of family life than that which we know as marriage," to Kathimerini's English language edition, adding that the European Court of Justice shares this stance. Adding that that laws should adapt to the existing state of affairs, noting that the fact there are children being raised by gay couples is "a very significant social fact." The revised bill aims to give gay couples in Greece the same tax status and inheritance rights enjoyed by heterosexual married couples.
One cartoonist in a Greek newspaper depicted the bishop blessing a thug with a Golden Dawn (Greek Neo Nazi) tattoo for beating and spitting on those who support civil unions in Greece.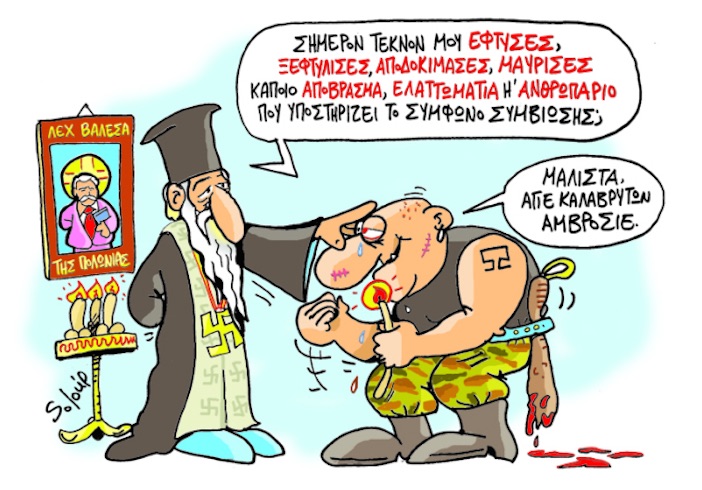 Another Greek newspaper poked fun at Ambrosios, depicting him wearing a pendant with the image of Adolph Hitler and quoting words from blog saying "scum of society, the misery of homosexuality! Atheists… spit on them!" Next to the cartoon depiction of the bishop was a gun-clad jihadist saying "brother, I've said this before… You're wasting your time in Greece."