A strange and belated Twitter outburst took place on Sunday when Greek prime minister Alexis Tsipras blasted his Turkish counterpart, Ahmet Davutoglu, in a series of four Tweets on his official English Twitter page about Turkey's downing of a Russian fighter jet last week.
Tsipras' official English language account posted four successive tweets, criticizing Turkey and mocking Turkey's trigger happy approach. "Fortunately our pilots are not mercurial as yours against the Russians," one of the Tweets stated.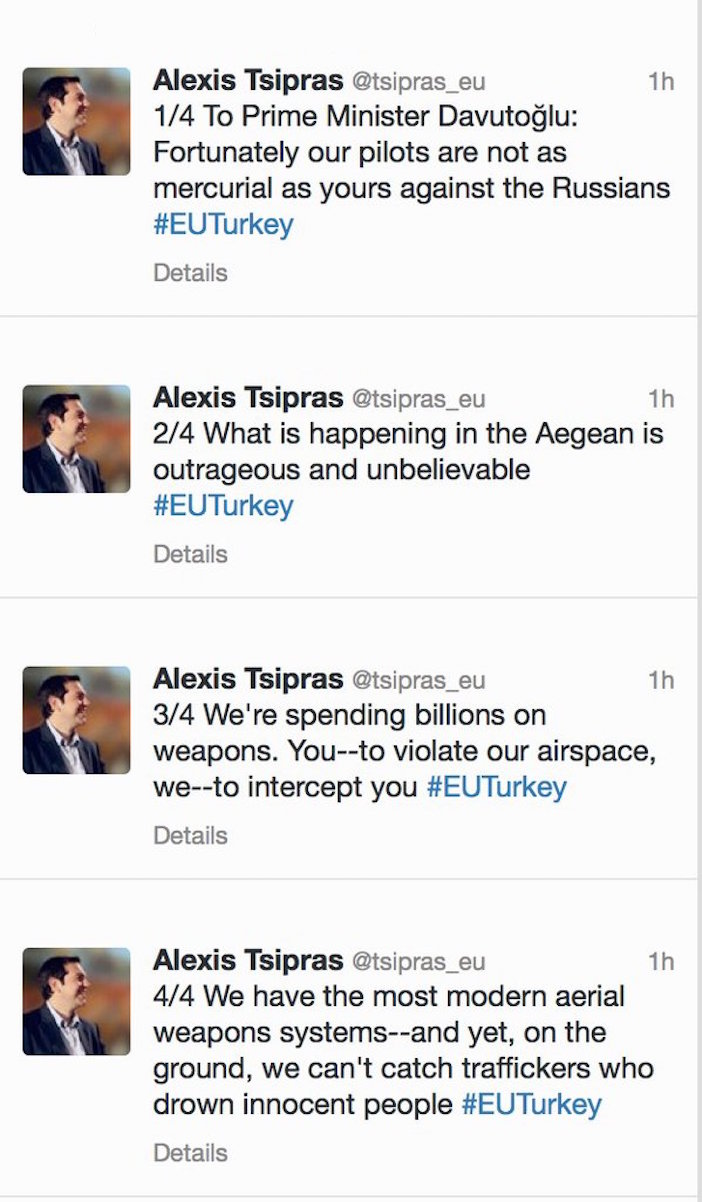 The Tweets were quickly deleted but with all things on line, not before screenshots could be saved and images of them retweeted and shared throughout the world.
Tsipras, however, kept the tweets on his official Greek-language twitter page.
1/4 Προς τον πρωθυπουργό Νταβούτογλου: Ευτυχώς οι πιλότοι μας δεν είναι τόσο νευρικοί όσο οι δικοί σας απέναντι στους Ρώσους. #EUTurkey

— Alexis Tsipras (@atsipras) November 29, 2015
2/4 Είναι ανόητο και αδιανόητο αυτό που συμβαίνει στο Αιγαίο.#EUTurkey

— Alexis Tsipras (@atsipras) November 29, 2015
3/4 Ξοδεύουμε δισ. για εξοπλισμούς. Εσείς για να παραβιάζετε, εμείς για να σας αναχαιτίζουμε. #EUTurkey

— Alexis Tsipras (@atsipras) November 29, 2015
4/4 Έχουμε τα πιο σύγχρονα οπλικά συστήματα στον αέρα και από κάτω δεν μπορούμε να εντοπίσουμε τους διακινητές που πνίγουν αθώους ανθρώπους.

— Alexis Tsipras (@atsipras) November 29, 2015