Financial crisis, widespread unemployment and political instability. Greece has been plagued by all three — and more — in the past decade, and many of its companies have suffered consequently.
But there are always exceptions. Blueground is one of them.
CEO Alexandros Chatzieleftheriou started a company that has not only completely disrupted Greece's tourism and hospitality industries, but also made a splash across four worldwide markets.
Founded in 2013, Blueground is an Athens-based startup that carefully selects residential properties, upgrades them to meet high-quality standards and offers them to renters looking for a turnkey living solution, all the while efficiently taking advantage of unused space.
The company's strategy centers around leasing apartments from owners at market value, furnishing them and then renting them out at a 30-60 percent markup price, mostly to business travelers.
Having already leased 100 apartments in New York City, the Greek startup is now partnering with major property management companies in the area and by the end of 2018 plans to offer more than 600 options in sought-after neighborhoods such as Chelsea, Midtown West, Tribeca, SoHo, West Village and the Financial District.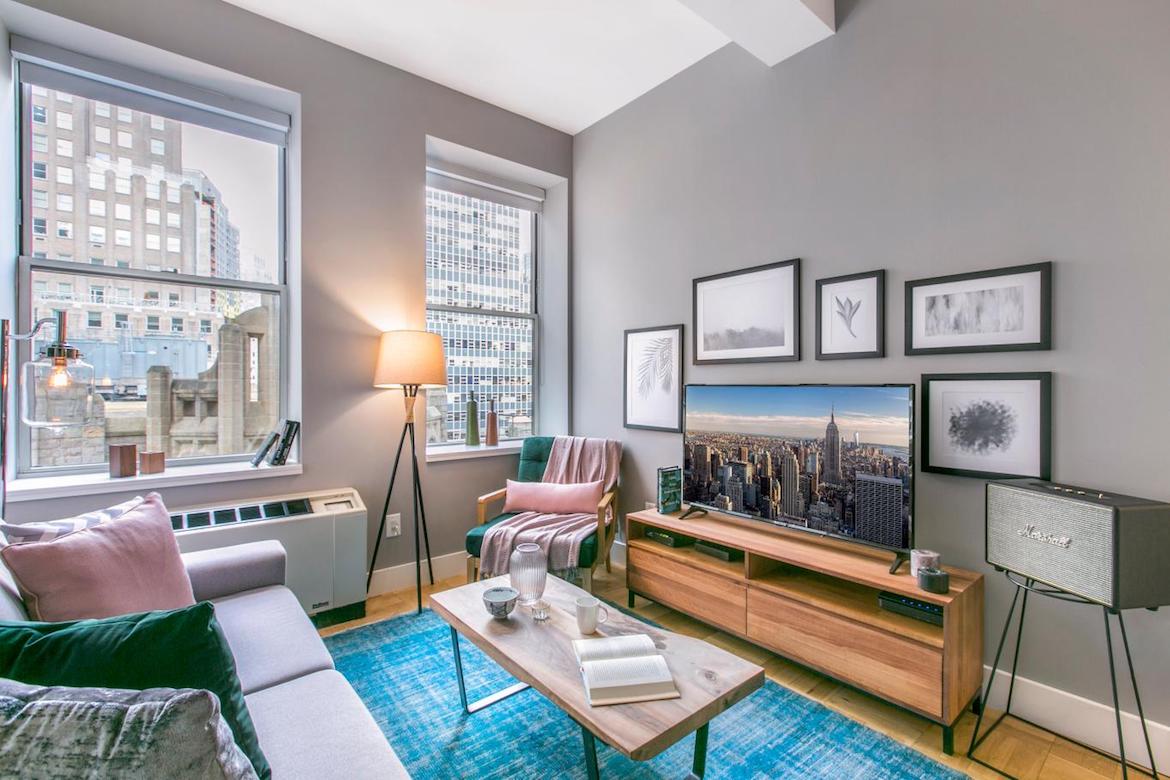 Chatzieleftheriou told the Pappas Post via phone interview about how his business model uniquely caters to property owners — whether prominent New York companies or individual landlords in Athens.
"A typical scenario is that we market ourselves as being the perfect tenants for the landlord," he said. "Instead of the landlord making a contract with another tenant, he or she leases the property to Blueground and we pay the monthly rent."
The founder added that this approach benefits owners for various reasons: they do not have gaps between tenants, do not pay brokerage fees or maintenance costs, and also do not need to spend time dealing with tenant-related issues that would normally arise.
Likewise, Blueground associates handle tasks such as property development, furnishing and decoration, pricing, marketing and managing, among others.
The end result? Owners essentially only need to collect monthly rent.
"All of [those tasks] are taken care of," Chatzieleftheriou said. "Because of this cost-saving, they typically make 10-20 percent more than what they would make going to a normal tenant."
The entrepreneur continued to explain the model's benefits, adding that it has large upside not just for the landlords, but also for their guests.
"It could be people who work for an NGO, a sports team… they're working remotely and want to live in a different city," he said. "They don't have to buy any furniture and it's very flexible. This is why they book."
Through Blueground's online platform, clients can search properties using different and targeted criteria: year of construction, furniture and equipment, general infrastructure and more.
In fact, Chatzieleftheriou said he created his business idea based on his own guest experiences.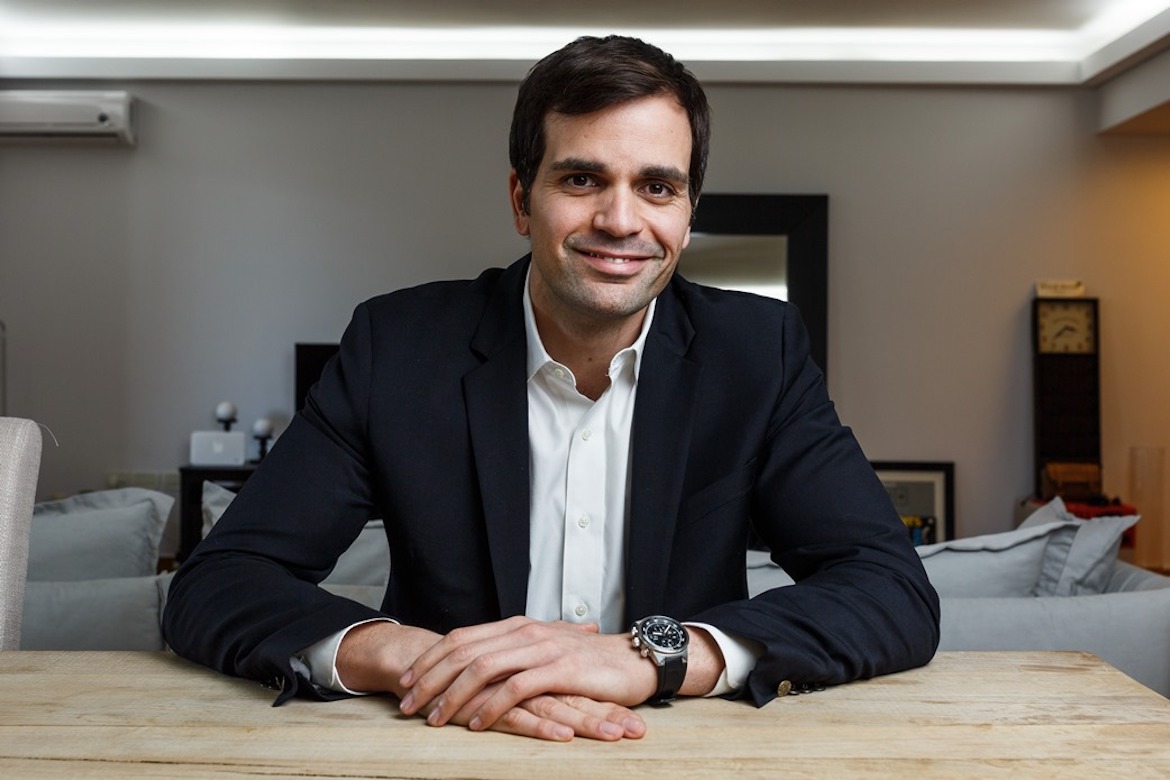 The CEO worked for years as a business consultant, traveling to 14 cities across three different continents and staying in each for months at a time.
Despite being given what he called the "great opportunity" to travel, he said he had immense difficulty finding residential housing and consequently spent most of his time in hotels.
"The [hotel] room size is quite limited. You don't have enough privacy," he said, adding that the residential properties he rarely could find were "not well-furnished" and "not very appealing."
Coincidentally — or perhaps not — Chatzieleftheriou noticed that the online rental platform Airbnb started becoming popular during his travels, ultimately leading him to start his own company.
Since then, he said his group has found a way to combine the easiness of finding a hotel with the convenience of living in a residential-quality accommodation that offers more space, privacy and a fully-equipped kitchen.
At face value, Blueground and Airbnb may look similar — for example, they both offer an online marketplace where customers can search housing options — however, Chatzieleftheriou said his teams provide additional services that set them apart.
"Blueground doesn't only have the website, but we also furnish the apartments ourselves and do the customer service ourselves," he said. "Airbnb is focused on leisure travel with an average stay of three to four days, whereas our focus is longer term business travel, or an average six-month stay in the apartments."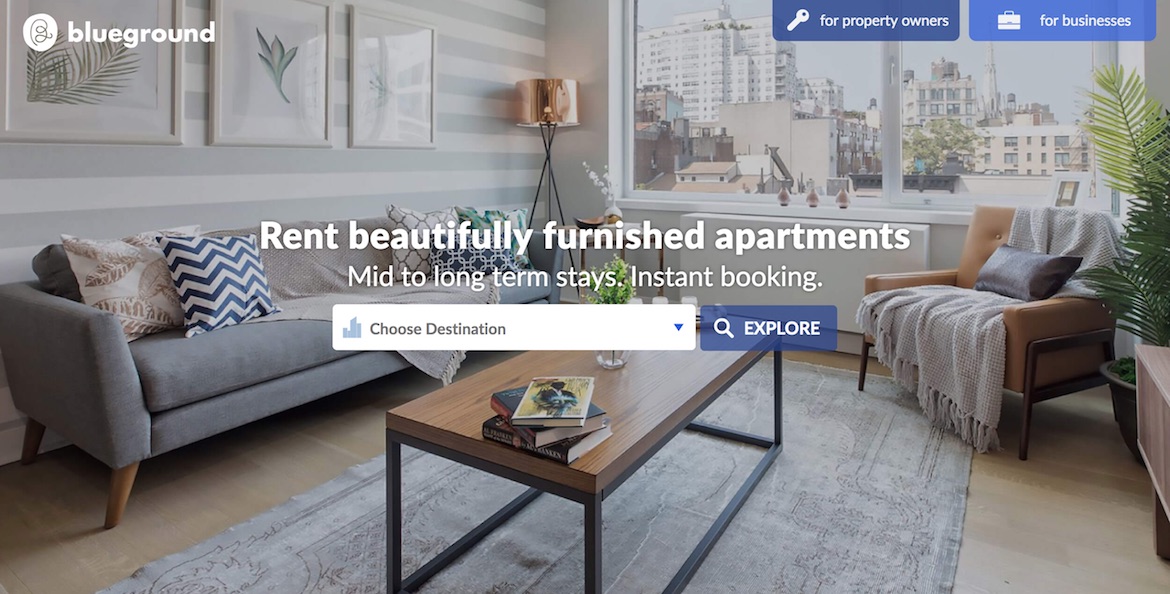 For management, the services include cleaning, maintenance and check in/check out; for setup, the company takes care of furnishing, equipping and decorating; and on the promotional side, Blueground offers professional photography, dynamic pricing and posting on all channels.
As far as taxation and legal issues are concerned, Chatzieleftheriou said they comply with both.
Owners who have leased their property — whether to guests or to the company — have to reveal their earnings from the real estate and are subsequently taxed as they normally would be for rental income.
Asked about the effects of Greece's economic crisis on his business' development, Chatzieleftheriou said that even though he encountered naysayers, he always remained optimistic his idea would succeed. 
"People were of course saying, 'Don't do that,' but sometimes you have to listen to your own reason," he said. "I thought it was a good product and I thought people would select it."
In the near future, Blueground will continue expanding to foreign markets, where it aims to launch U.S.-based operations in Los Angeles, Washington D.C., Chicago and Boston. The company has already established networks in various places — Istanbul, Dubai, New York, and San Francisco — and its goal is to spread to 50 cities and 50,000 locations by 2023.
"We're creating a trend for new consumers who want a convenient experience," Chatzieleftheriou said. "We're going to help people move around cities, experience cities and grow another perspective. We're going to have a big impact in this industry, and that gets me really excited."
---
Is The Pappas Post worth $5 a month for all of the content you read? On any given month, we publish dozens of articles that educate, inform, entertain, inspire and enrich thousands who read The Pappas Post. I'm asking those who frequent the site to chip in and help keep the quality of our content high — and free. Click here and start your monthly or annual support today. If you choose to pay (a) $5/month or more or (b) $50/year or more then you will be able to browse our site completely ad-free!

Click here if you would like to subscribe to The Pappas Post Weekly News Update