It was a casual taxi ride home after visiting a friend in Brooklyn. Beep beep, swerve… a bit of cursing and yelling out the window in an Asian language I wasn't familiar with… and then all of the sudden, I hear a different, heavily-accented voice.
It was one of those moments that— for a split second, you look around to see if the person with that familiar voice is in the car with you, even though you know she isn't.
I, like millions of other taxi cab passengers in New York City, were treated to Chef Maria Loi praising the health benefits of Greek yogurt, honey and of course— olive oil, on the Kelly and Ryan Show, which appeared on national television a few weeks ago.
Oh yes— and there was that moment when Chef Loi plastered yogurt on Kelly Ripa's face, praising its benefits not only for your tummy, but also for your skin.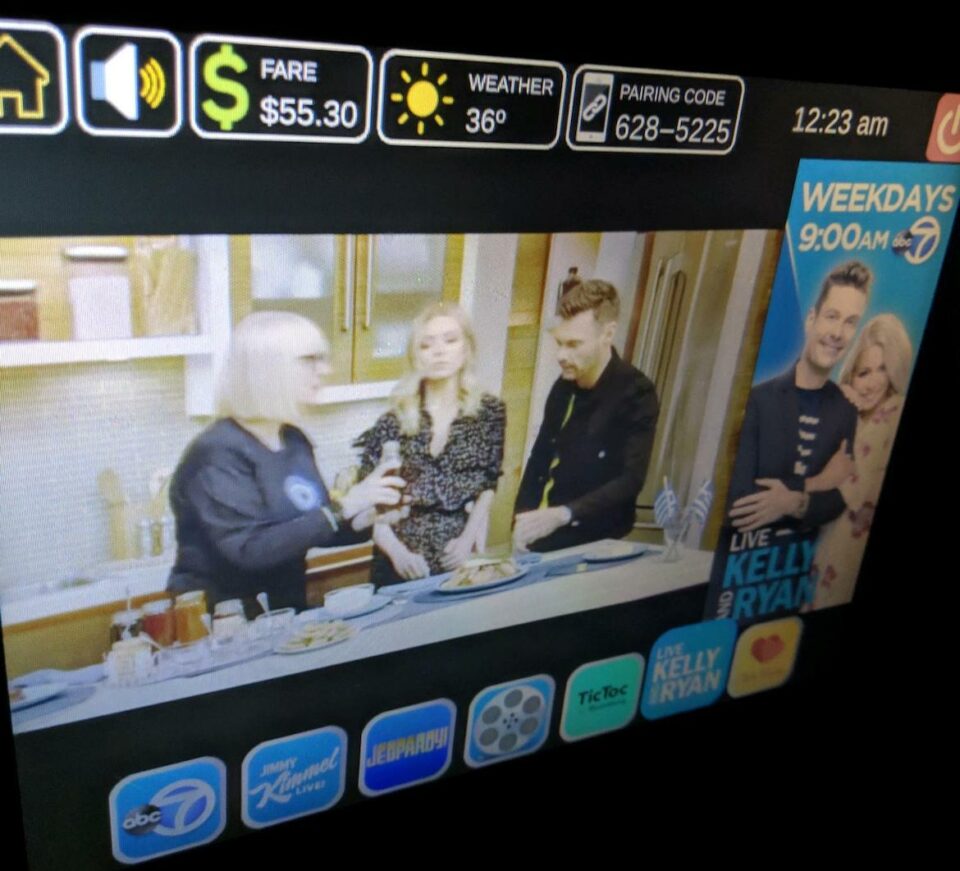 It was the perfect "mainstreaming" of Greece, Greek products and their various benefits, shared in such a fun and approachable way by Maria Loi.
The spot was part of the taxi service's in-cab television that plays when a new passenger enters the cab and features various television spots from news, entertainment and food. 
The spots are intended to inform the passenger of the goings on in the city and and keep people entertained as their driver navigates the mean city streets.
As someone who looks for anything and everything Greek in American society… This was exciting and fun to see— inside a taxi cab.
Like most Greek Americans I know, I wait until the film credits to roll after a movie and look for Greek names… I snap Greek-inspired license plates on the road… I always look for Greek products in mainstream grocery stores and am excited when I see them on the shelves alongside "American" products.
It's a matter of pride, I think.
And watching Maria Loi extol the virtues of Greek beans, olive oil, honey, yogurt and olive oil made me proud.
I was just one of an estimated 485,000 people per day (according to the City of New York official statistics) that ride a New York City taxi cab. And thanks to Maria Loi, Greece was on full display during my ride.
If only one percent of these people listen… Only one percent… That's still huge.
Fun Facts: There are more than 13,000 registered taxi cabs in the City of New York and every day, these taxis take an estimated 485,000 rides.
---
Is The Pappas Post worth $5 a month for all of the content you read? On any given month, we publish dozens of articles that educate, inform, entertain, inspire and enrich thousands who read The Pappas Post. I'm asking those who frequent the site to chip in and help keep the quality of our content high — and free. Click here and start your monthly or annual support today. If you choose to pay (a) $5/month or more or (b) $50/year or more then you will be able to browse our site completely ad-free!

Click here if you would like to subscribe to The Pappas Post Weekly News Update