The head of the world's two largest Christian denominations— Catholics and Orthodox Christians— met in Jerusalem to commemorate the 50th anniversary of another meeting of their predecessors.
Roman Catholic Pope Francis and the Ecumenical Patriarch Bartholomew, the spiritual leader of the world's 300 million Orthodox Christians prayed together on May 25th inside the Jerusalem church where faithful believe covers the exact spot where Jesus Christ was buried and resurrected.
The historic spot also symbolizes their respective churches' divisions, both calling their historic meeting a step toward to healing the centuries-old Catholic-Orthodox schism.
Francis and Bartholomew embraced one another in the stone courtyard outside the 12th century Church of the Holy Sepulcher and recited the "Lord's Prayer" prayer together once inside.
They issued a joint declaration, calling on unity and encouraging all Christians to embrace and engage in dialogue with other religions.
"We invite all Christians to promote an authentic dialogue with Judaism, Islam and other religious traditions. Indifference and mutual ignorance can only lead to mistrust and unfortunately even conflict," the joint declaration stated.
The meeting was full of symbolic meaning: The two men helped each other down the stone steps leading into the church, grasping one another's forearms. After Bartholomew delivered his remarks, Francis bent down and kissed his hand in remarkable show of respect for a patriarch when some 500 years ago a patriarch was forced to kiss the feet of the pope and anathemas, or curses, were exchanged between the two church leaders of the time.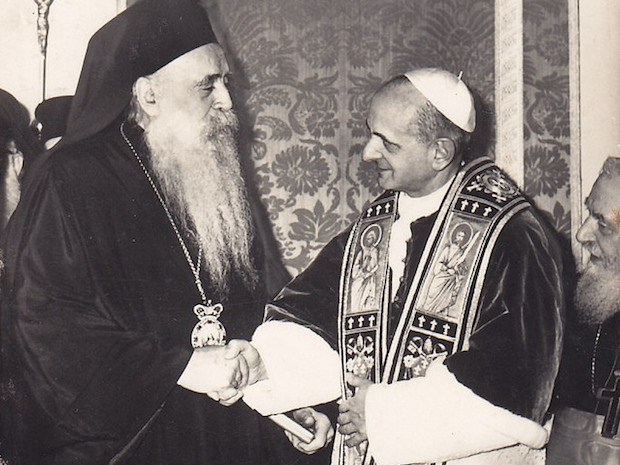 The primary reason for the meeting was to mark the 50th anniversary of the meeting in Jerusalem between then Pope Paul VI and Ecumenical Patriarch Athenagoras of Constantinople. Their 1964 embrace ended 900 years of mutual excommunication and estrangement sparked by the Great Schism of 1054, which split Christianity. That meeting was the first step in many to unite the two Christian churches that the pope called "two lungs of the same body."
That historic encounter led to the lifting of the anathemas (December 7, 1965) that had separated the two Churches since 1054. Furthermore, since the 1964 meeting, the two churches have grown closer in personal friendships and even theological dialogue, but core differences remain, including the main issue of papal primacy.
Tellingly, in his remarks, Francis referred to Paul not as pope but as "bishop of Rome" — the other main title attributed to popes and the way Francis introduced himself to the world on the night he was elected pope in a clear gesture toward his Orthodox "brothers."