Steve Kriaris has been around wine his whole life. His dad, who emigrated to Canada from a small village outside Pylos in the lush wine-growing region of Messinia in Southern Greece, brought wine-making secrets all the way to Toronto when he arrived in the 1960s. What started a a forbidden sip of wine as a young child has now turned into a successful business— and more importantly— a passion for Steve.
Fast forward to the year 2000 when Kolonaki Group was founded and Steve began importing natural mineral water from Greece. During several trips to Greece and visits to off-the-beaten track towns and villages— and countless samples of local varieties of wines— he realized that these treasures were not accessible to consumers in his native Canada. He immediately began importing boutique Greek wines from various regions of Greece and introducing multitudes of Canadians to Greece's best-kept wine secrets.
The portfolio expanded and today, Kolonaki Group imports over 50 different types of Greek wines from practically every wine-growing region throughout Greece. This includes main stream grape varieties like Xinomavro, Assyrtiko, Moschofilero & Agiorgitiko to smaller unknown grapes like Vilana, Kotsifali & Athiri. Mainstay regions like Santorini, Nemea, Naoussa & Crete to smaller little area like Peza, Limnos & Rapsani.
Steve expanded his passion for wines by creating his own. Thalia, one of Greek mythology's Nine Muses and the one dedicated to creativity was the name and inspiration behind Thalia Wine. Produced in three varieties— red wine, white wine and rose, Thalia Wines come from grapes grown with love on the island of Crete. Thalia has expanded with great success in Canada, available at numerous restaurants and LCBO outlets. In addition Thalia is available in the UK, Germany, Greece and her US debut will be closer to the end of 2015. Thalia is even the official wine at Ikea Restaurants in Ontario Canada.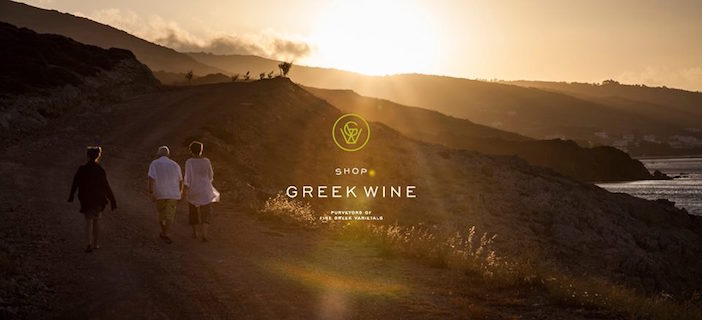 Steve's next evolution came from an idea to make these Greek treasures available to more people— especially those away from the large urban centers. His desire to share good, quality Greek wines has resulted in ShopGreekWine.com— the first ever online wine e-store exclusively for Greek wines.
Buying wine online is currently only available in Canada but the US expansion will happen this coming summer/fall season.
The website is currently offering a promotion— for every case of wine sold, Steve will donate $20 and for every case of beer, he will add $10. The proceeds will benefit the Greek America Foundation's Project Hope for Greece campaign with funds going to the Greek charity Boroume, that is feeding thousands of people throughout Greece.
The promotion will run the entire month of July.
Although sales are limited to Canadian consumers, US consumers can email the company here and they will notify consumers in the United States when sals can be legally conducted in each US state. Announcements will also b made via ShopGreekWines.com Facebook and Twitter pages.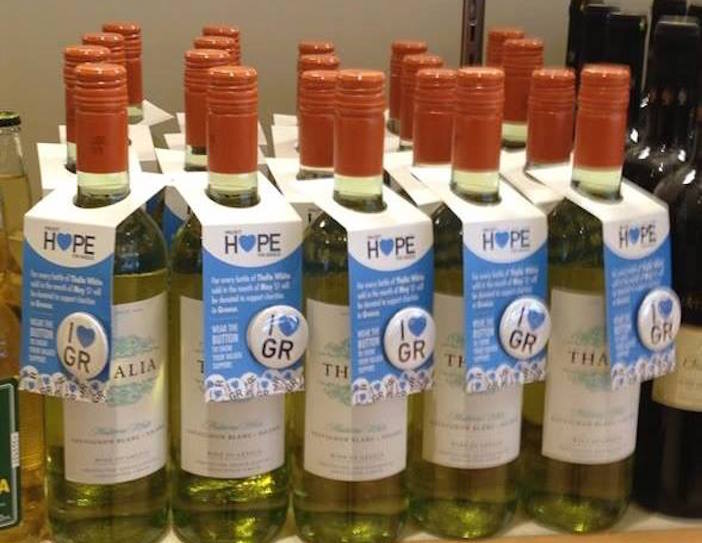 This is Steve's second philanthropic endeavor to support people in need in Greece. Last year, with his Thalia wines label, he donated $1 per bottle sold in all of the Ontario wine shops. He included a bottle jacket with a pin that included the "I heart GR" logo of Project Hope for Greece. In one month, 2,000 bottles were sold and that money was donated to various Greek charities supported by Project Hope for Greece.
*If you are interested in organizing a charitable effort through your business through the Greek America Foundation's Project Hope for Greece campaign, email Katerina Sfikas, director of membership and development here.