They say the human spirit is indomitable… That when you put your mind to it and include all of your heart and soul, anything is possible.
Such was the case with New York City businessman Jimmy Pantelidis, who only four months after his last chemotherapy treatment for pancreatic cancer, was crossing the finish line at the world's most historic marathon in Boston.
But Jim didn't just have the power of his own spirit pushing him every step of the way. He had the love and support of his family, each of whom offered their own nudge– including his friend and running companion, Mike Manatos.
And then there is that Greek spirit– that intangible and hard-to-explain that you're doing something for your heritage, for your love of who you are and where you come from, all driven by a rich history and heritage of people– like you– who accomplished the impossible.
Greece– and specifically, several Greeks from throughout history– added to Jimmy's awesome burden to start what he finished.
In this case, Jimmy and Mike recounted stories they were taught as young children growing up as Greek Americans, including the heroic Ancient Greek runner Pheidippides, who is said to have run from Marathon to either Sparta or Athens (depending upon the source) to share news of the Battle against the Persians.
Further inspiration was drawn from another Greek marathon champion, Spyridon Louis who won the gold medal in the very first contemporary Olympic Games in 1896 and whose run actually inspired the creation of the Boston Marathon which was inaugurated a year later in 1898.
But the biggest inspiration came from a more contemporary runner named Stylianos Kyriakides, who like Pantelidis, ran against all odds and won the Boston Marathon in 1946.
Unlike Pheidippides' ancient story, which was created from numerous sources and even contemporary embellishments, Kyriakides' story is real history.  Narrowly escaping execution in Greece during WWII, and watching his fellow countrymen die of starvation in the Civil War that followed, Kyriakides vowed to go to Boston and win the Boston Marathon to raise funds and awareness of the plight of the people of Greece.
Although he hadn't run in 6 years and had to sell his furniture to buy a ticket to the United States, he made the transatlantic journey.
He was so emaciated that minutes before the starting gun, race officials wanted to disqualify him for health reasons, fearing he would collapse on the streets of Boston.
He convinced the officials that he was fine and began the race, with thousands of other runners, including Boston Marathon legend, Johnny Kelly. During the race, he worked his way to the front of the pack until he was tied with Kelly.
When a Greek-American from the crowd shouted, "for Greece, for your children!" Kyriakides took off and won the race in world record time.  As he crossed the finish line he shouted, "FOR GREECE!"
Stylianos Kyriakides running the Boston Marathon in 1946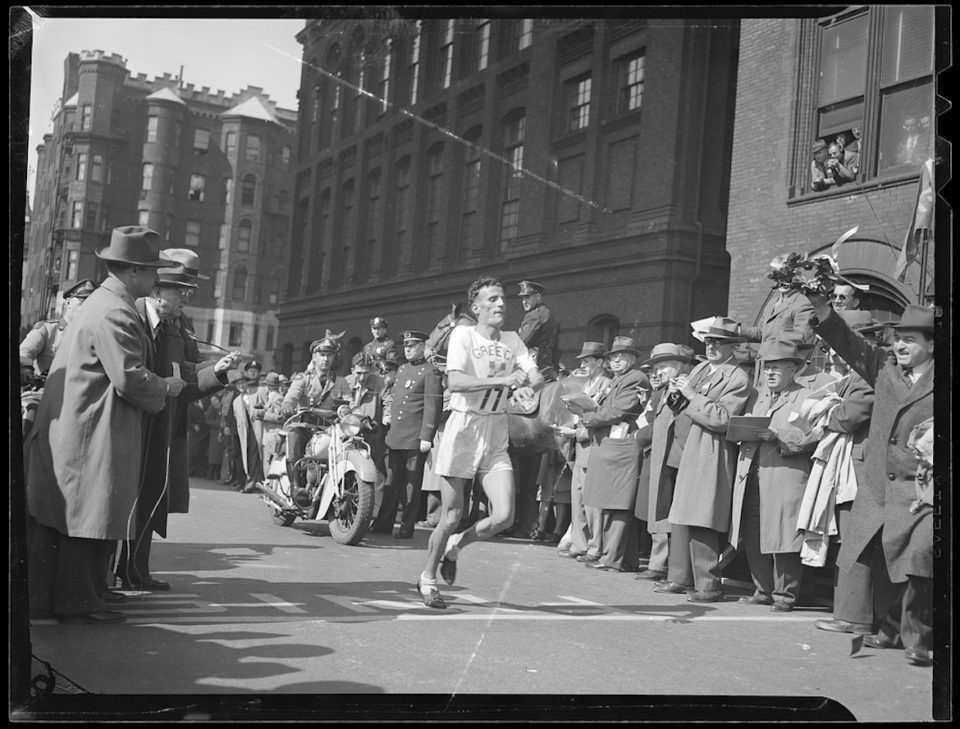 Kyriakides spent the next month traveling around the United States collecting funds and food for the starving people of Greece.  When he returned home with $250,000 (a remarkable sum in 1946) and tons of food and supplies, over one million Greeks lined the streets to welcome home their hero.
Fast forward to 2018 as a man who just months ago wasn't supposed to be alive, together with his running buddy, arrive in Boston to take on one of the world's most historic– and difficult urban marathon runs.
Like Kyriakides, the odds weren't good that Jimmy could complete the twenty-six mile race, especially given what his body had endured with several months of treatment and a disease that was supposed to be terminal.
Furthermore, on marathon day, Boston was facing what many called the worst weather in the 122 year history of the race — a wind chill of 26 degrees Fahrenheit, hard rain the entire race and headwinds gusting to 35 miles per hour.
But in the spirit of the ancient and contemporary predecessors before them, Jimmy Pantelidis and his running mate Mike Manatos completed the Boston Marathon, wearing replica jerseys of the very same one worn by Kyriakides in 1946.
*****
Since you're here… I have a small favor to ask.
More and more people than ever before are reading The Pappas Post and despite increasing costs to maintain the site and provide you with the quality content that you deserve, I will never "force" you to pay for our website or add a paywall. I believe in the democracy of the internet and want to keep this site and its enriching content free for everyone. But at the same time I'm asking those who frequent the site to chip in and help keep it both high quality— and free. We've implemented a "free-will" annual subscription for those who want to support our efforts. I guess it's fair to call it a philotimo subscription… because you don't have to do it but it's really the right thing to do if you love the site and the content we publish. So if you like The Pappas Post and want to help, please consider becoming a "philotimo subscriber". Click here to subscribe. If you'd rather make a one time donation, we will gladly accept any amount, with appreciation. Click here to donate any amount.