Award-winning menswear designer John Varvatos will be wearing his heart on his sleeve on April 13 when he hosts the 11th Annual Stuart House Benefit – a star-studded event in Los Angeles aimed at raising money and awareness for Stuart House, a children's organization that he feels very strongly about.
Varvatos has been supporting the Stuart House, a facility established by the Rape Treatment Center at Santa Monica's UCLA Medical Center for children who are victims of sexual abuse, for more than a decade. He found them out 11 years ago when he was looking for a way to connect with the community. It was around the time he was getting ready to open his store in West Hollywood and since, he said, "philanthropy is a part of my existence, it always has been."
The father of three, Varvatos still remembers the first time he visited the Stuart House.
"It was a bad morning at Stuart House. There were a number of kids who had been brought in that day – very, very young children – and it just ripped my heart out. I said to Gail Abarbanel, the director, 'I know you don't know me, but I really want to do something long-term.' A lot of it was driven by my emotion right at that moment, but here we are, [more than] 10 years down the road."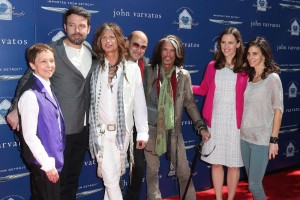 To raise funds for the cause, Varvatos hosts an annual benefit on Melrose Avenue, where, on a Sunday afternoon, power couples like Jennifer Garner and Ben Affleck (last year's honorary co-chairs), Patrick and Jillian Dempsey, and Judd Apatow and Leslie Mann (all previous co-chairs) introduce the cause to patrons taking to the closed streets of West Hollywood.
This year's musical act will be Willie Nelson. In previous years, the event has hosted such big names as KD Lang, Alice Cooper and Dave Matthews.
"You can't just rip people's hearts out completely," says Varvatos, who tries to keep the event light despite the gravity of the movement. You need to make the day enjoyable," he adds. "But people want to be part of the cause. It's the kind of cause you wish you didn't need to get behind because there wasn't that kind of thing going on in the world. But there is, so we do the best that we can."
Apart from the shopping and the food, there are also a variety of children's activities like oversized games, face painting and a kids auction.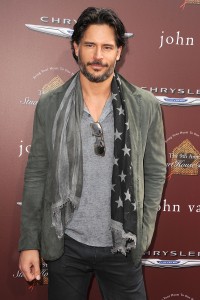 The event also features live musical performances and live auctions (anything and everything from a visit to the set of Emmy Award-winning show Modern Family to dinner with Cindy Crawford and golf lessons with Samuel L. Jackson and Alice Cooper).
"Most of the people who attend know why they're there and are there to support," Varvatos says. "And their children want to get involved, which is really an amazing thing to me. Last year a child came up to me, 7 or 8 years old, and he gave me $5."
"It's an emotional thing when you listen to these kids because you feel like they're stronger than you are," he says. "When they come out at the other end, they know they did nothing wrong and that they're dealing with somebody out there who they want to stop. That's the thing that drives me with Stuart House, continually."
Last year's Sunday afternoon event raised several hundred thousand dollars for Stuart House. This year, Varvatos says he hopes to "kick the number over $1 million".
"I truly believe we can do it," he says.