The world of fashion and music came together as John Varvatos celebrated the opening of his first European store in London. The highly anticipated opening combines the brand's unique position that unites a rock n' roll sensibility, old world craftsmanship and modern innovation into a space where fashion and music can thrive together.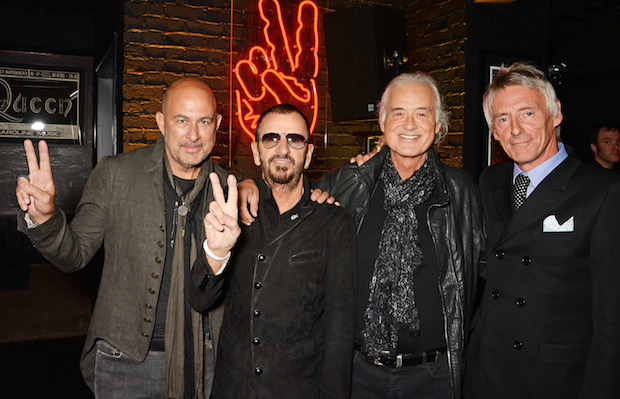 To celebrate the launch, Conduit Street was shut down for a private party held at the new store. Adorned with #peacerocks, the interactive campaign that gives a dollar to the David Lynch Foundation for every hashtag upload with a peace sign selfie, the JV London Routemaster Bus was parked on the street and greeted guest as they arrived. John Varvatos walked the black carpet with Ringo Starr, the face of his Fall 2014 campaign. Other special guests of the evening included; Paul Weller, Jimmy Page, Miles Kane, Iggy Pop, Leah Weller, Nat Weller, The Struts, Paul Cook, Joyce Varvatos, Barbara Bach, Say Lou Lou, Jamie Reynolds, and Dan Stevens
The Hives performed a secret concert on the lower level of the store, a space that was inspired by the John Varvatos Bowery store in New York City, the former home of CBGB's, the seminal birthplace of the American punk movement. The crowd of Music VIPs, Fashion VIPs and Tastemakers were treated to a set that included Paul Cook and his daughter Hollie Cook, Rick Edwards, Kara Rose Marshall, Adam Ant, Jamal Edwards, Gary Powell, Andy Fletcher and Femi Fem to end the night.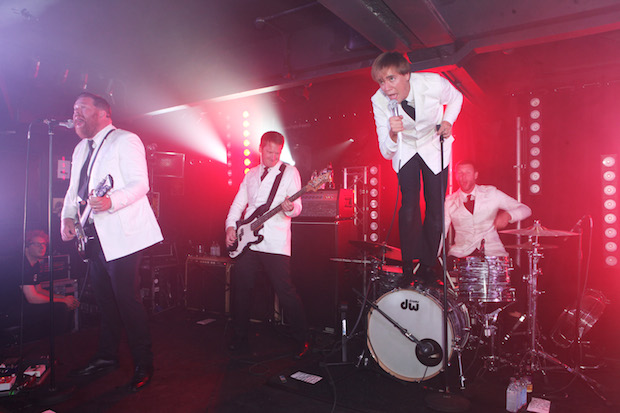 Other guests of the night included Joseph Mawle, Felicity Gilbert, John McMillen, Alice Naylor-Leyland, Jeff Lynne, Kimberly Wyatt, Max Rogers and Olivia Harrison.
Launched in 2000 with a collection of tailored clothing and sportswear, John Varvatos now represents an entire men's lifestyle that includes footwear, bags, belts, eyewear, limited edition watches, men's fragrances, and John Varvatos U.S.A. Collection and Boys' line, as well as Converse by John Varvatos.
The designer has been recognized three times by the CFDA with an American Fashion Award for New Menswear Designer (June 2000) and Menswear Designer of the Year (June 2001 and June 2005) and was honored as GQ's "Designer of the Year" in 2007 and The CNN Style Award's "Menswear Designer of the Year" in 2013.
In October 2013, John released his first book entitled John Varvatos: Rock in Fashion, which documents the elements of rock style that are intrinsic in the music community. Further rooting the brand in music, John Varvatos entered into a strategic partnership with Republic Records to formally launch John Varvatos Records in February 2014. The collection is distributed in freestanding John Varvatos boutiques and better department stores throughout the world.
He also published a stunning coffee table book– featuring his signature combination of rock and roll and fashion, called John Varvatos: Rock in Fashion.
The flagship store showcases the complete world of John Varvatos: including John Varvatos Collection, John Varvatos Star USA, Converse by John Varvatos, fragrances, eyewear, rock-influenced jewelry Ernst Benz by John Varvatos limited edition watches, and a dedicated gallery in partnership with Rock Paper Photo where a collection of images with a focus on iconic jazz, rock and rhythm and blues are available for purchase. The store also has the largest custom Fender guitar shop in the world.