A true citizen of the world, Calliope Charalambous is Greek, born in Cyprus, raised in Athens and London with a Cypriot dad and a mom born and raised in Cairo's ethnic Greek community with roots from Smyrna.
And to top it all off — she moved to New York where she now lives and cooks with her French husband.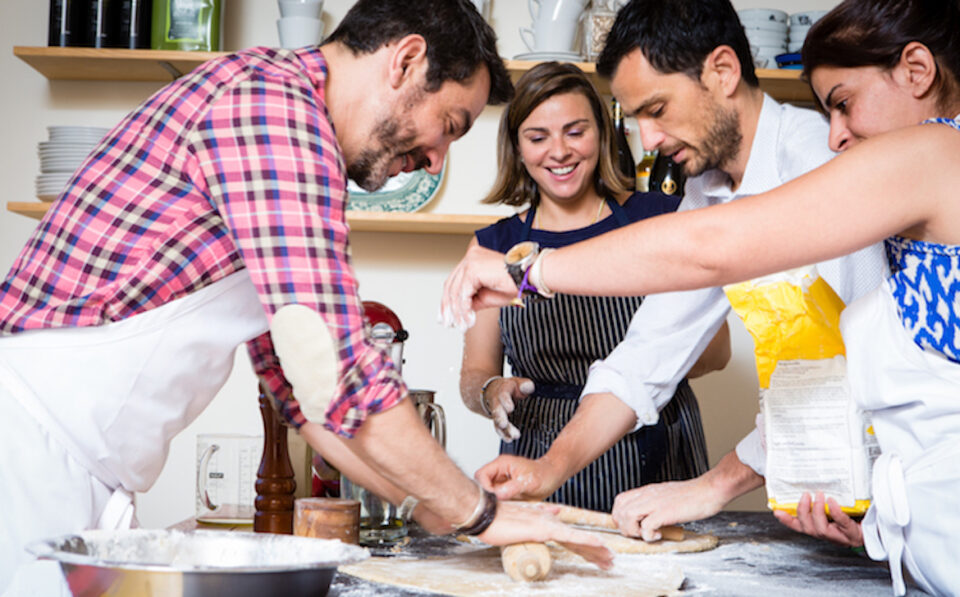 When she's not cooking, she's giving private and group cooking lessons and catering events at various parties and events in New York City — offering a home-cooked and traditional alternative to people who want a true taste of Greece.
"Melomakarona and kourambiedes are the absolute Greek Christmas treats," Calliope says. "My mother used to make them around her name day on December 9, but she had to repeat the baking at least once more, since they would disappear before the 25."
Calliope uses Mastiha as a special flavoring in her kourambiedes.
Ingredients
½ cup icing sugar
1¾ cups butter
2 egg yolks
1 tsp. mastiha liqueur
1 tsp. Chios Mastic Powder
1 tsp. baking powder
1 cup almonds
3 cups all purpose flour
about 1lb. of icing sugar (only for icing)
Instructions
1. Spread almonds on a baking sheet; toast in oven at 400F for about 10 minutes, or until golden brown; chop them coarsely on a chopping board
2. Use a mixer to beat the butter with sugar for 10 minutes, until the mixture is fluffy and white (should look like whipped cream)
3. Add the yolks one by one
4. Add the mastic powder and the mastiha liqueur and mix
5. Add the almonds and flour slowly, taking turns. (You may not have to use all the flour in your mixture.) Start by using half of it, then turn the mixer down and start mixing with a spatula or your hands. The dough has to be very soft, buttery and light
6. Preheat the oven to 350F. Using a teaspoon, scoop out half an inch pieces of dough and roll into balls between the palms of your hands. Press them lightly and place them on baking sheets
7. Bake for about 35 minutes or until golden brown and let them cool for 5 minutes
8. As soon as they are ready and still warm, sift icing sugar first on a baking tray until you have a thick layer and then place the cookies on it in order to coat them from all sides. Sift more icing sugar on them and let them cool completely before moving them, otherwise they will crumble. Place them on a serving tray and add more icing sugar if needed.
---

Click to shop the Olive Grove Market
---
---
Is The Pappas Post worth $5 a month for all of the content you read? On any given month, we publish dozens of articles that educate, inform, entertain, inspire and enrich thousands who read The Pappas Post. I'm asking those who frequent the site to chip in and help keep the quality of our content high — and free. Click here and start your monthly or annual support today. If you choose to pay (a) $5/month or more or (b) $50/year or more then you will be able to browse our site completely ad-free!

Click here if you would like to subscribe to The Pappas Post Weekly News Update