These traditional, lightly fried squash fritters are amazing in every way. Golden, crispy outside with a 'meaty,' warm, vegetable filling inside, these kolokithokeftedes are packed with flavor and absolutely delicious.
This recipe is a Cretan version that includes potatoes and carrots along with the zucchini. These additions give you a heartier, more substantial fritter that you can serve as a meal or meze and will make this your go-to kolokithokeftedes recipe!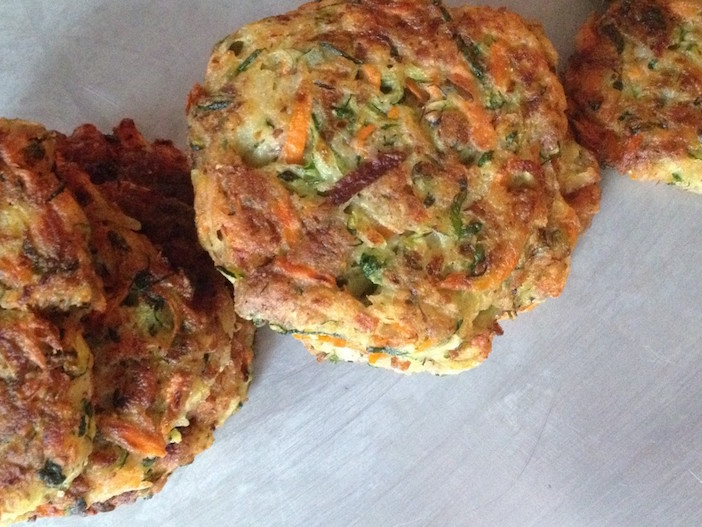 The veggies here are hand-grated in the traditional Greek preparation and not chopped as we're more often apt to do these days. Grating with a large-hole box grater is the simplest method and brings out a noticeable sweetness from your vegetables.
To bind all the ingredients together without egg — prohibited during fast periods — we add flaxseed meal or linseed in Greek. Mixed with water, the flax meal becomes tacky and holds your batter together perfectly allowing you to shape and fry your fritters with ease.
Flax or linseed grows primarily in northern Greece and has been used for centuries in authentic Greek cooking as a binding agent or an egg replacer. Over the last few years, it's become increasingly popular here in the United States for just the same purpose. The slight nuttiness of the flax meal is a perfect complement to the hearty vegetables, bright fresh herbs, light lemon zest and smoky nutmeg — these really are nothing short of amazing.
Although tempting, do try to avoid using a food processor to grate your vegetables unless you're sure of your blades. Dull or incorrect blades can mush up your veggies instead of shred them.  We want to maintain a bit of integrity and texture for this recipe, so shred by hand if you can and wring out your grated veggies well.
Next, Gather them into a clean tea/dish towel and wring out over a bowl in the sink.  I can remember doing this with my yiayias — they could always wring out another drop or two. They'd both save the liquid for vegetable stock and I try to as well. The zero-waste movement could have learned a thing or two from those ladies!
These kolokithokeftedes are pan fried in just a bit of light sunflower oil. Try to find a pan with low sides to make turning easier and preferably a 9-10 inch diameter to give your fritters room. Make sure not to crowd the pan as that will bring the temperature of the oil down quickly and leave you with soggy, greasy fritters.
I find that my crepe pan is ideal for this recipe and cooks about 3, max 4, fritters in each batch. Start out with about 3 tablespoons of oil and add an additional 2 tablespoons to pan with each new batch. Don't forget to give it a minute to heat up! And a third cup measuring scoop is a great way to get consistently, and appropriately, sized fritters for even cooking.
This recipe makes approx. 9-10 good sized keftedes and can very simply be scaled to make up to four times that amount. You can also make the batter up to three days in advance, kept covered in the refrigerator.
If you're making ahead, make sure to bring batter to room temp before frying or the outsides will be crispy and the insides undercooked. You can reheat your kolokithokeftedes by wrapping in foil and popping into a 350-degree oven for about 10 minutes. They are best, though, served hot and delicious right off the stove!
Follow the steps below to make a batch of these gorgeous, golden, foolproof fritters today.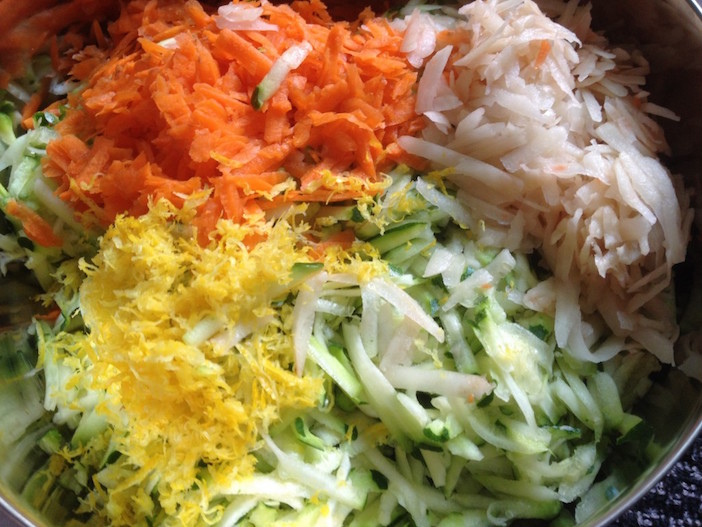 Ingredients
2 tbsp Bob's Red Mill Flax Meal or flax meal of your choice
1/2 cup room temperature water
2 large zucchini (approx 2 lbs or 4 cups shredded/pre-squeezed)
1/2 cup shredded potato (approx 1 medium potato)
1/2 cup shredded carrot (approx 1 medium carrot)
1/2 cup shredded onion (approx 1 small yellow onion)
1/3 cup chopped herbs (I use 2 tbsp each of mint, dill and parsley)
1 tbsp lemon zest
1/2 cup bread crumbs, fine-crushed and unseasoned
1/2 cup all purpose flour
1 tsp baking powder (or baker's ammonia/ traditional Greek levener)
1 tsp salt
1/2 tsp freshly ground black pepper
1/4 tsp ground nutmeg
approx. 1/2 cup light olive oil or sunflower oil for frying (Buy your Greek extra virgin olive oil here)
Instructions
Shred zucchini into colander and sprinkle with about 2 tsp of salt (this amount is in addition to above 1 tsp above). Allow to drain over the sink for 20 minutes or so.
Mix flax meal and water until completely combined. Set aside and allow mixture to sit for about 10 minutes as you prepare the rest of your recipe.
Shred onions, carrots and potatoes. Squeeze out liquid from onions and potatoes by ringing them in a clean kitchen/tea towel over the sink. Set aside.
Chop herbs, measure out breadcrumbs and spices (leaving out the AP flour), zest lemon and combine all in large bowl.
When flax meal is ready, mix into large bowl with herbs/crumbs/spices until completely combined.
Rinse (just very lightly) shredded zucchini and ring out any liquid in a kitchen/tea towel. Add all shredded veggies to bowl with flax/herbs/etc mixture and stir to combine completely.
Lastly, add the flour and, now working with your hands, combine everything once more. Set aside to rest for at least 10 minutes on the counter and for up to 3 days, covered in the refrigerator.
Add 3 tbsp oil to shallow frying pan and bring to medium heat. Watch the pan so your oil does not burn! I keep my pan at number 5 on my induction stove and remove pan from heat for about a minute between batches.
When ready to fry, scoop up squash mixture (I use a 1/3 cup measure) and roll into a ball your hands. Add ball to hot pan and gently pat into a patty.
Make sure there is room around each for you to be able to flip them easily. Depending on the temp of your oil, frying should take about 2-3 minutes per side and come out a nice crispy golden brown. Add 2 tbsp oil to the pan between each batch.
Serve and enjoy immediately!
---
About the author
Kiki Vagianos is The Greek Vegan! Kiki lives and cooks in Boston. She spends her free time collecting, testing and posting favorite traditional Greek recipes at The Greek Vegan website. She loves sharing these simple and delicious authentic dishes and helping to bring them back into kitchens throughout the Greek diaspora. Kali Orexi!
---
Is The Pappas Post worth $5 a month for all of the content you read? On any given month, we publish dozens of articles that educate, inform, entertain, inspire and enrich thousands who read The Pappas Post. I'm asking those who frequent the site to chip in and help keep the quality of our content high — and free. Click here and start your monthly or annual support today. If you choose to pay (a) $5/month or more or (b) $50/year or more then you will be able to browse our site completely ad-free!

Click here if you would like to subscribe to The Pappas Post Weekly News Update