Athens is synonymous with the Acropolis, a host of other ancient sites, crowded market and Piraeus — the port that takes you to many of the wonderful Greek islands.
Hiking is not something typically associated with Athens (or with Greece in general), however, with an impressive 80% of its terrain being mountainous, extraordinary landscapes, and hundreds of well-mapped out hiking trails, Greece is truly a hiker's paradise.
Athens and the surrounding region of Attica are no exception. Athens is surrounded by five mountains, each offering a variety of different fauna and flora, beautiful trails, phenomenal views and archaeological sites. 
When I moved to Athens, I had no idea about the diversity of landscape and nature that this city offered. I keep exploring, and I keep finding more and more hiking options.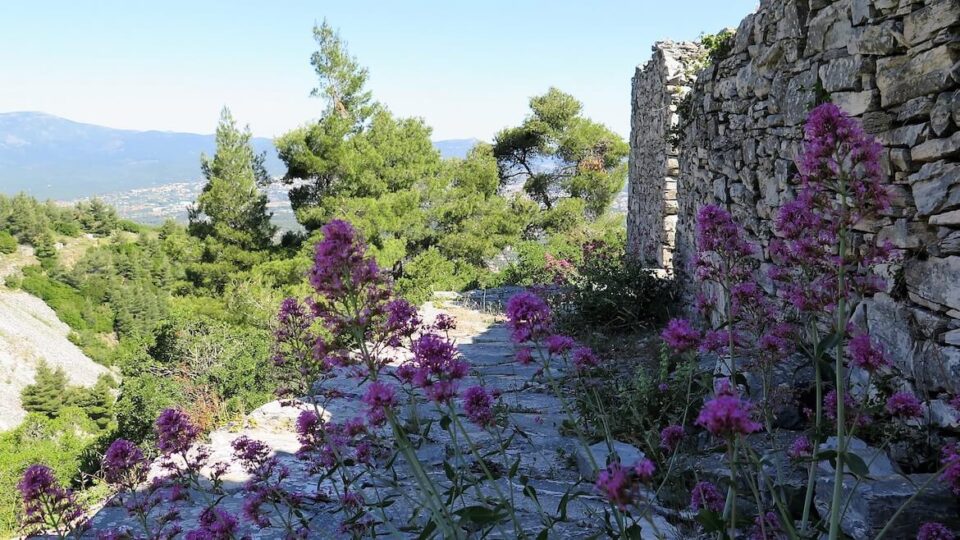 Athens is full of hidden gems: hiking trails, invigorating mountainous paths, lush forest trails smattered with wildflowers, byzantine churches, wild asparagus in spring, mushrooms in autumn and so much more, all within an hour of the Acropolis. 
Here are three of my favourite places to hike in Athens: 
1. Mount Hymettus or Ymittos 
Mount Hymettus, famed for its thyme-scented honey, boasts a beautiful pine forest, a number of impressive caves, historic monasteries and a network of marked hiking and mountain biking trails. It offers unparalleled views of the city and the sea and is a very short drive from the centre of town (roughly 15-20 minutes).
Even longtime residents of Athens are surprised by what this mountain has to offer – a total escape, merely minutes from the hustle bustle of town.
The easiest hiking routes are found in the areas around Kaissariani Monastery. Farther up, dirt roads carve across the mountain. For the less energetic, an asphalt road leads all the way up to the summit.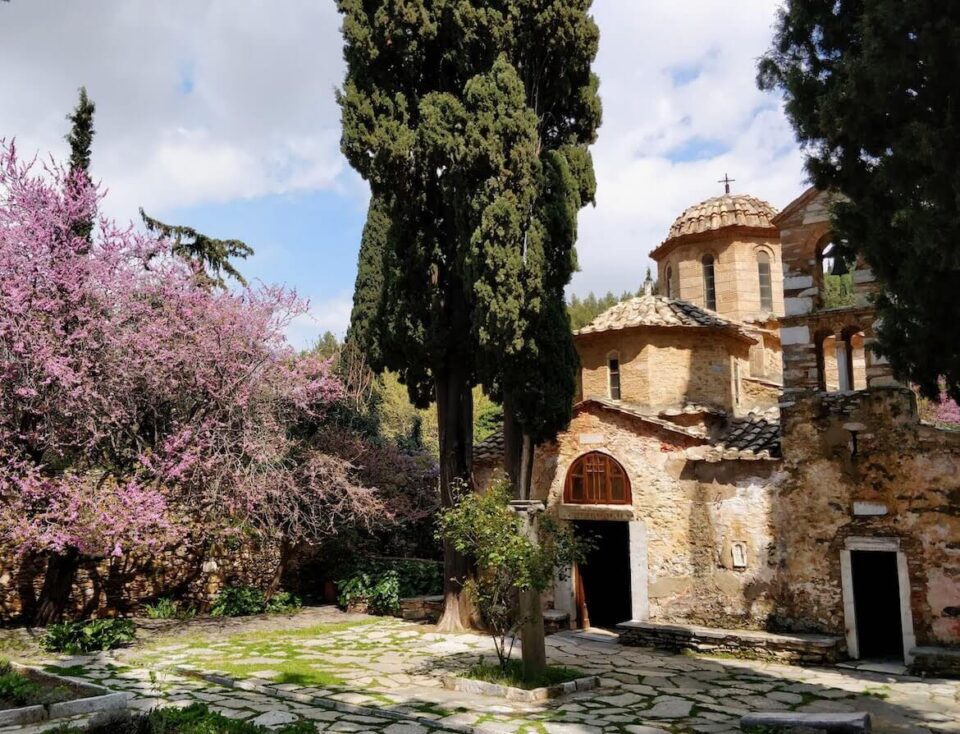 Mount Hymettus is one of the most accessible places to go hiking in Athens. For one of my favorite views in Athens head up to Taxiarches Hill (close to Kaissariani Monastery), a place my family and I often refer to as "The Balcony."
This mountain offers a real variety of trails, from the very pleasant walks around the monastery to the more challenging trails up towards the peak of Korakovouni and the Trypia Cave. It is also a formidable birdwatching area.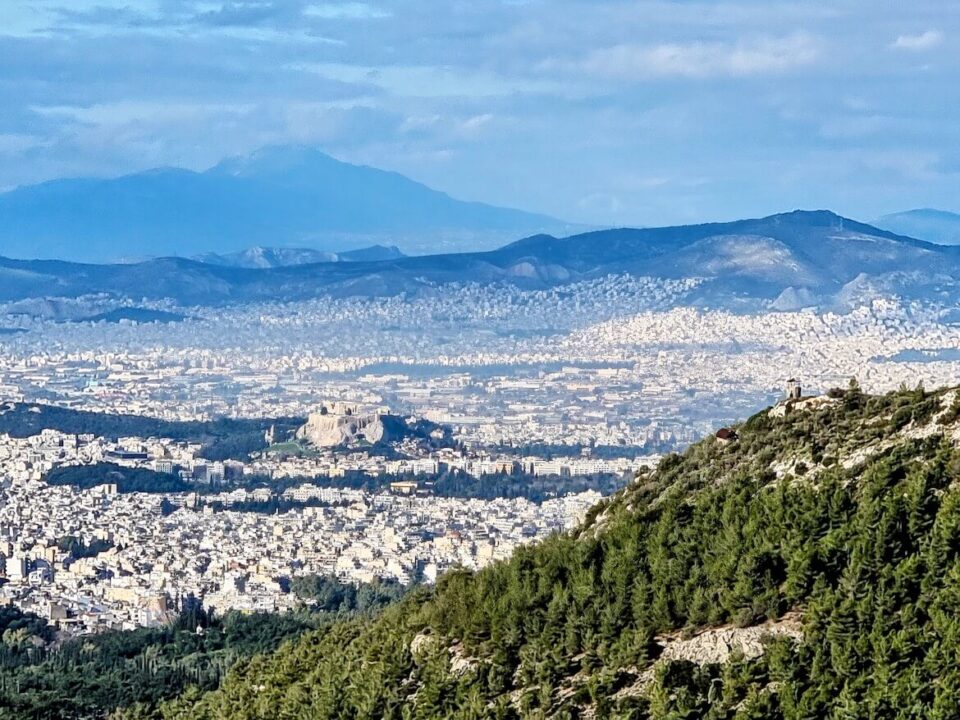 2. Mount Penteli 
Mount Penteli is the second highest of the five mountains defining the metropolitan area of Athens with a peak that reaches an elevation of 3,638 feet. The mountain is best known for its marble quarries that date back to early antiquity.
The flawless white Penteli marble was used to build the Acropolis and other ancient monuments. A quarry museum has now been preserved on the northern slopes of the mountain.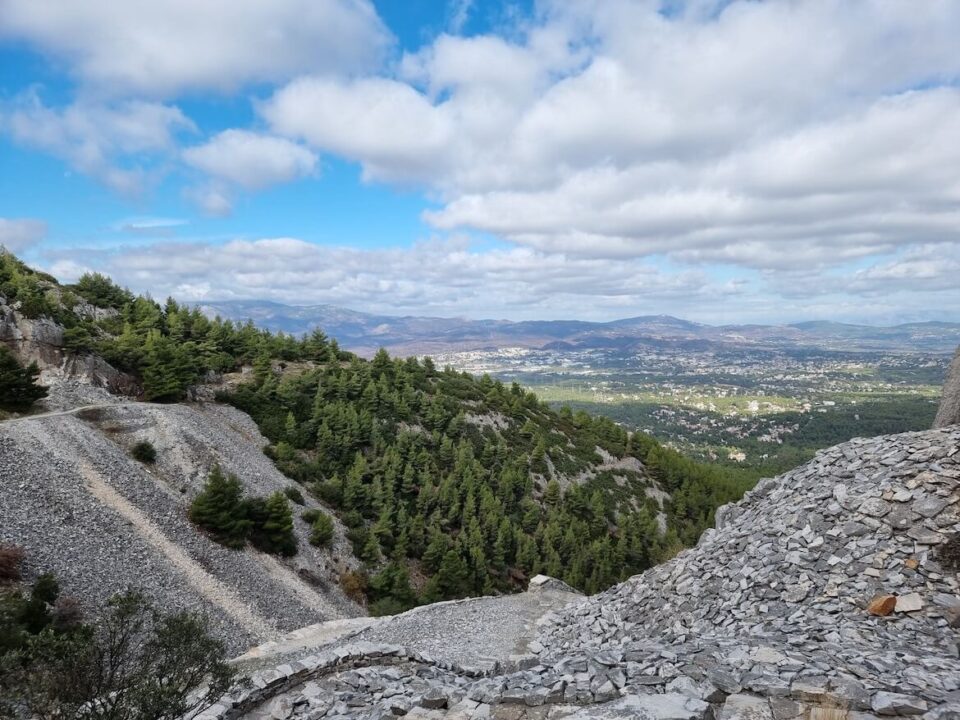 There are a good number of scenic hiking trails on Penteli and the summit can be reached via an asphalt road that begins in the town of Nea Penteli as well as numerous hiking trails.
Higher trails on Penteli offer incredible views of Athens and the South Evian Gulf, there are several points of interest worth visiting that include caves, churches, waterfalls and of course the quarries. For more information on one of my favorite trails, read this article. 
3. Mount Parnitha 
Mount Parnitha is the highest of the mountains surrounding Athens and offers a huge array of trails and biodiversity. It is by far and away the "wildest" of the mountains near Athens and has been designated as a national park and a place of exceptional natural beauty.
Despite a huge wildfire in 2007, there are still forested stretches that survived and a myriad of stunning routes here for all levels of ability – from short easy walks to challenging hikes to the mountain's peaks. 
What never ceases to amaze is the proximity to Athens — a little over half an hour to the base of Parnitha from the center of town. With such a huge diversity of flora and fauna, Parnitha truly is a marvel.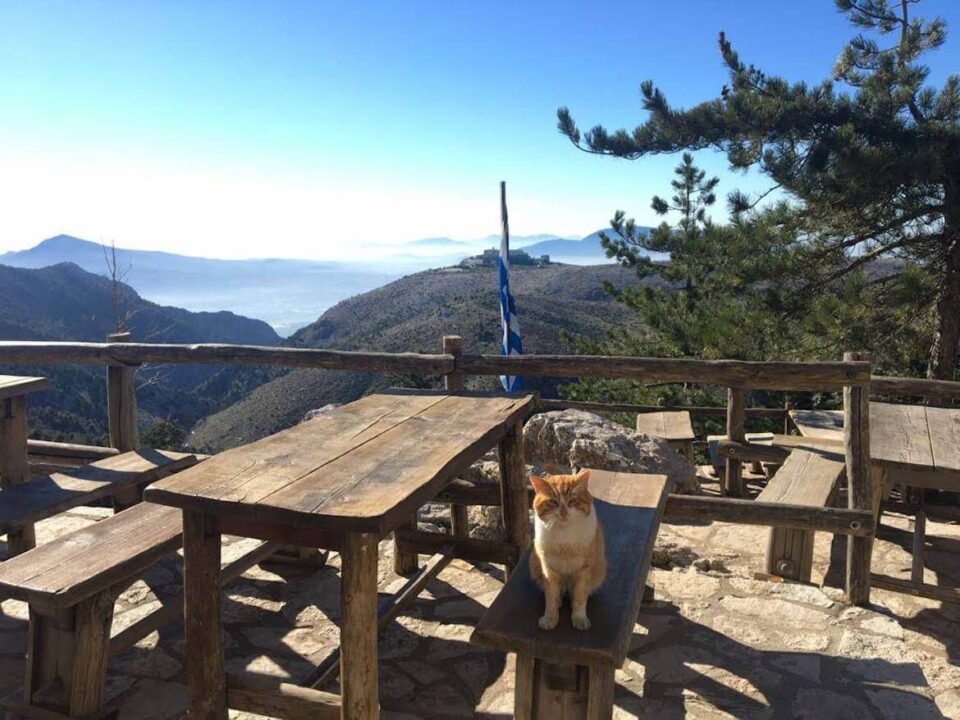 There are two highly accessible refuges on the mountain – Bafi and Flambouri. Both offer delicious food, served with a view and a range of services including guided hikes. 
Mount Parnitha offers the richest hiking network of any of the mountains in Athens, making it ideal for a day trip or even a longer break (you can sleep in Bafi refuge.) The mountain has abundant wildlife which includes birds of prey, foxes and even wolves. Most of the animals are elusive in nature, but you are very likely to see the red deer who live on the mountain. 
Notes for Hiking in Athens
You can hike in Greece throughout the year, although spring and autumn offer the most comfortable temperatures. In winter, particularly on the mountains, prepare yourself for cold weather and even snow. Parnitha will almost always have snow in winter. If hiking in summer, try to go either early morning or late afternoon. 
There are many marked trails on the mountains; however, if you do decide to venture off the beaten track, it is best to take a map with you. 
About the author
Stephanie Contomichalos runs Nefeli Nine Retreats, a hiking and yoga retreat based just outside of Athens. Join her for day trips, weekends or full week-long escapes. Follow Stephanie's hiking journeys on Instagram (@ssconto).
---
Is The Pappas Post worth $5 a month for all of the content you read? On any given month, we publish dozens of articles that educate, inform, entertain, inspire and enrich thousands who read The Pappas Post. I'm asking those who frequent the site to chip in and help keep the quality of our content high — and free. Click here and start your monthly or annual support today. If you choose to pay (a) $5/month or more or (b) $50/year or more then you will be able to browse our site completely ad-free!

Click here if you would like to subscribe to The Pappas Post Weekly News Update