While British Prime Minister Theresa May welcomed Greek Prime Minister Alexis Tsipras to 10 Downing Street in London with a handshake…
@theresa_may is welcoming @tsipras_eu @10DowningStreet #tsipras #UK #London pic.twitter.com/4g7saa8pGD

— Evdoxia Lymperi (@EvdoxiaL) June 26, 2018
Different kinds of "welcomes" were taking place for him elsewhere.
The day before his meeting with May, Tsipras met with scientists and members of the business community who left Greece during the years of the financial crisis.
While people inside the gathering described Tsipras as "very engaging" and responsive to the dialogue with the young Greek immigrants to the United Kingdom, outside, a different story was unfolding.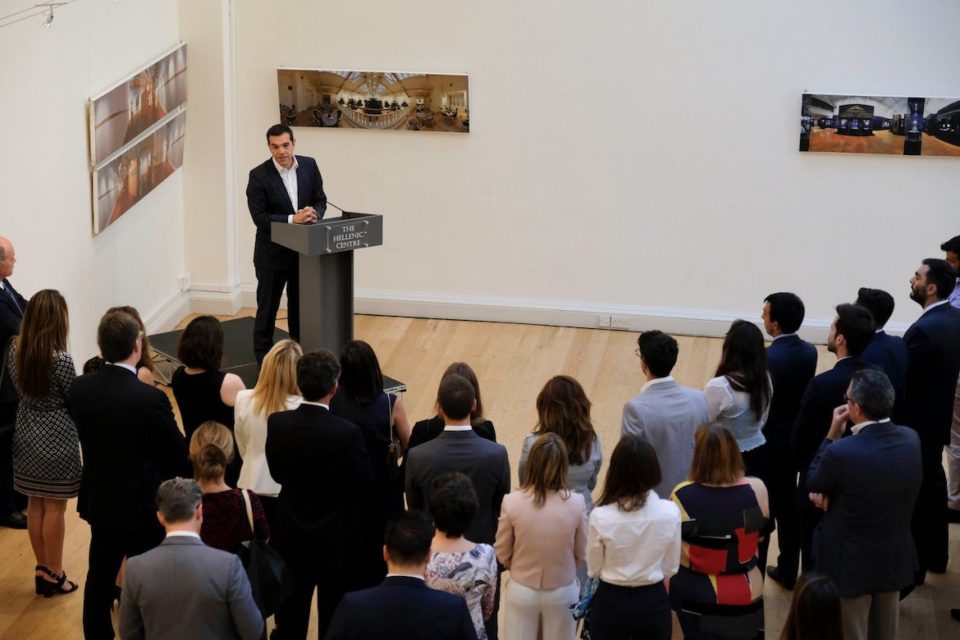 Upon his departure from the Hellenic Centre, a small— but vocal group of protestors chanted "traitor," and screamed "You sold Macedonia for 30 pieces of gold" as he got into his awaiting car and drove away.
Meanwhile, at the Greek Embassy in London, more protestors gathered with Greek flags and a hand-painted sign that reads "traitors."
Tsipras is in London to pitch Greece's role as a bulwark of stability in the Balkans and to encourage British investment, following the debt relief deal he negotiated with the Eurogroup and Greece's departure from its nearly-decade long financial crisis.
During his visit, he also met with the Greek Orthodox Archbishop of Great Britain, Gregory.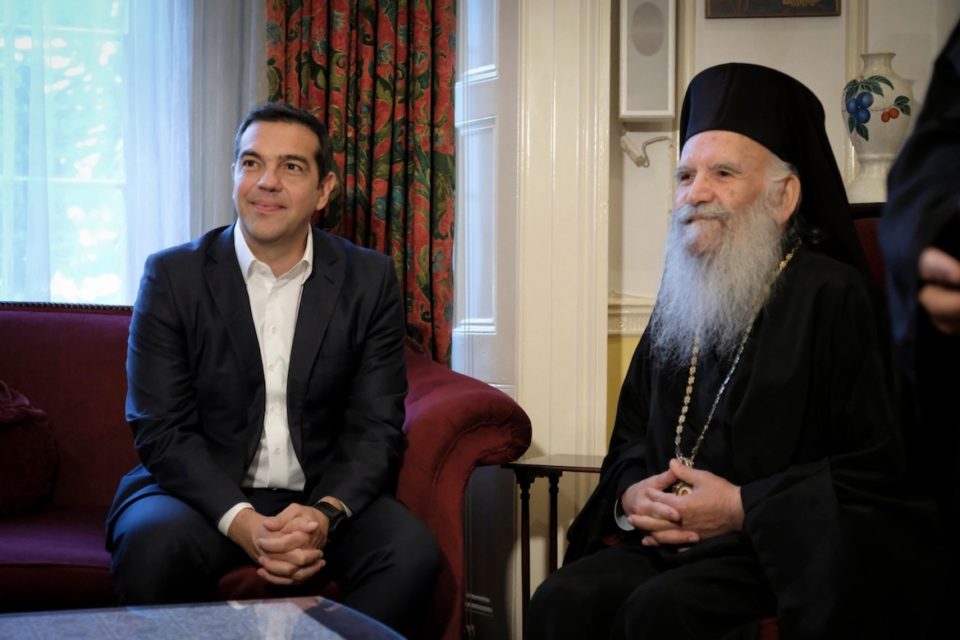 Cover photo from Takis Moussas via Facebook. Photos of Prime Minister Alexis Tsipras with Archbishop Gregory and Hellenic Centre via the Greek Prime Minister's official Twitter account.
*****
Since you're here… I have a small favor to ask.
More and more people than ever before are reading The Pappas Post and despite increasing costs to maintain the site and provide you with the quality content that you deserve, I will never "force" you to pay for our website or add a paywall. I believe in the democracy of the internet and want to keep this site and its enriching content free for everyone. But at the same time I'm asking those who frequent the site to chip in and help keep it both high quality— and free. We've implemented a "free-will" annual subscription for those who want to support our efforts. I guess it's fair to call it a philotimo subscription… because you don't have to do it but it's really the right thing to do if you love the site and the content we publish. So if you like The Pappas Post and want to help, please consider becoming a "philotimo subscriber". Click here to subscribe. If you'd rather make a one time donation, we will gladly accept any amount, with appreciation. Click here to donate any amount.