Our reader, Nora Presti from Baltimore shared photos from an annual tradition that takes place at St. Theodore Greek Orthodox Church in Lanham, a suburb of Baltimore, where second, third— even fourth generation Greek American youth— many even of mixed ethnic backgrounds come together in the church kitchen to carry on the tradition of baking Lazarakia, or little Lazarus breads.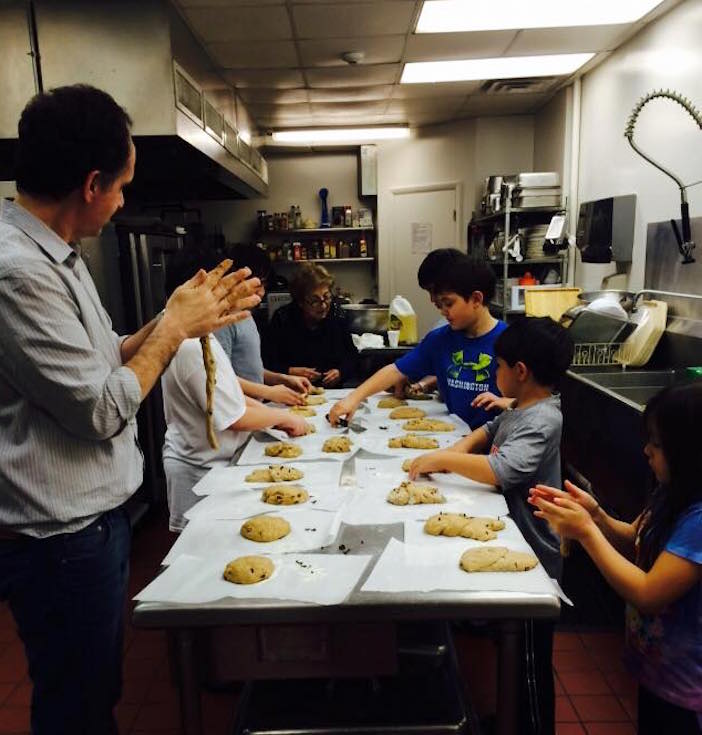 The Lazarákia ("Little Lazaruses") are small, sweet spice breads made by Greek Orthodox Christians on Lazarus Saturday, the Saturday that begins Holy Week to celebrate the miracle of Jesus raising Lazarus from the dead.
They are shaped like a man wrapped in a shroud to replicate Saint Lazarus of Bethany, with cloves for eyes. They contain several sweet spices and are made with the Lenten tradition—, meaning that they do not contain any dairy products or eggs.
For that reason, unlike the tsourekia (Greek Easter Bread), they are brushed with olive oil instead of egg or butter for their glossy finish.
Lazarakia for 12
Recipe from St. Nektarios Church in Knoxville, TN
7-8 cups flour
2 cups warm water
3/4 tbsp. active dry yeast
1/2 cup sugar
2 tbsp. honey
1 tbsp. ground cinnamon
1 tsp. ground cloves
1/2 tsp. salt
3 tbsp. olive oil (plus more for brushing)
Dissolve the yeast in warm water along with the honey. Allow to stand for about 5 minutes, until it becomes frothy. Add sugar and olive oil and mix until dissolved. In a separate bowl use a fork to mix 7 cups of flour with the remaining dry ingredients. Make a well in the center of the flour mixture and stir in the yeast mixture.
Knead the dough (I use a Kitchen Aid mixer with a dough hook for this process.) for about 10 minutes or until the dough is elastic. (Add extra flour until you get a dough that is neither too dry nor too sticky to handle. If you've used too much flour and the dough becomes too dry, you can add in water by the tablespoonful until you reach the correct consistency.) Cover and allow to rise in a warm place for an hour. Punch down and allow to rise for another 45 minutes.
There are several ways to form the Lazarakia. You want your breads to look like little men wrapped in burial shrouds.
One way is to divide your dough into 13 pieces, with one piece larger than the rest. Divide the larger piece into 12 cords, and then cut each cord into half. At this point, you should have 12 pieces of dough, and 24 cords. Roll each of the 12 pieces into an oblong shape. Place an almond at the top as a face. Then take two of the smaller cords and, starting just below the "face", braid the dough together.
Another way to do this is to use gingerbread men cookie cutters, and wrap the arms around the rest of the dough to create the burial shroud. Use 2 cloves for eyes.
Or you can do it free-form, creating the shape of a man with a knife, and wrapping the arms around to make the shroud.
When you're happy with the form of the dough men, place the breads on an oiled sheet and cover them. Allow them to rise for 30 minutes to an hour. Brush with olive oil and then bake in a pre-heated oven of 350 degrees for 20 to 25 minutes (or until golden).
This bread is traditionally served on Lazarus Saturday in Greece.