Maria Makrogianni received a Project Hope for Greece grant from the Greek America Foundation, following a generous donation from the women of Saints Peter and Paul Greek Orthodox Church Philoptochos in Glenview, IL, which was earmarked for food purchase to support her cooking efforts. Following is her story.
---
The first sight of a pregnant woman, soaked and carrying an infant in her arms, was Maria Makrogianni's first introduction to what would become the worst refugee crisis in a generation.
"I didn't know what was going on," Maria said. "I saw this woman walking on the beach in front of my taverna. She was wet, dripping. At first I thought she was a tourist and that's how they swam in their country, with their clothes and headscarves on. I had no idea what was going on."
Then more people followed. Entire families. Many of the rafts arriving on Samos landed a few miles on the coast and Maria's taverna was along the path to the main town of Vathi where refugees were registered with authorities or continued their journeys via ferries to Athens.
This was 2015 when Northern Europe's borders were still open and the flow was constant.
Maria and her partner Michalis began making sandwiches and taking cases of water to the harbor where thousands of people would gather. She passed out food and water to refugees, policemen, coast guard– anyone who was there.
The operation soon shifted to her restaurant where she felt she could be more effective.
"I had tables, chairs, tablecloths… All people deserve dignity and after their horrible journey, I wanted to make sure they could fill their stomachs with dignity and in a clean environment, not standing at the harbor or in the town square, in the sun."
Maria's restaurant soon became a "hot spot" for hungry refugees who were caught in the chaos of an ill-prepared government infrastructure, a chaotic registration process and an island that didn't have the infrastructure to handle so many thousands of people arriving on a daily basis.
Day after day, families came to eat a warm meal.
Maria transformed it into a shelter, as well, laying blankets at night and sleeping as many as 70 people at a time who couldn't find a spot in a camp or were not allowed to sleep outdoors in town squares.
Late at night she'd rummage through the trash and fill bags of wet, dirty clothing and ring it back to her restaurant and wash, dry and iron pants, dresses, baby clothes.
"Bags and bags weighing dozens of kilos of clothes– after arriving in the rafts they were wet and dirty. They would immediately take off their wet clothes and receive warm clothes from many of the volunteer groups gathered to help the refugees."
But Maria, the daughter of refugees from Cesme in Asia Minor who landed on Samos in boats when Kemal Ataturk began his murderous rampage against Greeks in 1922, knew it was wasteful to throw away so much good clothing when there was so much need.
She loaded dirty clothes into her washer and distributed clean, ironed clothing day after day.
"People deserve dignity," she said again.
"My mother never wasted a thing. We'd eat meat once or twice a month and she made us save the bones so she could boil them and make broth. Then, what was left, she crushed the bones and fed the animals. When the Germans occupied the island they looted all of our food and we learned to make soup from wild greens we'd pick from the side of the road. No, you don't throw away something that can be used again."
Maria didn't speak Arabic, Farsi or any of the languages spoken by the arriving refugees. But she built personal connections with many of them, became Facebook friends, exchanged photos and hugs.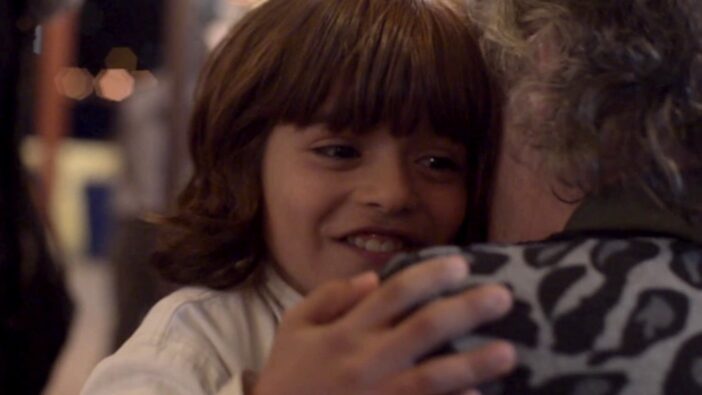 Many families who continued their journeys to other countries kept in touch and sent messages of love and appreciation.
She soon earned the nickname "Mama Maria" after giving so many people— especially young kids, love and compassion that a mother would give.
Many locals disagreed with Maria and criticized her for helping. In fact, she was even forced to close her taverna when the environment in the neighborhood became unfriendly and unsafe for her and Michalis.
"Why not," Maria said. "Since when is helping people a bad thing?"
She immediately recalled stories her mother shared.
"When my mother came here with her family, they were kicked and spit on. Locals– fellow Greeks and fellow Christians– called them 'tourkospori," (born from a Turkish seed) and weren't welcoming. The newspapers then were screaming against the Greeks arriving on the island from Asia Minor. I didn't want history to repeat itself."
Can you imagine the plight of these people arriving today, she asked.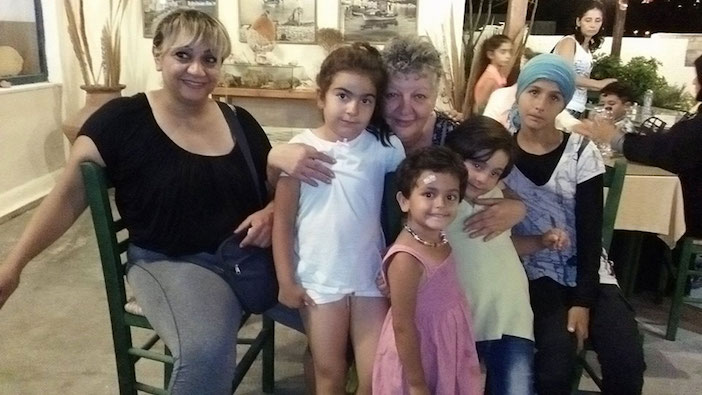 "These people came from war and destruction, their families were murdered. They chose to cross the sea in a dangerous raft because what they left behind was more dangerous. What mother would put her children in a raft and risk drowning. They weren't coming for a joy ride to the Greek islands. No, they left because they had to and bring me anyone here in front of my face to tell me otherwise," Maria continues.
Maria no longer runs her famous taverna on the beach— but her acts of goodwill continue unabated. She cooks meals from her kitchen at home and delivers them in plastic containers to the refugee camp where thousands of people still live, waiting for asylum requests to be processed or to be moved to more permanent facilities.
She parks outside the camp and sends a message to those inside— and soon, the lines form.
"Hundreds of them, waiting for a decent meal," she says. "I don't know what they're serving these poor people inside but I know it's not good. One man showed me photos of maggots in their lentils. It was disgusting," she said.
Thanks to a donation from the good women of the Saints Peter and Paul Philoptοchos in Glenview, IL that was given to the Greek America Foundation, Mama Maria will be able to prepare 800 meals a month and deliver them to the refugee camp, filling a badly-needed void where both the state and numerous non-governmental organizations have been unable to fill for the thousands of refugees on her island.
---
Is The Pappas Post worth $5 a month for all of the content you read? On any given month, we publish dozens of articles that educate, inform, entertain, inspire and enrich thousands who read The Pappas Post. I'm asking those who frequent the site to chip in and help keep the quality of our content high — and free. Click here and start your monthly or annual support today. If you choose to pay (a) $5/month or more or (b) $50/year or more then you will be able to browse our site completely ad-free!

Click here if you would like to subscribe to The Pappas Post Weekly News Update