Six years ago, Athan Gadanidis left Canada and went home to Greece to find the best olive oil for health.
Inspired by the research of University of Athens professors Dr. Prokopios Magiatis and Dr. Eleni Melliou into the health benefits of phenolic compounds in olive oil, Gadanidis began writing for Olive Oil Times.
Gadanidis had told Dr. Magiatis that they needed a human subject to test the benefits of olive oil in treating prostate cancer.
Ironically, he would be that subject himself.
Diagnosed with prostate cancer in October 2018, Gadanidis has all but rejected traditional treatment, which he calls "chemical castration." While he has had two emergency anti-androgen injections, he otherwise remains committed to natural treatment — and to promoting the cancer-fighting properties of olive oil.
In particular, Gadanidis wants to further researchers' understanding of oleocanthal, a phenolic compound found in olive oil with tremendous medicinal and healing potential.
To that end, Gadanidis is working with Dr. Magiatis and Dr. Melliou as the main subject of their pilot study to assess the effectiveness of oleocanthal and other phenolic compounds derived from olive oil in treating prostate cancer.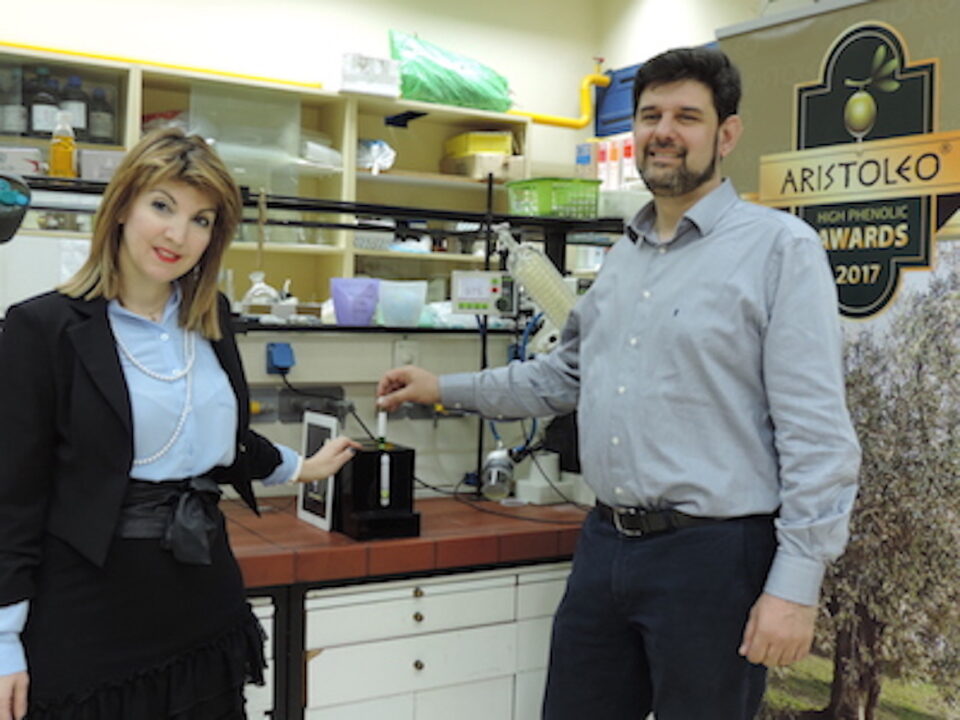 Fundraising Campaign: Human Pilot Study for New Cancer Treatment

Gadanidis and his partner Marilyn Harding have launched a fundraising campaign to finance the pilot study, which they hope will promote a more natural and humane treatment for prostate cancer.
In addition to Gadanidis, the pilot will invite other volunteers (under doctor's agreement and supervision) to test oleocanthal-rich olive oil and its effect on prostate health and inflammation. Each volunteer will receive a free three-month supply of olive oil.
Since diagnosis, Gadanidis has been taking large doses of oleocanthal-rich olive oil with unusually effective results in reduced PSA and prostate enlargement, commented upon by doctors as an "unusually positive response" to anti-androgen injections.
About Oleocanthal-Rich Olive Oil
Made from early harvest green olives, this type of oil is well known by many Greeks as "agoureleo." Hippocrates and Dioscorides referred to it as "medicinal." It has a distinctive peppery sensation at the back of the throat which indicates the presence of oleocanthal.
Oleocanthal has been researched since 2005 when its extraordinary anti-inflammatory properties were discovered by Dr. Gary Beachamp who noticed the peppery effect was identical to ibuprofen. Since then clinical trials in countries around the world are studying its potential in preventing or treating cardiovascular, neurodegenerative and autoimmune diseases and many cancers.
At the University of Athens, Dr. Magiatis and Dr. Melliou together created the first university lab which analyzes health benefits of olive oil through nuclear magnetic resonance — an analytical chemistry technique that evaluates the content, purity and molecular structure of a sample.
Along with other academics from around the world, the two researchers founded the World Olive Center, an Athens-based non-profit dedicated to researching and educating about the health benefits of olive oil.
Olive Oil, EU Health Claims
In 2012, the European Union declared that olive oils with polyphenols of at least 250mg/kg could qualify for health claims, which are claims placed on food products that reduce the risk of developing a disease or condition.
In Greece, large olive oil companies and politicians have resisted putting health claims on olive oil because they argue that it is a basic element of Mediterranean cuisine — not a drug.
Since moving back to Greece in 2012, Gadanidis has been championing the high phenolic category of olive oil against said companies and politicians. He has been outspoken in calling out anyone who is against the health claim and the science and he is committed to giving people the information they need to make conscious choices in olive oils they can trust for health.
Whether oleocanthal is the silver bullet for Gadanidis' cancer remains to be seen, but he is certain that his example and experience will yield some results to be used when designing future clinical trials with more human volunteers.
Gadanidis admits that he is rocking the boat and is equally loved and hated depending on what side people are on.
In His Own Words: Gadanidis' Story
---
Is The Pappas Post worth $5 a month for all of the content you read? On any given month, we publish dozens of articles that educate, inform, entertain, inspire and enrich thousands who read The Pappas Post. I'm asking those who frequent the site to chip in and help keep the quality of our content high — and free. Click here and start your monthly or annual support today. If you choose to pay (a) $5/month or more or (b) $50/year or more then you will be able to browse our site completely ad-free!

Click here if you would like to subscribe to The Pappas Post Weekly News Update