Greek American filmmaker Valerie Kontakos has hit Kickstarter in search of $45,000 in funds to complete a years-long documentary project about four Greek nuns who have raised more than 300 children in the last 50 years.
MANA is a documentary of the previously untold story of how the nuns came to be.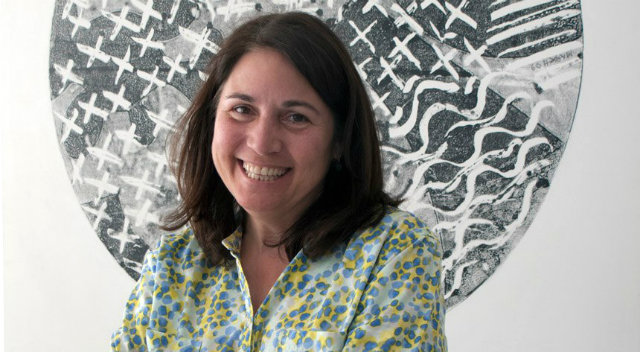 "The first goal of the documentary is to show there is another side of Greece and there are people who are devoted to doing things that don't make headlines," Kontakos (photo) says. "The nuns don't have any recognition for what they are doing and they never sought it. They are very humble.
"It's also fascinating to see that these women chose this path… Sometimes I wonder if it was the only path they could choose in order to be independent women, which they did become," she adds.
The nuns' story starts in 1962, when six young women decide to run away from home and join a convent. They were only 20 years old and they were all dragged back home by their parents. But there was no stopping them – not then and definitely not now. They ran away three times. Their parents even involved the police and had the church issuing official statements forbidding the girls to walk through monastery doors.
"You see, they didn't just want to become nuns," explains Kontakos, who learned about the nuns more than 10 years ago. "They wanted to start their own monastic order and raise other people's children, which was the next best thing to becoming single mothers. And this was the only way they could make their dreams come true without society getting in the way.
"It took them a few years, but the four surviving members of the most fierce gang in Greek Orthodox Church history, have gotten single motherhood down pat," she adds.
Sisters Maria, Sister Dorothea, Sister Parthenia, and Sister Kaliniki have been running the Lyrio Children's Village for nearly 50 years, providing a home and family environment to abused and unwanted children, who all call them mana (Greek for "mother" – hence the title of the documentary).
The nuns currently provide a home to some 65 children, including babies.
Perched up high on a mountain near Athens, the orphanage looks like a tiny village with five houses. The nuns grow their own vegetables and the primary school children are taught by in-house volunteers. The older children attend the local high school.
Founded in 1967, the Lyrio Children's Village is one of longest-running institutions for abandoned children in the country and and one that is not funded by the state or even the Greek Church.
Kontakos describes the nuns as "accidental feminists" who have managed to survive all these years on private donations. She describes the nuns as "ingenious and business savvy" and says they are more resilient than anyone can ever imagine.
"When I moved to Greece 10 years ago, I got to know them and I would visit the village often," says Kontakos. "I was very impressed with the nuns' energy. I was also impressed by the family environment the nuns have created… They have created a very close-knit family environment where the older kids take care of the younger kids."
One of her biggest challenges was convincing the nuns to do the documentary. "But the length of production (two years) has really allowed them to open up and to feel more comfortable," says Kontakos. "I've been able to film them in their most natural and relaxed condition."
The Kickstarter campaign
Kontakos is now finishing up two years' of shooting and will soon start editing.
"This is what our kicskstarter is for – post production," she says, adding that the funds will be spent on editing the film, advertising it and submitting the documentary at festivals worldwide.
The kickstarter project ends May 4.