With only nine easy ingredients, New York City-based Chef Maria Loi shares her recipe for Fanouropita, the cake known throughout the Greek world as the cake for lost items.
Traditionally, it's made every year on August 27, the feast day of St. Fanourios, or as needed when an item is lost.
Although it's not on the menu at her signature Loi Estiatorio in Midtown Manhattan, the Greek-born chef remembers the tradition every year and bakes Fanouropita — offering it to guests in order to share the Greek traditions that she grew up experiencing.
Loi is the author of the popular HarperCollins book The Greek Diet, which has recently been released in the Greek and Portuguese languages and is soon preparing for an Australian release.
Her signature Loi products — Pasta, Dips, Ladi and Meli — are available at Whole Foods, and she's busy preparing more products and cookware that will be released in coming months.
In addition for cooking nightly for guests, Loi has cooked for President Barack Obama at the White House and has participated in numerous philanthropic efforts in the city. She also supports children's charities in her native Greece.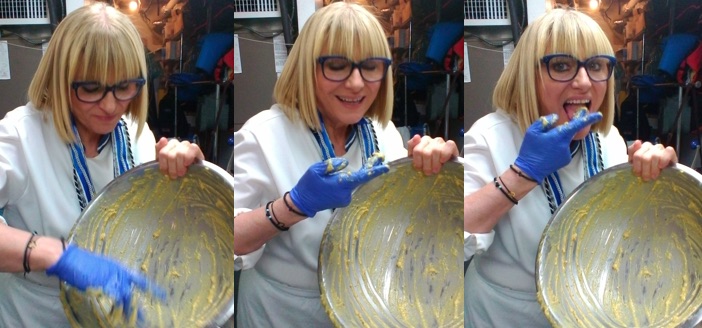 Ingredients
4 cups of all-purpose flour
1½ cups of orange juice
1¼ cups of granulated sugar
1 cup of Greek olive oil (Buy your Greek extra virgin olive oil here)
1 cup of walnuts, finely chopped
1 cup of black raisins
¾ cup of brandy
1 tablespoon of baking powder
1 teaspoon of ground cinnamon
Instructions
Soak the raisins in brandy for approximately 30 minutes; preheat the oven to 320 F.
While the raisins are soaking, sift the flour into a large mixing bowl; divide evenly into two large mixing bowls.
Slowly add the orange juice, followed by the olive oil into one of the bowls with flour, mixing thoroughly until fully combined; add the brandy and raisins, and mix again.
Reserve 3 tablespoons of sugar, and add the remaining sugar and walnuts to the batter, mixing to fully combine.
In the second bowl with remaining sifted flour, add the baking powder and ground cinnamon, and stir to combine.
Slowly incorporate the dry ingredient bowl into the bowl with the batter, and mix until combine.
Pour cake batter into a parchment-paper lined spring-form cake pan coated with olive oil; bake for approximately 45-50 minutes, then remove to sprinkle the top with the reserved sugar. Return to oven for another 5-10 minutes; remove, and allow to cool for 30 minutes.
Καλή επιτυχία – Good Luck, may you find your lost things!
---
Is The Pappas Post worth $5 a month for all of the content you read? On any given month, we publish dozens of articles that educate, inform, entertain, inspire and enrich thousands who read The Pappas Post. I'm asking those who frequent the site to chip in and help keep the quality of our content high — and free. Click here and start your monthly or annual support today. If you choose to pay (a) $5/month or more or (b) $50/year or more then you will be able to browse our site completely ad-free!

Click here if you would like to subscribe to The Pappas Post Weekly News Update