Dozens of contributors from throughout the Greek diaspora, including four from inside Greece, have contributed to a crowdfunding campaign organized by The Pappas Post to ensure the participation of Polychronis Tzortzakis, the Greek National Champion cyclist at the Richmond, VA World Championships in September.
Although the fund successfully reached its goal, people can still donate as it will be an ongoing effort to support Greek champions in various competitions throughout the world. Click here to see the results of the fund and donate.
The fund was bolstered by Georges Enterprises, a Louisiana company headed by Greek American John Georges, who signed on as a Corporate Benefactor and Tony Lourakis, founder and CEO of Fleet Complete in Toronto, which is a corporate sponsor.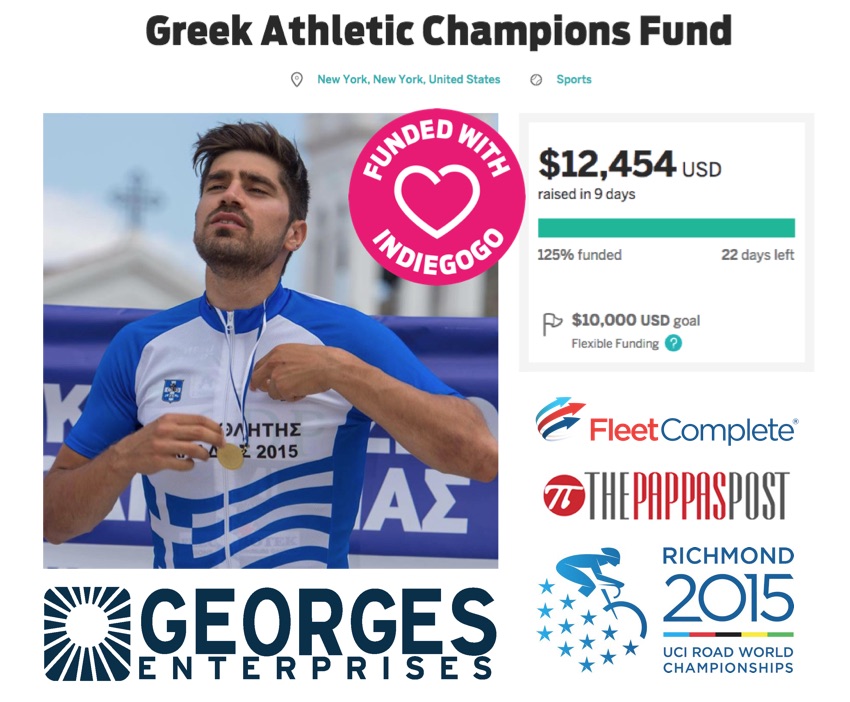 "I started this campaign to ensure Greece's participation at global competitions, to ensure that Greece's champions have their chance to compete globally," said Gregory Pappas, publisher of The Pappas Post and organizer of the Indiegogo campaign.
The financial crisis is having a terrible impact on sporting federations in Greece which are underfunded and unable to send their champions to various global competitions.
This is especially disconcerting now, ahead of important qualifying competitions before the 2016 Rio Olympics. If the Greek athletes can't compete in point-accumulating competitions, they won't be able to qualify for Rio.