Orsa Velivasakis from Dunedin, Florida was minding her own business, following in the tradition of her husband Manoli's family from the Mylopotamos region of Crete and making traditional cheese pies.
These are often made in Cretan homes, usually before Lent officially begins but when meat has already been restricted and cheese is still permitted in the diet.
Snap. Snap. Post. Post. Lucky for us, Manoli is active on Facebook and shared the images of his wife making the pies on his Facebook newsfeed for all his friends to see, including me.
It reminded me of the "tiganites" that my mom used to make to satisfy our hunger and at the same time, carry on traditions from our ancestral island of Crete.
My family is from Hania, west of Manoli's region of Mylopotamos but traditions are similar across our great island with few variations.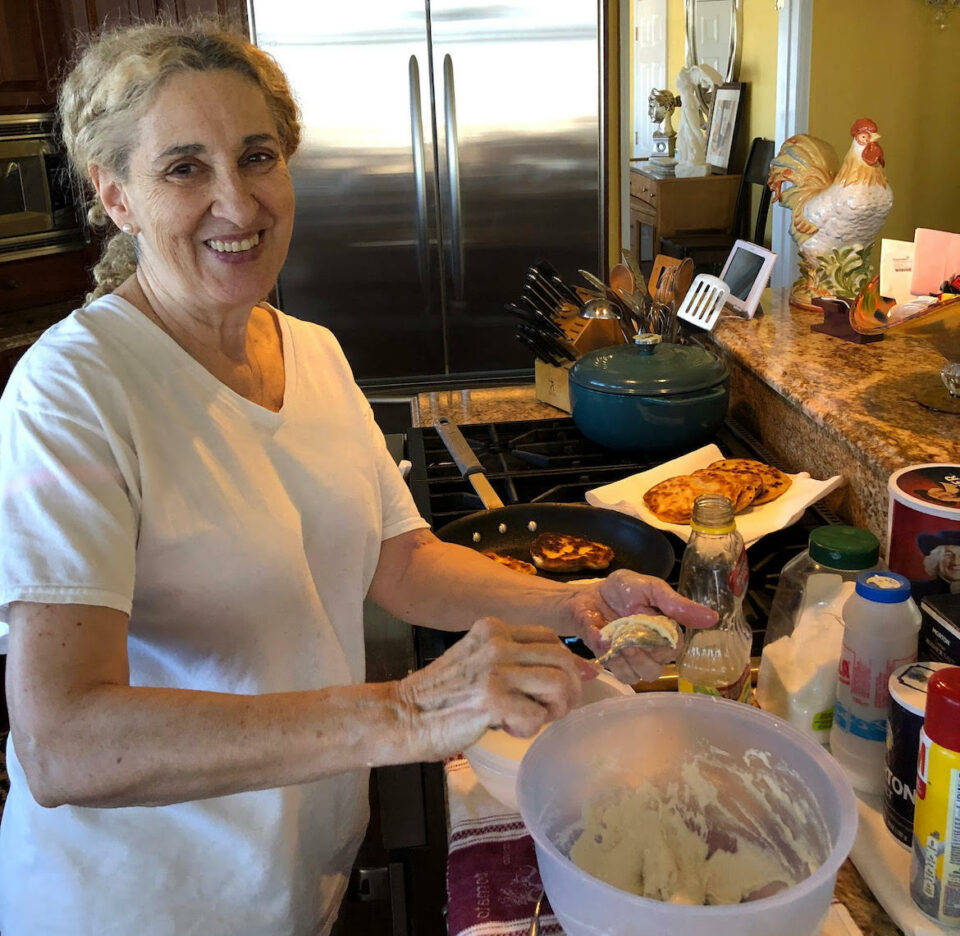 These pies are also well-known in the Sfakia region of the island (Sfakianes Pites) and always incorporate a watery dough and the local Mizithra cheese.
The recipe is so simple— yet so satisfying. Especially with honey drizzled on top and a dash of cinnamon. Of course, you must use authentic Cretan honey and arguably, the very best, comes from high up in the White Mountains in Sfakia.
Another option for your sweet tooth is to spread a dollop of Greek fruit jam on top.
The Olive Grove Market offers honey from Crete, as well as some of the tastiest Greek jams, including strawberry from the Peloponnese, figs from Kalamata and mandarin from Chios.
Although I'm a traditionalist and prefer the old-fashioned honey version, with a dash of cinnamon— the way my mom used to make it, there's something sexy about the cheese and mandarin jam connection that I'm excited to try next.
Manoli was generous enough to share Orsa's simple recipe for "Neropites" (water pies) or "Mizithropites" (Mizithra Cheese pies) from the Mylopotamos region of central Crete.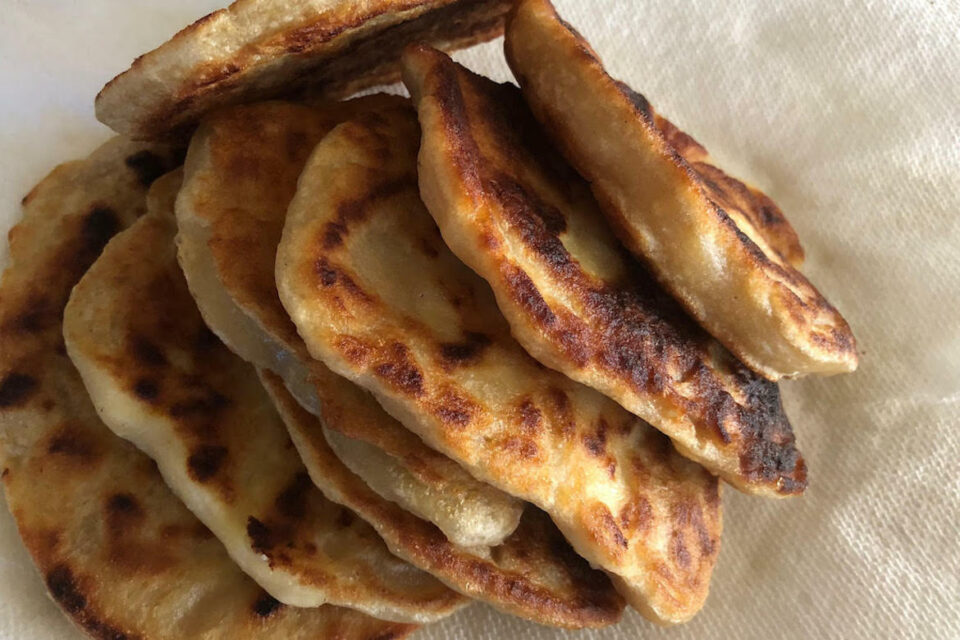 The recipe calls for a simple dough mixture with about two pounds of flour and "bit" of water and equal amounts of extra virgin olive oil (about a cup and a half of each) to make the dough soft and watery.
These pies are called "neropites" or water pies because their dough is wet and watery and must remain so during preparation, as well as cooking.
When you make your dough (since nothing is ever exact in cooking), aim for a thick, but watery dough. And see Orsa's hands below— always wet when handling the dough balls.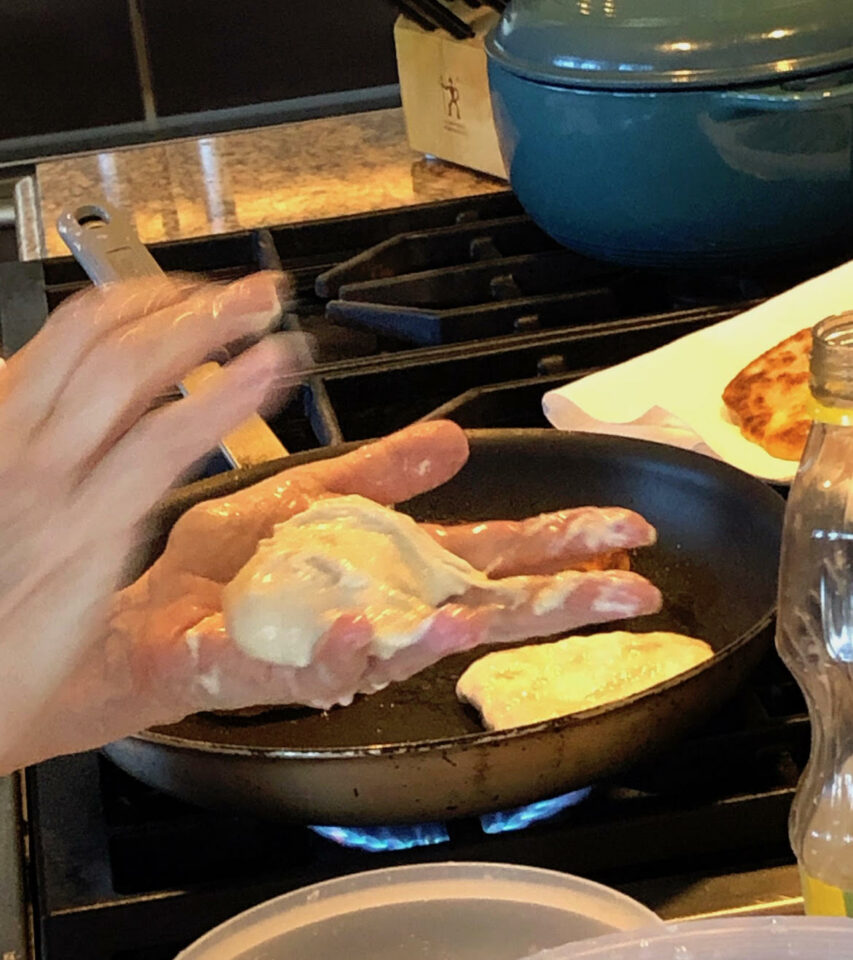 For the filling, you need traditional, soft Mizithra cheese, which is a kind of a white, goat cheese that is very common on Crete. It pairs well with honey or anything sweet, which is why it's used in these pies.
Orsa shared her secret with us that if soft Mizithra isn't available in your local ethnic market, try mixing farmer's cheese or soft goat cheese with a tiny bit of feta to add a bit of saltiness. (Thanks Orsa!)
The ultimate goal is to make the cheese the consistency of a soft ball that you can knead into the dough to craft and press the small pies.
As you will see in the video below, water and your use of your hands to flatten the pies in the pan is key.
I wish there were more specific recipes with exact amounts of each ingredients to share.
---
---
Is The Pappas Post worth $5 a month for all of the content you read? On any given month, we publish dozens of articles that educate, inform, entertain, inspire and enrich thousands who read The Pappas Post. I'm asking those who frequent the site to chip in and help keep the quality of our content high — and free. Click here and start your monthly or annual support today. If you choose to pay (a) $5/month or more or (b) $50/year or more then you will be able to browse our site completely ad-free!

Click here if you would like to subscribe to The Pappas Post Weekly News Update