Hania is a place that's near and dear to my heart. Both my parents were born and raised there and I spent my childhood summers there with my mom and her entire "big, fat Cretan family."
It's safe to say Hania is like a second home to me and I know the town as of it were my own hometown… which, in a way, it is. The following are my own personal recommendations. No one has paid me to publish these suggestions.
Furthermore, I often share instantaneous recommendations while traveling on my social media pages, so feel free to follow my Facebook, Instagram and Twitter accounts. This post has been updated for June 2019 and all establishments are currently open and awaiting you! Remember to tell them The Pappas Post sent you. Updated June 2019
Must Eat
Chrysostomos Restaurant is one of my go-to places for authentic, Cretan food. Just off the harbor and across from a parking lot, it's not about the views here— it's about the food on your plate.
Snails and boureki (zucchini pie with mizithra cheese) are speciality items here, as are the various pites (pies but not really pies) that are made with greens (marathopita) and Sfakianes pites made with cheese and drizzled with local honey.
If you're lucky, zucchini flowers will be in season and you will be able to savor this local delicacy, as well. They're called "anthous" and they're stuffed with a mixture of rice and herbs and served with a dollop of yoghurt. If the flowers are not in season, the stuffed grape leaves (dolmadakia) are just as tasty. Click here for website.
Salis Restaurant is my other go-to restaurant for Cretan cuisine— but not the kind your (or mine) grandmother used to make. Afshin and Stelios, the two visionaries behind this restaurant use local Cretan products like unique greens and cheeses, to create contemporary dishes.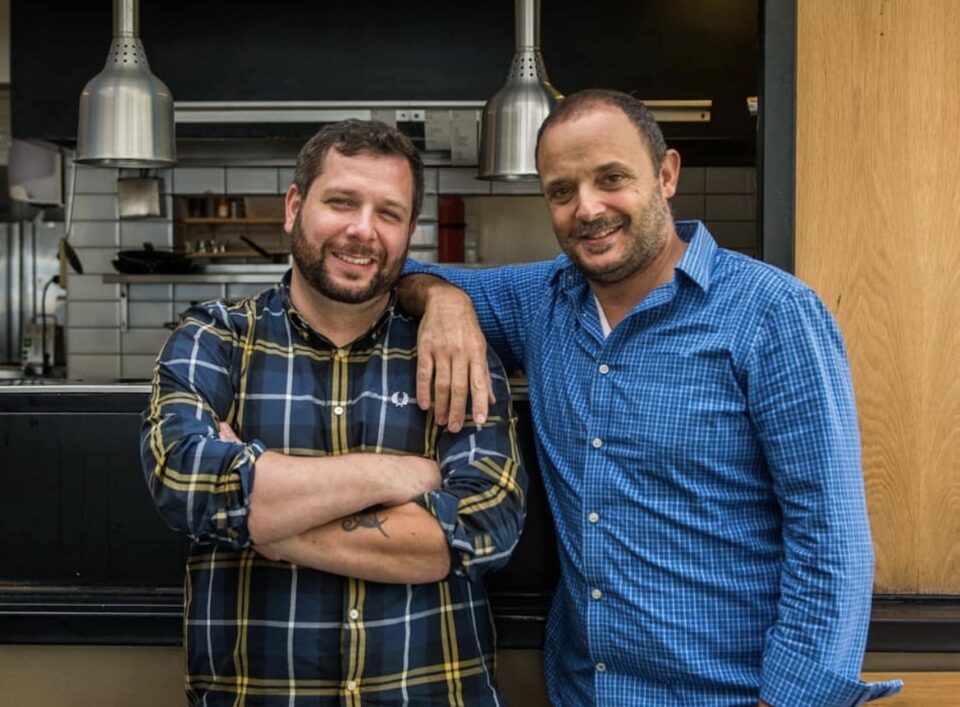 The octopus carpaccio is perhaps, the best I've ever had— ever. It's cooked in red wine with cheese and fresh salad from the restaurant's very own garden. Another "must try" is the spicy squid grilled with roasted almonds and pickled grapes. Follow Salis on Instagram here. Click here for website.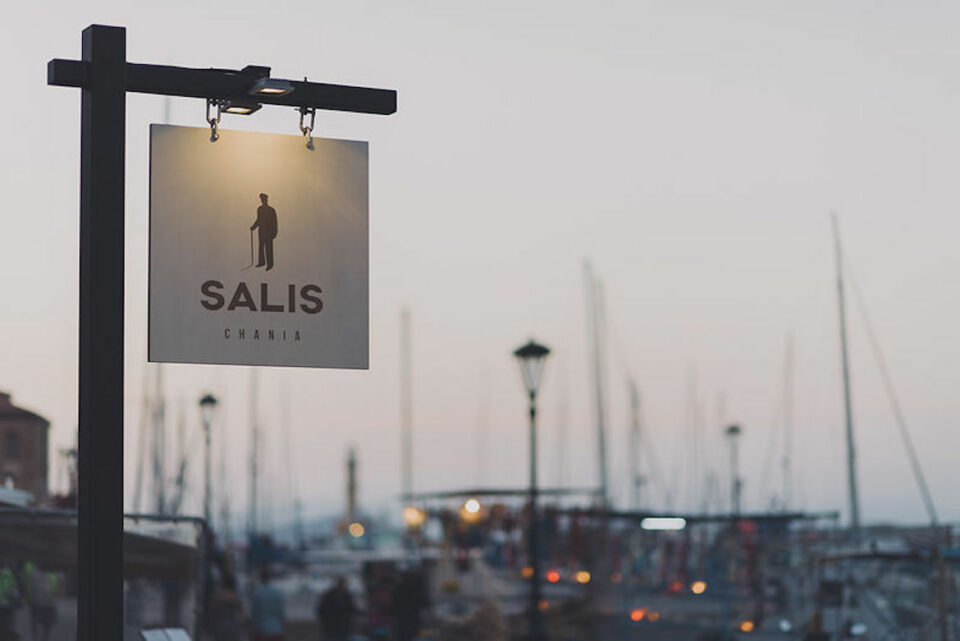 In the old town is Tamam, another favorite of mine. The interior is an old Turkish bath, or Hamam. The building is from the Venetian times, built around 1400 AD. The food has an eastern (Anatolian) flare to it although most of the menu is traditional Cretan cuisine.
The tomato keftedes are to die for and (if available) the boureki will leave you licking your fingers. Boureki is a local pie made with zucchini, potatoes, mint and a local white cheese called mizithra. Follow Tamam (which means OK in Turkish and other Arabic languages) on Facebook here.
On a personal side note about Salis, Chrysostomos and Tamam— I've never had a bad meal at any of these places, which is why I highly recommend each or them.
You can't leave Hania without trying bougatsa from Iordanis. It's the closest thing to heaven on earth. I grew up on the stuff when my grandmother would venture into town early in the morning to shop for fresh vegetables and fruit from the agora, or market– and always stop at Iordanis on the way home for some bougatsa.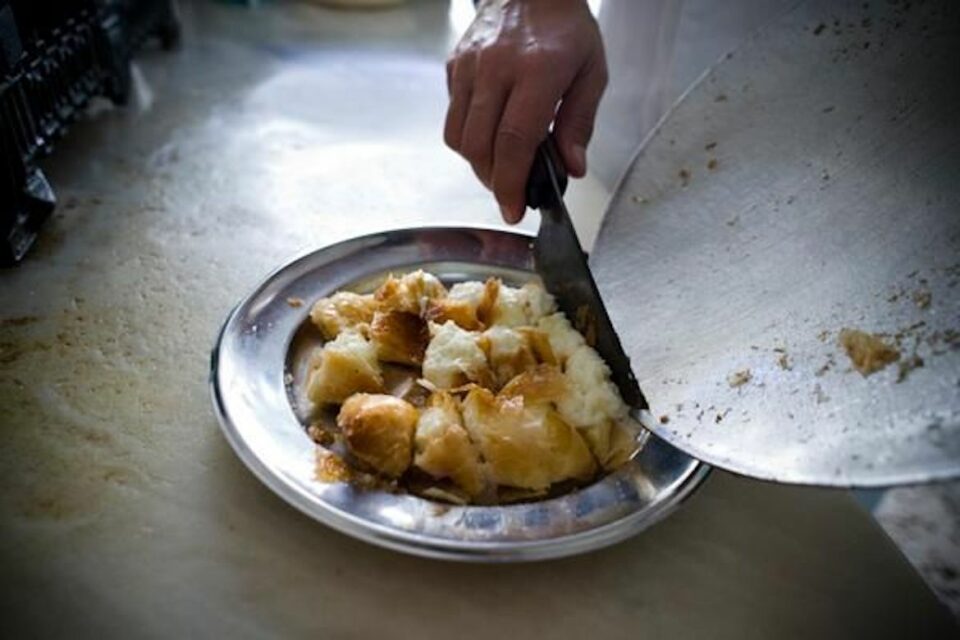 Our bougatsa in Hania is a bit different than what you will eat in other parts of Greece, where the filling is custardy or even creamy. Hania bougatsa is pure cheese– a mixture of various soft Cretan cheeses, including a local variety called "malaka" and baked in filo dough, then sprinkled with sugar and cinnamon. The only catch: You have to get there early, Iordanis is usually sold out by 9:00am and instead of making more, they just close up shop and go home.
Another local delicacy and treat I grew up on– gyro from Oasis Souvlaki. I don't think I have ever eaten a gyro sandwich so tasty in my life. I remember gyro sandwiches from Oasis, just across the street from the town's agora, from my childhood.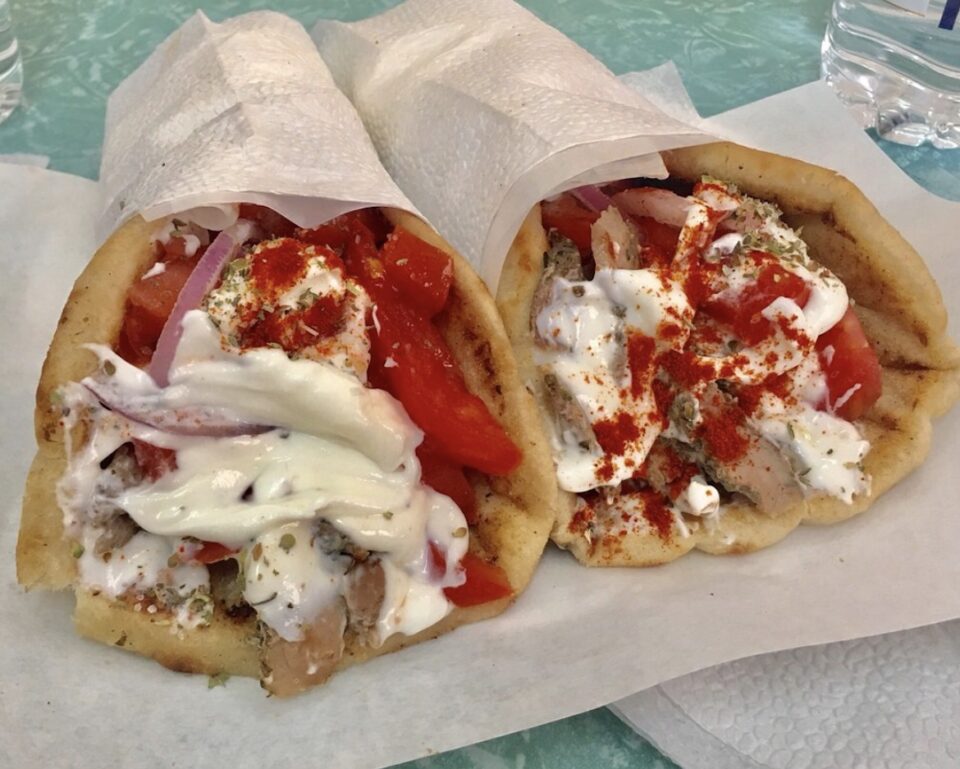 No Tzatziki… Yogurt!
In Hania they top their gyro sandwiches with thick yogurt (not tzatziki, as they do elsewhere) and add a dash of peppery paprika. Inside you'll taste some of the freshest tomatoes you've ever had whose acidity mixes so perfectly with the juicy pork. Urban Adventures even did a short feature on the place.
Must Stay:
The Theodore Boutique Hotel is simply put, paradise. Built (literally) on one of the most beautiful sandy beaches west of Hania in the village of Agia Marina, each of the hotel's nine rooms has been created, like an artist's palette, with care, individuality and attention.
The Greek Canadian couple who own the property have been involved integrally— from the soft and supple towels, to the relaxing decor of the common areas and each sleeping room, to the breakfast menu that is comprised of organic, locally sourced foods. Follow the Theodore Boutique Hotel on Instagram. Click here to make reservations and see rates.
Alcanea Boutique Hotel at the old Venetian harbor is one of my favorite places to recommend to people who want to stay in the city. The building served as the private office of Eleftherios Venizelos, the Cretan statesman and revolutionary who is legendary in these parts and his spirit and soul are preserved everywhere in the hotel's common areas, as well as well-appointed rooms. Click here to see rates and make reservations.
Doge Hotel is a quaint, small boutique hotel run my my first cousin George, who treats everyone who stays there like his own family. The hotel is on Kondylaki Street in a neighborhood that is still called "Ovreaki" by the locals because it was once the Jewish neighborhood. It's steps away from the Venetian Harbor and a lot cheaper than most hotels. Click here to see rates and make reservations (and tell George Tzanakakis I sent you!)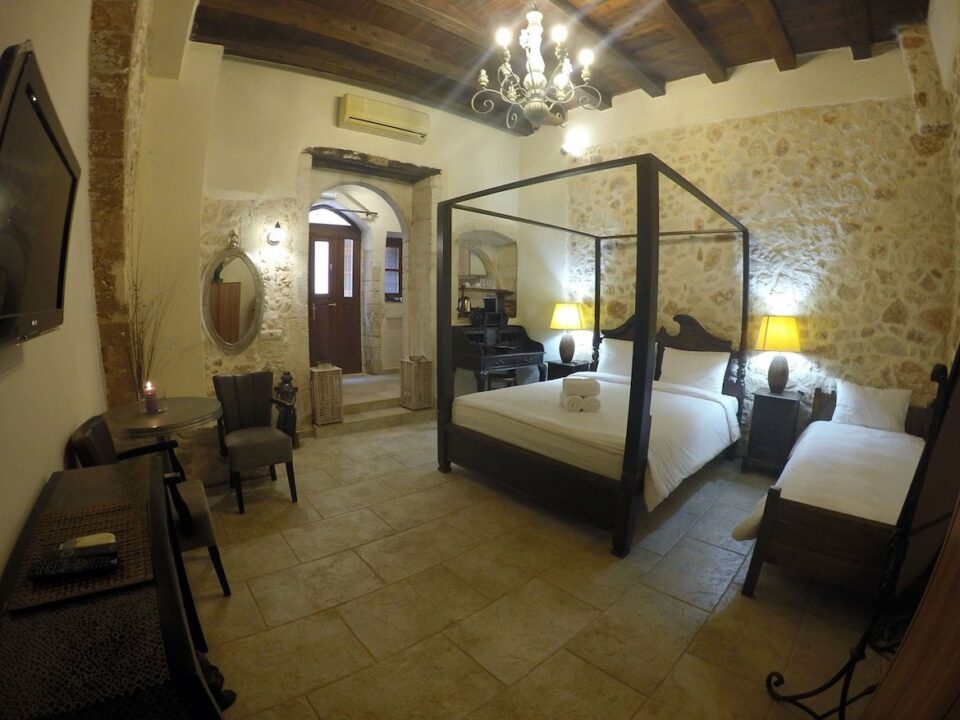 Must Visit
Manousakis Winery in Vatolakos, a village about a half hour's drive out of Hania. Here. you can tour the winery and hear the amazing story of Ted Manousakis, a native of the village who emigrated to the United States as a kid and returned to refurbish the family home and create the winery.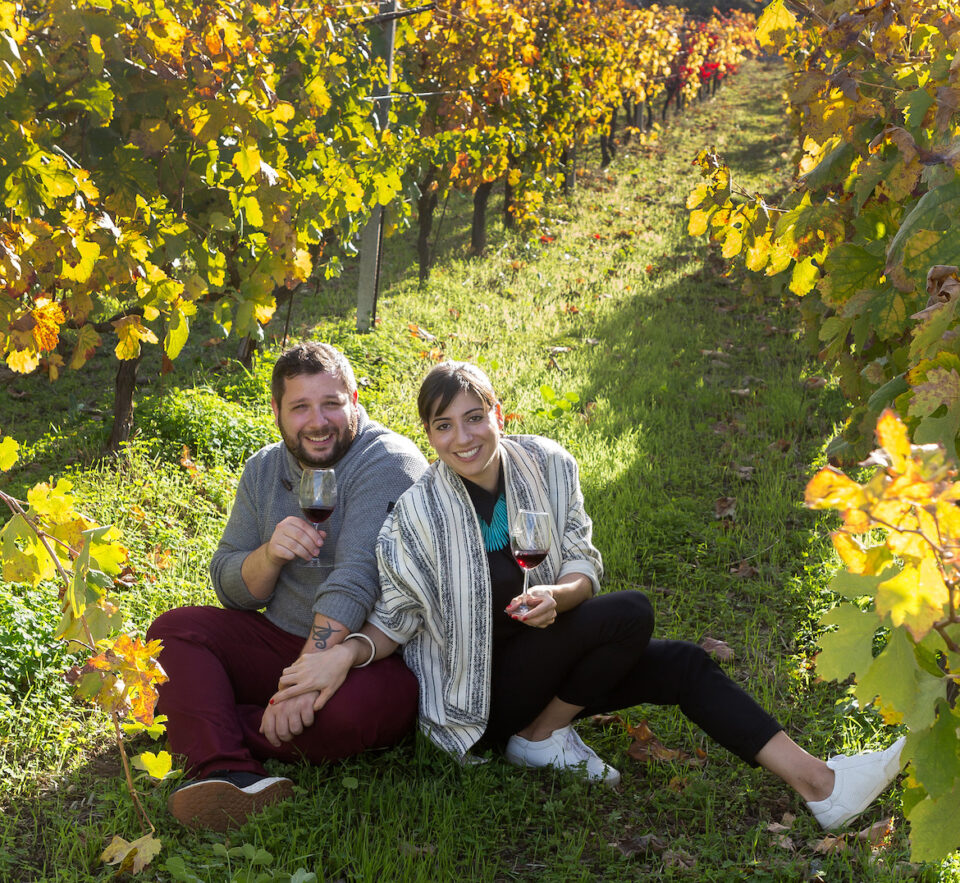 What's even more fascinating is the story of his daughter Alexandra, a not-so-typical Greek American with a Greek immigrant dad and a Jewish mom who left the United States after graduating from NYU to run the winery. Follow Manousakis Winery on Instagram here. Website and information about tours, click here.
Not renting a car, let another Greek-American drive you to the winery. Chania Wine Tours is owned and operated by Greek-American couple Anna Maria Kambourakis and Vasilis Kokologiannakis. They moved to their ancestral home of Crete in 2013. Anna Maria is a Chicago-trained Certified Sommelier and Vasili's makes wine in the mountain village of Kambous, Keramia from his grandfather's ancient Romeiko vines. Together they take visitors into the Cretan countryside to see the vineyards and wineries of Chania. Book a tour with them to get the most out of your Cretan wine experience.
If you want to add a bit of substance to your holiday and lend a helping hand, or even save a life, visit the Souda Shelter Project— a place that provides love and shelter for Hania's stray dogs. There are currently around 100 dogs in the shelter, which is run by Elizabeth Iliakis, a passionate, dedicated American woman who has made helping rescue dogs her life's work. There is no electricity in the shelter or support from the state or the city.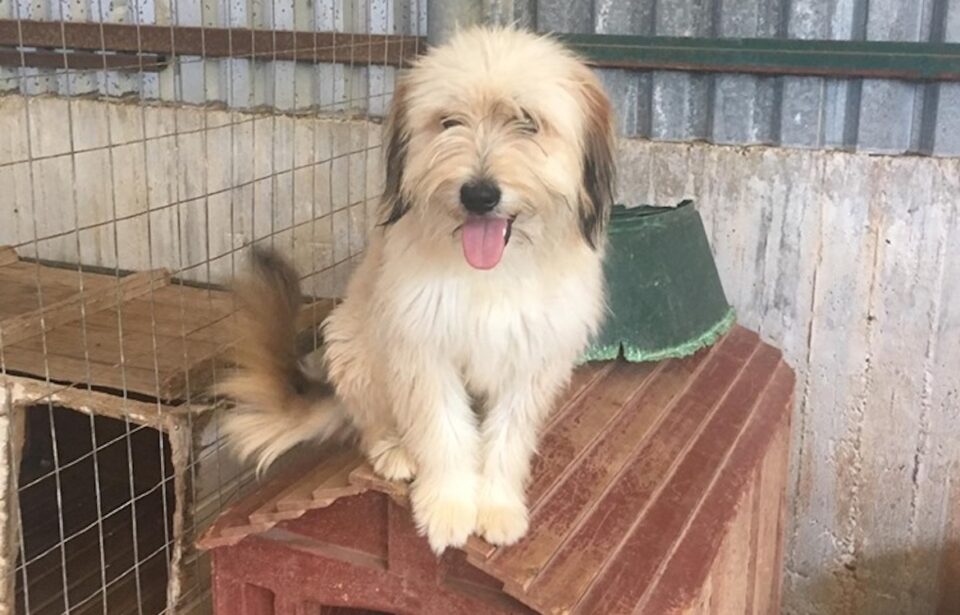 The shelter is financed exclusively by private donations. You can spend the day helping Liz and her team, or even stop by and offer some financial support to this dedicated team. Visit the Facebook group to see the outstanding work or get in touch with Liz to arrange your visit when you're in Hania. And here's a thought– adopt a stray and bring him/home to a loving forever home.
Must Experience
Keep a look out for the posters, or easier yet, follow Margarita's facebook page where she announces her summer singing schedule. She's a California native who packed her bags and returned to the land of her grandparents to start a family and continue her career as a Jazz-pop vocalist.
She performs with some of the most talented instrumentalists in Hania and she's a treat for the ears and one of Hania's true ambassadors. Follow Margarita on Facebook and Instagram for her summer updates.
Must See
The neighborhood of Splantzia is one of my favorite in the city because it's a diverse hodgepodge of the history, architecture, amazing alleyways and hidden gems of bars and restaurants. In the heart of Splantzia is the Church of St. Nicholas with its bell tower on one side and its minaret on the other, from the Ottoman Turkish occupation when the church was converted into a mosque.
A few blocks away, Hania's multi-cultural past is evident. You can visit the Etz Hayyim synagogue, which was one the epicenter of a thriving and ancient Cretan Jewish community until a tragic fate befell them in June of 1944 when they were rounded up by the Nazis. And steps away from the Jewish house of worship is the Catholic Church which dates back to Venetian and Frankish times.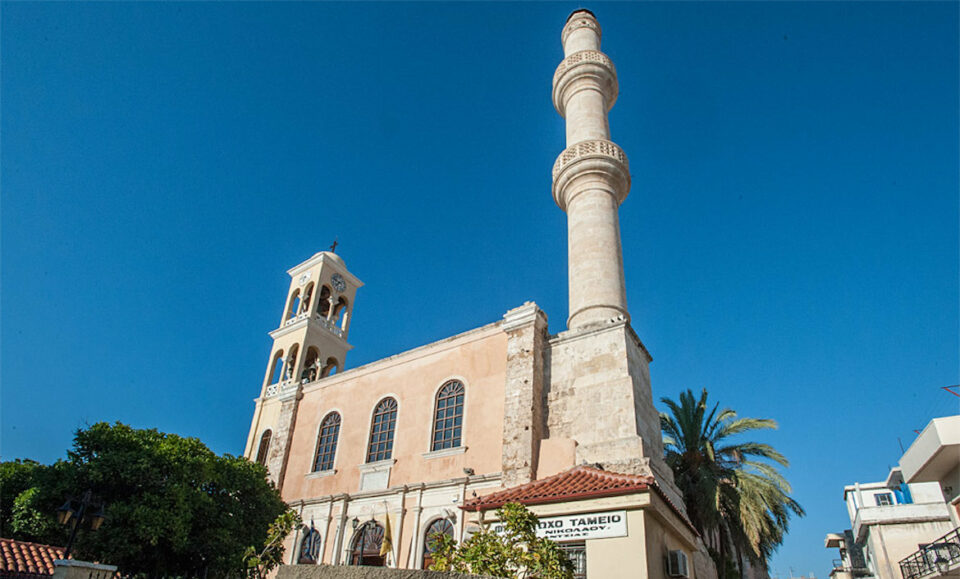 While the other regions of Crete boast ancient ruins dating back thousands of years, Hania is full of natural wonders dating back millions of years. The "Lefka Ori" or White Mountains separate the northern side of western Crete, from the south and in between are dozens of gorges and stunning hiking trails.
The most famous of these gorges, and the longest in Europe, is the Gorge of Samaria. It's not for the weak or faint of heart (literally). The entire walk through the most rugged terrain of the island will take several hours, depending upon your speed. Although there are organized excursions, you really don't need one.
Take these simple steps (1) Take the bus from the KTEL station to the village of Omalos. You should leave at the crack of dawn to avoid the sun. It's best to start your journey by 6:00am or at the latest 7:00am. (2) From there you begin your descent down into the gorge. When finished, you will emerge in the village of Agia Roumeli. Take a dip in the Libyan Sea, chill, relax and then, (3) Take the small ferry boat to Chora Sfakion. Here, you can have lunch or early dinner before (4) catching your bus back to Hania.
May is the best time to visit the gorge, when the more than 900 species of plants are in full bloom. Irises and white peony dance in the breeze with wild sage and chamomile, which leave their scent in the air, while Cretan wild goats (the Kri Kri) hang precariously off the cliffs.
As morbid as it may sound, another place I highly recommend is the German Cemetery at Maleme, about a half hour along the coastline west of Hania. The irony of the location is not lost upon the thousands of visitors, especially the Germans, who come to visit the graves of thousands of their ancestors who invaded the island in 1941.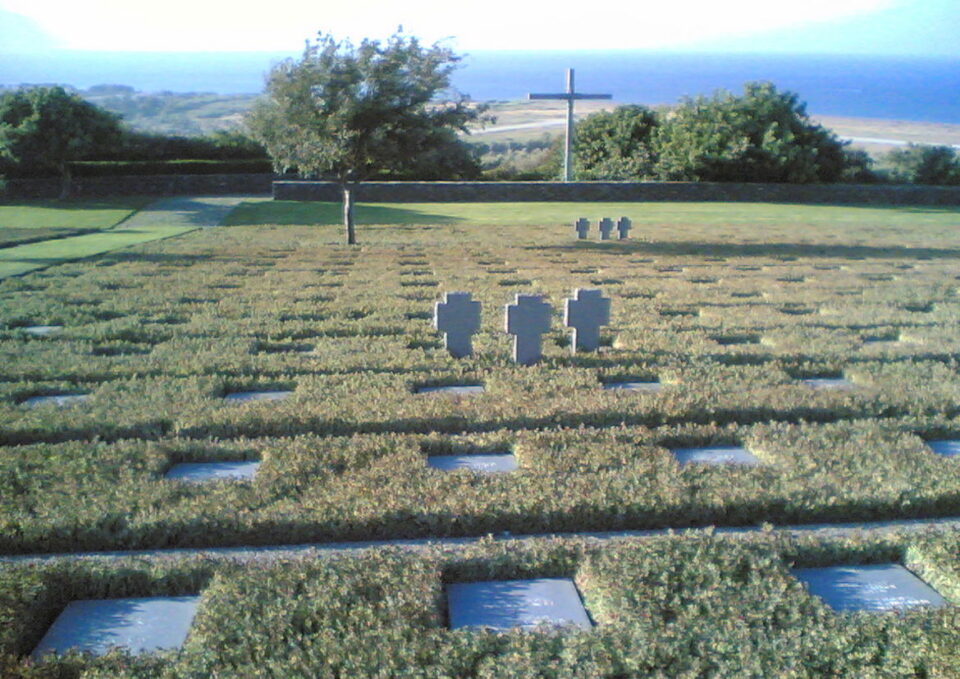 The cemetery— built on land given to the German state by Greece— sits on a hill's slope overlooking the beach where the Maleme airstrip is located where thousands of Nazi German airplanes landed during the invasion.
The cemetery is a stark reminder of war's impact on humanity as the vast majority of the graves belong to teenaged Germans who were enlisted to fight for the Nazi fascist ideal that brought death and destruction to the entire continent, especially Crete.
From cemeteries to a harbor frequented by the devil himself, you may think I'm sending you on a journey into the darkest corners of this beautiful land but, bear with me. You'll understand where this next recommendation is going.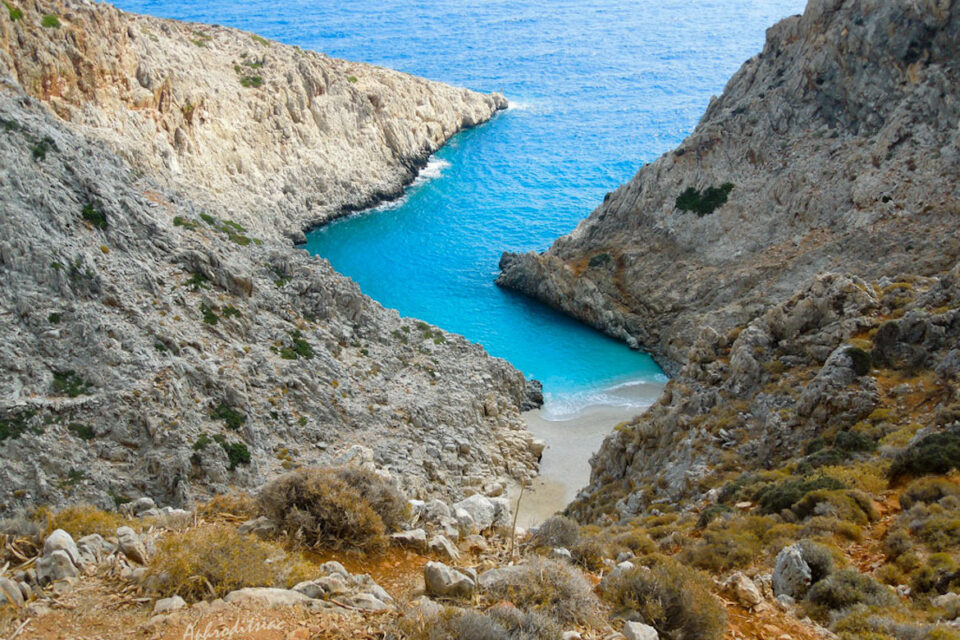 A few years ago I published a piece about a pristine cove called Seitan Limania, also known as the harbors of the devil. The name is from the Ottoman times and although the descent down is a bit treacherous, the water is stunning. Click here to read about my descent into the devil's harbors and also about the young lad who didn't survive.
Must Read
I won't recommend a travel guide because in my opinion, the best guide is "experience" and the best way to see Crete isn't from the pages of a book, guiding you– but by a map and getting lost in the process! There are, however, other books I recommend including anything by Nikos Kazantzakis, the favorite son of the island. Perhaps the best three books to get you into the mood of Crete are Report to Greco, Zorba the Greek and Freedom and Death, three novels set on the island that capture its rebellious and free-spirited soul.
List in progress… Check back soon for more "Hania Musts"