A New Schism in the Orthodox World Growing as Moscow Seeks Supremacy Over Constantinople
Largely unreported events (in the Greek media) took place in Moscow in early December when Patriarch Kirill, head of the The Russian Orthodox Church hosted 380 Orthodox bishops from Russia and throughout the world, including representatives from the Slavic countries and the Near East, and ethnic Greek church leaders from Alexandria, Cyprus, Jerusalem and Albania.
The celebrations were taking place to commemorate the centennial of the restoration of the Russian Patriarchate following the Revolution of 1917 and the Russian Church went all out to make a grand affair of the spectacle– complete with a gathering with Russian President Vladimir Putin.
Representatives from the entire "canonical" (or recognized) Orthodox world were present– except two.
Notably missing from the festivities was Ecumenical Patriarch Bartholomew of Constantinople, whose absence was interpreted by Greek and Russian religious media as a "boycott" in exchange for Moscow's refusal to participate in the 2016 PanOrthodox Synod in Crete.
Archbishop Ieronymos of Athens, an autocephalous church, was also absent.
The Russian Church capitalized on the opportunity, issuing numerous statements throughout the days-long celebrations and Divine Liturgies, including major press releases as Patriarchs and Archbishops arrived, one by one.
The press throughout the Orthodox world took the bait. Headlines appeared in newspapers in Ukraine, Serbia, Romania and elsewhere depicting Kirill as the self-proclaimed leader of global Orthodoxy and one by one, national church leaders coming to kiss his hand and bowing to his leadership.
Bartholomew was nowhere in sight.
Kirill's main theme throughout the events during sermons and public speeches was "Orthodox unity," something Bartholomew wasn't able to establish or accomplish during the 2016 Crete synod, with four Churches missing, including Russia.
Also strategic was the selection of hierarchs chosen to lead the various religious ceremonies and special attention given to certain Church heads that Kirill himself was said to have been involved in, including the ethnic Greek Patriarchs of Alexandria and Jerusalem, and heads of the Churches of Cyprus and Albania, also ethnic Greeks.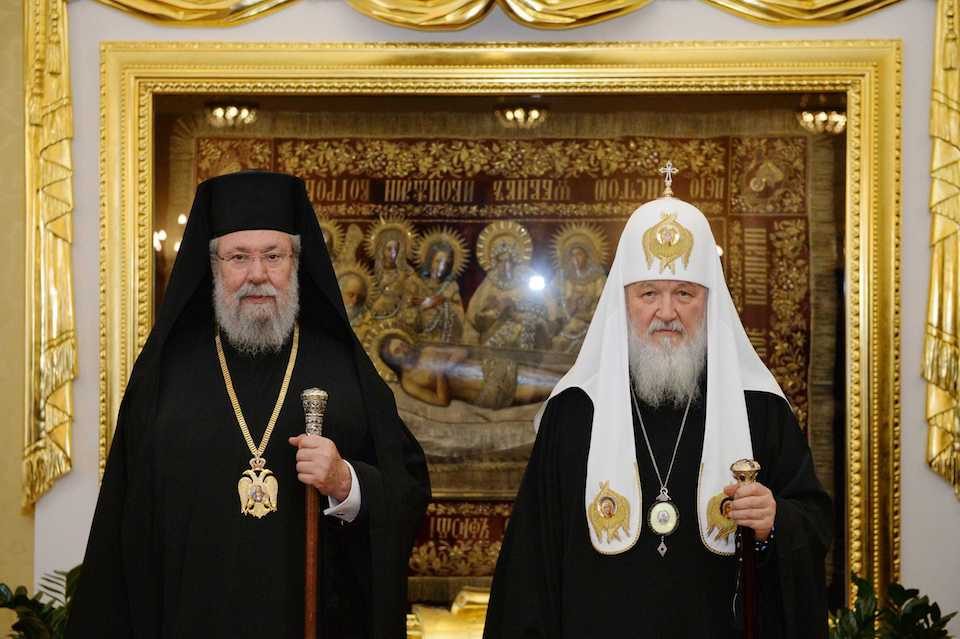 Above: Kirill met privately with Archbishop Chrysostomos of Cyprus. Below, he gave Patriarch Theophilos of Jerusalem special attention during a visit.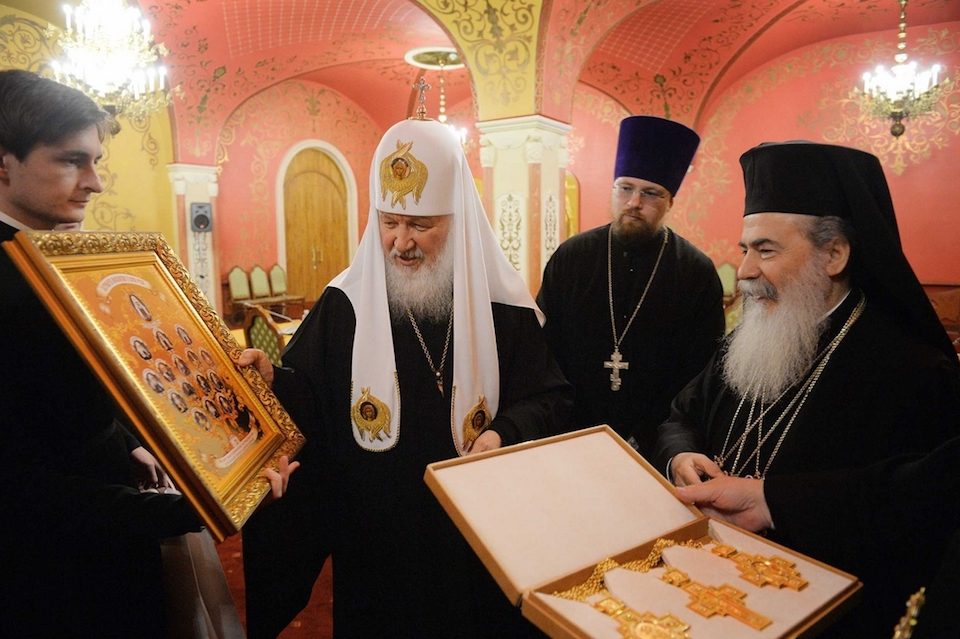 Putin shared Kirill's common message of Orthodox supremacy and unity when he greeted the delegation at the Kremlin, despite Bartholomew's position of the primus inter pares (or first among equals) in the global Orthodox hierarchy, his absence from Moscow allowed a sort of perceived power grab in the eyes of the world.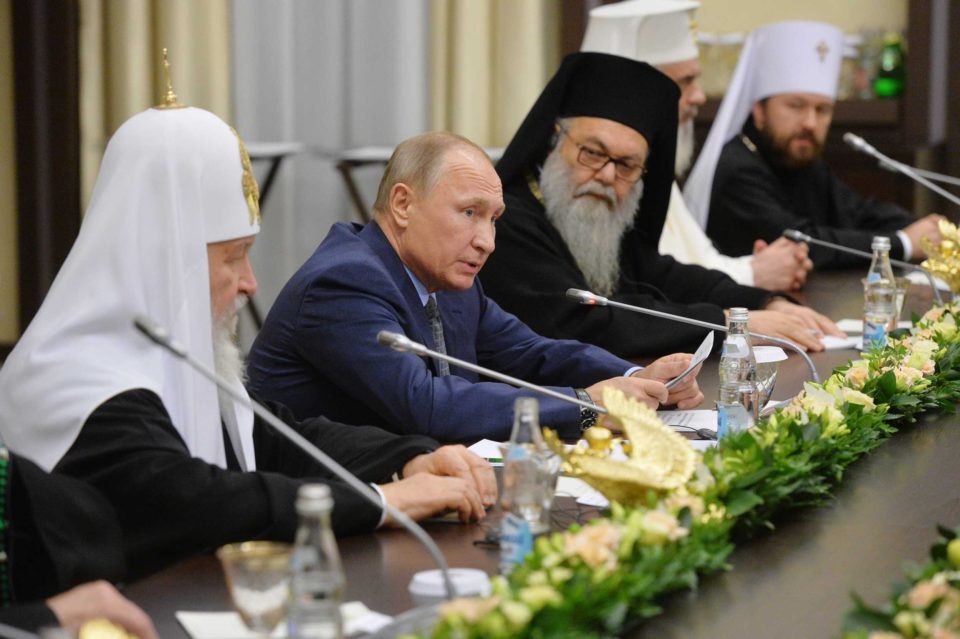 Above: Russian President Vladimir Putin greeted visiting Orthodox Christian hierarchs from throughout the world at the Kremlin, with Kirill at his side.
This gathering with Putin also provided him an opportunity to present himself as the political defender of Orthodox Christianity throughout the world.
Putin bragged to the Orthodox Patriarchs that he defeated the ISIS terrorists in Syria, "including historically Christian areas." He also had a private conversation with the Patriarch John X of the Greek Orthodox Patriarchate of Antioch, whose base is in Damascus.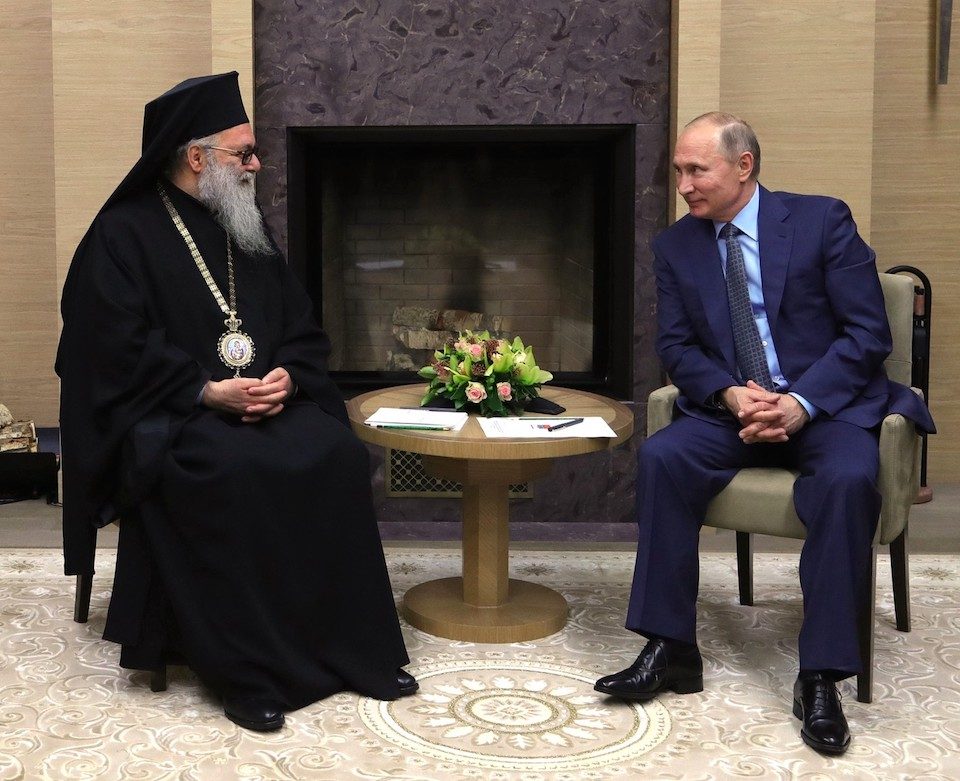 Above: Russian President Putin with Patriarch John of the Greek Orthodox Patriarchate of Antioch
The Moscow celebration and show of power by Kirill, with Putin at his side, came at a time when events and circumstances transpiring thousands of miles away have played into Kirill's potential power-grab of global Orthodoxy– a sort of a perfect storm.
Bartholomew is facing huge challenges in America, his largest and wealthiest colony, where the Archdiocese is facing an unprecedented financial crisis that could see the flow of cash to Istanbul slow down, or even stop, as wealthy donors grow increasingly weary of the Church.
At home, Bartholomew is also facing a growing distrust, with some media accusing him of collusion with Fethullah Gülen, the arch enemy of Turkish President Recep Tayyip Erdoğan, as well as American spies, who claimed to have notified Bartholomew of the coup attempt against Erdogan, allowing him to leave the country before the incidents began to unfold.
To make matters even more complicated and difficult for Bartholomew, a potential reconciliation is beginning to unfold between Moscow and the "secessionist" Metropolitan Filaret of Kiev, who since 1992 has separated from Moscow and self-proclaimed an autocephalous Ukrainian Patriarchate, that Bartholomew has been quietly supporting to the outright disdain of Kirill, who excommunicated Filaret.
Filaret sent a letter to the Moscow Patriarchate asking the bishops to cancel the excommunication Moscow inflicted on him, and asking forgiveness "as your brother and concelebrant for everything in which I have sinned in words, deeds and with all my senses", saying in turn to be willing to forgive "with all my heart".
Add to all of this, Kirill's high profile meetings with the Roman Catholic Pope Francis in Cuba where several matters of Catholic-Orthodox unity were discussed, while the Western media depicted Kirill as the Pope's equal on the Orthodox side.
Kirill also took an unprecedented trip to Romania this year, the first such trip by a Russian religious leader to the country since 1962.
Constantinople's symbolic primacy over global Orthodoxy is now under greater challenge than ever from Moscow, which has the numbers in its favor, including more than half of all Orthodox believers, backed by the political power of the Kremlin and Putin himself.
*****
Since you're here… I have a small favor to ask.
More and more people than ever before are reading The Pappas Post and despite increasing costs to maintain the site and provide you with the quality content that you deserve, I will never "force" you to pay for our website or add a paywall. I believe in the democracy of the internet and want to keep this site and its enriching content free for everyone. But at the same time I'm asking those who frequent the site to chip in and help keep it both high quality— and free. We've implemented a "free-will" annual subscription for those who want to support our efforts. I guess it's fair to call it a philotimo subscription… because you don't have to do it but it's really the right thing to do if you love the site and the content we publish. So if you like The Pappas Post and want to help, please consider becoming a "philotimo subscriber".Click here to subscribe. If you'd rather make a one time donation, we will gladly accept any amount, with appreciation. Click here to donate any amount.