It's hard to overstate how much Americans love their hot dogs. The National Hot Dog & Sausage Council says that last year on July 4 alone, Americans ate 150 million hot dogs — enough to stretch from D.C. to Los Angeles more than five times.
Between Memorial Day and Labor Day, Americans collectively consumed around 8 billion hot dogs.
And although many a German has tried to lay claim to the origins of the mighty wiener— this summer weekend when you fire up your barbecue and start plopping them on the grill— say a toast to the Ancient Greeks.
Yep— this too. And you thought all the Ancient Greeks invented was democracy and cheesecake?
Ancient people were probably eating some form of processed, salted meat for thousands of years before the Greeks but it didn't appear in literature as meat stuffed into casings until the 9th century BC.
The first reference to sausages comes to us from who else, but Homer in his Odyssey.
"As when a man besides a great fire has filled a sausage with fat and blood and turns it this way and that and is very eager to get it quickly roasted. . ."
Like all great Greek inventions, the notion of processing meat into skin was eventually picked up by the Romans and the rest, as they say, is history, eventually spreading throughout Europe and to America in the late 1880s.
Another interesting side note— eating sausages was outlawed by Constantine the Great and forbidden by the early Christian Church because of their association with many pagan festivals (ancient BBQs?).
Sausages went rogue in early Christendom and became highly sought after, even giving rise to a secret network of sausage makers and a black market for distribution.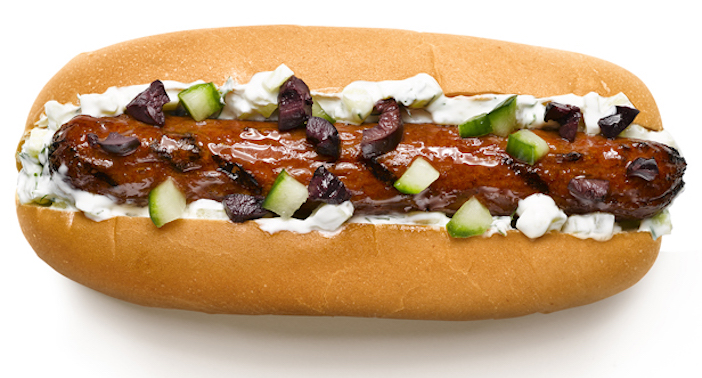 Featured image manipulation by Amr Hayek for The Pappas Post. Original vase from the collection collection of the British Museum. (C'mon, did you really think it was real?)
---
Is The Pappas Post worth $5 a month for all of the content you read? On any given month, we publish dozens of articles that educate, inform, entertain, inspire and enrich thousands who read The Pappas Post. I'm asking those who frequent the site to chip in and help keep the quality of our content high — and free. Click here and start your monthly or annual support today. If you choose to pay (a) $5/month or more or (b) $50/year or more then you will be able to browse our site completely ad-free!

Click here if you would like to subscribe to The Pappas Post Weekly News Update