Never before in my decades-long love affair with Greece has that relationship been tested more than now. It's not about the debt talks, or how Greek Finance Minister Varoufakis, or Prime Minister Aexis Tsipras have handled negotiations with Europeans. I happen to believe that the real problem there is actually Germany, and European policies. No, it's not because Varoufakis didn't wear a tie to the White House or Tsipras is an atheist— none of this bothers me and these men are free to wear what they want, or believe or not believe in Buddha, for all I care.
My issue lies with the new Greek law proposed and pushed by the Tsipras government that seeks to overhaul the overcrowded prison system through the "compassionate release" of thousands of prisoners to house arrest and abolish high-security prisons.— and effectively releasing a man named Savvas Xiros, a member of the November 17th terrorist organization and a man who was convicted and is serving five— yes FIVE— life sentences for his involvement in a string of two-dozen high profile assassinations of high profile politicians, diplomats and businessmen in a quarter of a century.
Truth be told, from the beginning, I was one of those who argued to give Tsipras and his government a chance. Everyone else had tried— and failed miserably and successive government after government had failed, sinking Greece to the new lows she finds herself in now. Why not, I argued? He deserved a chance. After all, it was the voice of the Greek people who spoke— and their voice should be respected. They invented Democracy, didn't they?
And even throughout the early months of Tsipras' rookie government, I stood by them, supporting their efforts against the European bullies and German hardliners. I agreed with the World War II reparations argument and was standing on the sidelines watching, hoping for a breakthrough. I wanted Tsipras to win– not for him, or for Syriza– but for the people of Greece. Because in all of this, they are the ones who deserve the chance to live, to work and to prosper.
Tsipras is single-handedly threatening to damage the decades long partnership and mature relationship the United States has shared with Greece over his government's desire to free the terrorist Savas Xirios from prison– an obvious and deliberate attempt to appease the extreme left wing of his party that wish to pursue this idiotic "revolution" of Greece into a utopia of anti-establishment, anti-capitalist, anti-American ideologues.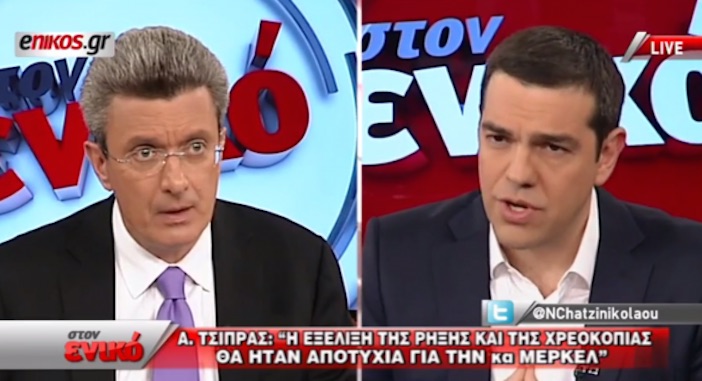 In an interview with journalist Nikos Hatzinikolaou on his TV show Enikos, Tsipras was grilled about the decision, and most notably about alienating the United States with the move. He asked Tsipras what he was thinking when President Obama openly spoke against austerity in Greece and also spoke repeatedly to German leader Angela Merkel about her hardline position against Greece.
Tsipras was removed from reality in his position, claiming that the move had not angered the American side.
In a reaction the likes of which hasn't been seen in years that could be perceived as the United States openly involving itself in Greek political affairs, the United States Ambassador to Athens David Pearce held a press conference directly in front of the plaque memorializing the Americans who were killed by November 17th over the years.
"If Savvas Xiros—or anyone else with the blood of American diplomats and U.S. Mission members on their hands—leaves prison, it will be seen as a profoundly unfriendly act," U.S. Ambassador to Greece David Pearce said.
Ambassador Pearce's full statement on April 24 is here:
I am standing in front of the U.S. Embassy's memorial plaque to U.S. Mission employees who gave their lives serving the government of the United States of America here in Greece.
Richard Welch, Captain George Tsantes, Nikolaos Veloutsos, Captain William Nordeen, and Sergeant Ronald Stewart were murdered by November 17 terrorists.
Today, I express my deep concern that the legislation, coming to a final vote in the Greek parliament this evening, could lead to the early release from prison of these terrorists and other criminals convicted of serious crimes against Greeks, Americans, and people of other nationalities.
Until now, the reaction of the U.S. government has been confined to official contacts, in the hope that there would be a positive response to some of the concerns we have raised privately about certain aspects of this legislation. I will maintain that hope.
I raised our concerns directly with the Minister of Justice on April 2. I noted among other points that if Savvas Xiros were let out of prison before having served his sentence as handed down by the Greek justice system, it would be a disservice to the memory of the American mission members he killed, and their families. We would not understand it.
Secretary Kerry registered our concerns directly as well in a call with the Prime Minister last week.
I want to be clear. The issue is not prison reform, or alleviating overcrowding, or providing access to medical care, or improving humanitarian conditions. All of which are important.
The issue is that convicted terrorists and murderers—people who have committed terrible, heinous crimes—should serve their full sentences in prison. Not in the comfort of their homes, surrounded by their friends, families, and associates. Releasing these murderers from prison dishonors the memory of those they have killed, and violates the rights of the family members whose lives they have shattered.
I repeat my bottom line, convicted terrorists and other criminals convicted of serious crimes should complete their sentences as handed down by the Greek justice system.
If Savvas Xiros–or anyone else with the blood of American diplomats and U.S. Mission members on their hands—leaves prison, it will be seen as a profoundly unfriendly act.
There is no place for convicted terrorists in civilized political discourse or back in Greek society. These are violent criminals and they belong in prison, nowhere else.
Greece is an important force for stability in the region, and has been a good partner for the United States on a number of issues, including law enforcement and counterterrorism.
We believe this legislation is inconsistent with that partnership. This is not just a humanitarian issue, it is also an important security issue.
***
I'm no idealist and I know the relationship between the two countries that make up my ethnic, national and cultural DNA hasn't been perfect. I also know that the United States hasn't always been the greatest friend to Greece and has often acted in its own geo-political, economic and geo–strategic interests– over those of the people of Greece. The US-promoted and supported military dictatorship in the 1960s-70s is one example and remains a black eye on America. And then there were the Papandreou years which were full of anti-American flame-stoking.
Neither country has been right all the time– but the relationship has endured, and should endure.
Hopefully the Tsipras government will take a step back from this ludicrous attempt at "compassionate release" of prisoners– including Xiros. Tsipras should focus his compassion on the young peopel of Greece who are unemployed and have had their dreams shattered– not a murderous terrorist.