I get emails all the time from people visiting Athens asking me what to do, where to go, what to eat and what to see.
I love Athens. I spend as much time as I can there, and while I hate the graffiti, ugly post-war architecture and traffic on Posidonos Avenue, there is much more I adore about this ancient capital city than most places on earth (well, except New York City perhaps).
All of the places and experiences I mention below are ones that I have personally shared. None of these are "paid" advertisements. These are real recommendations from someone who has visited these places, eaten the food and experienced the energy.
Must Stay
There is no hotel in all of Athens that comes close to the Grande Bretagne. I love this place more for its history and heritage than for its accommodations. Even though I have an apartment in the city, I have had to stay in a hotel periodically (during construction and remodeling) and I've always stayed at the GB. I love this place.
It's elegant and it has a distinct smell. The employees treat you like you're a regular resident there and the attitude is very American. The GB also has one of the most famous rooftops in the city with a full view of the Parthenon, Syntagma Square and the Parliament Building. It's expensive, so don't go here if you're on a budget, but if you want to pamper yourself then give the GB a try — you won't be disappointed.
Prefer to stay in the city, but off the main square? Then stay up on the hill in Kolonaki at The Periscope. I've stayed here and have also referred several friends. Everyone who has stayed here has loved it. It's on a nondescript street in the heart of Kolonaki — the trendiest neighborhood of the city. The service is good and the hotel is clean and stylish. It is also a 10-minute walk down the hill to the city center.
Must Shop
Tired of cheesy trinkets and tourist trap junk that is made in China? Try shopping at Forget Me Not on Adrianou Street in the Plaka. Most of the items for sale are made in Greece by local artists and the collection is unmatched anywhere.
I've spent a lot of time in this shop and have brought home some really cool things that were originally intended as gifts, but I decided to keep them for myself in the end. You can get a sampling of their collection on their Facebook page.
Must Experience
You'll never want to see another movie indoors again after you've experienced a Hollywood blockbuster — or better yet, a romantic comedy — in clear view of the illuminated Parthenon. Watch a film at the outdoor cinema of Cine-Thysio. I've had some of my favorite movie-watching experiences here. It's magical.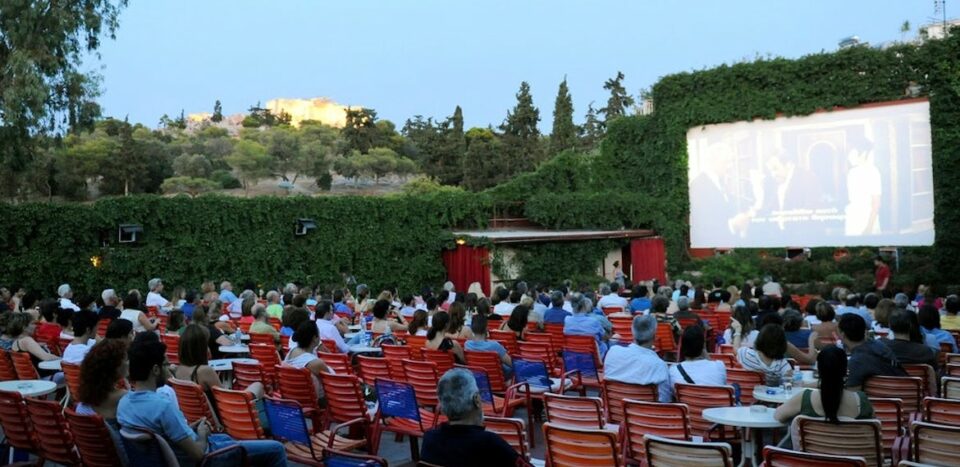 Check the calendar of events of the official Greek Festival during your stay in Athens and see what's going on at the Irodion. This Roman amphitheater at the base of the Acropolis is one of the most unique musical venues in the world.
One of the best nights of my life was watching George Dalaras and Glykeria here at a show they did featuring the muasic of Asia Minor. Here's a clip from that show.
I've also seen Nana Mouskouri and Haris Alexiou here, but the venue isn't limited to Greek acts. Many international performers have played the ancient theater. Can you imagine seeing Andrea Bocceli here? I missed that show by a day as my flights were already booked and I couldn't change the tickets.
Must Eat
Take the drive down Posidonos Avenue to Glyfada and eat George's Balls. You heard right. It's a joke of so many Greek Americans who have eaten here. Years ago, someone tipped off good old George about his menu description and he actually changed the listing to read "George's Meatballs," but regardless of what they're called, they are the best in the world. George's Steakhouse is the place in "Biftekoupoli" that is always full, while other shops are empty. There's a reason.
No trip to Athens is complete without "experiencing" Island in Varkiza. It's a restaurant/club that rivals and even surpasses those of San Tropez or Monaco. The service is impeccable, the decor takes you to a Cycladic island, yet you're only minutes from the center of Athens. And the food — well, let's just say I've never had a bad meal at Island. Eat late and stick around for one of the most happening open-air night clubs in all of the world. The music gets loud and the crowd is full of energy, dancing until the early hours of the morning. Island is an experience you won't want to miss.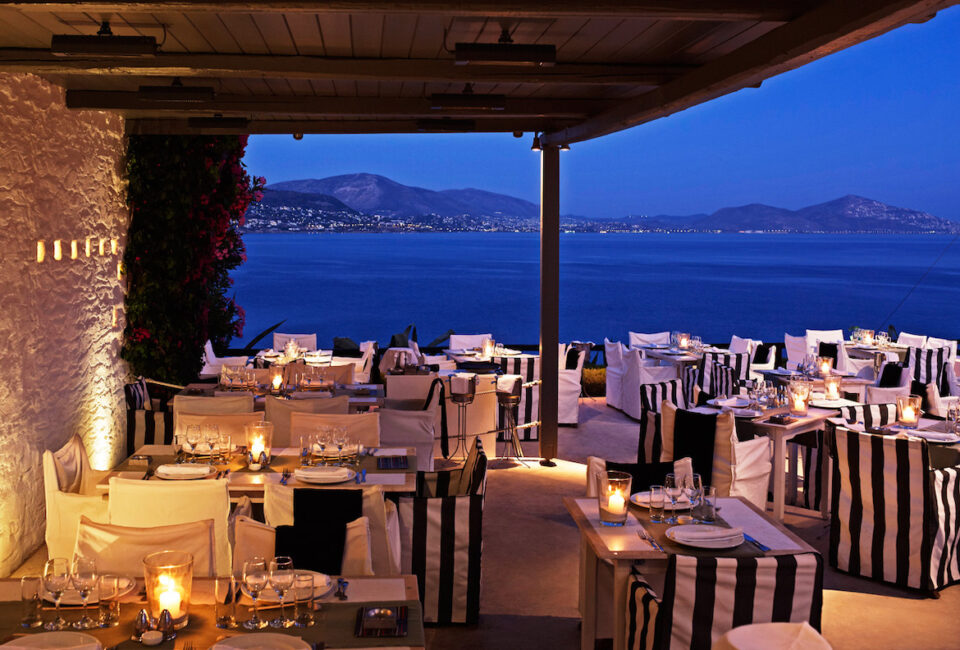 If you see a pastry shop called Konstantinidis then you must stop. And buy a millfeuille. Trust me. You won't be disappointed. The family came from Asia Minor in the early 1900s after the war with Turkey and they brought with them traditional Greek recipes that were largely unknown to mainland Greeks.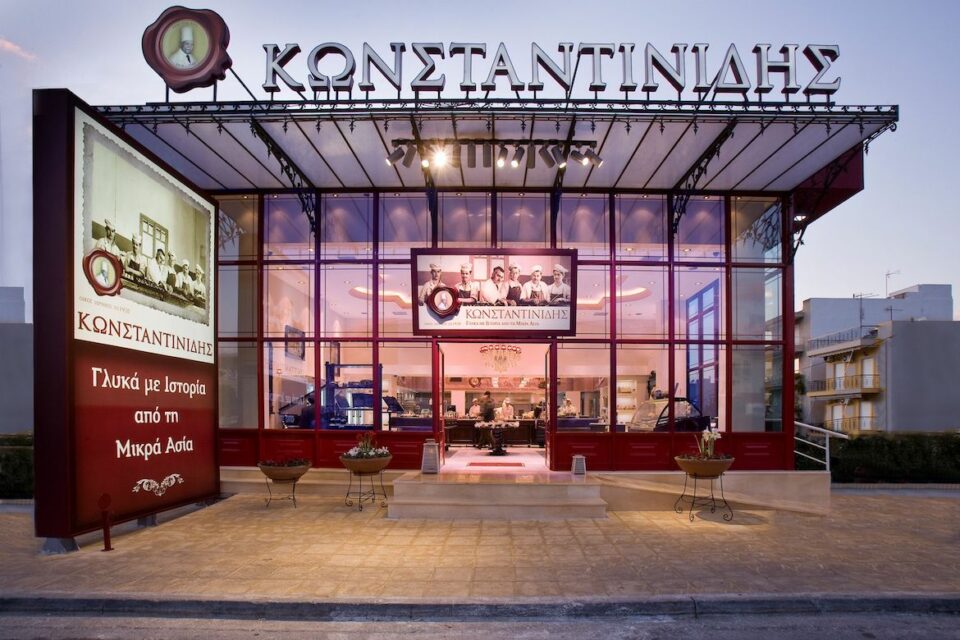 The pastries are all made on the premises of each pastry shop, right in front of your eyes. The millfeuilles are filled with succulent custard and cream that literally melts in your mouth. Watch how they're made:
Another great place to eat is Diporto. My friend George brought me here on the back of his moped for the first time last year. I was scared at first, not knowing where on earth he was taking me. The place is in the basement of an old ratty building behind the Athens Central Market (Varvakeio) and has no sign on the front door.
You'll recognize it by the two doors on each side of the corner it occupies, leading downstairs into what looks like a dungeon or wine cellar. Inside, an old man who cooks one entree and one side dish — usually revithia (chick pea soup) or beans. The popular food blog Culinary Backstreets featured the restaurant here.
Don't expect American service here. They bring bread and toss it on your table and there are no menus. You eat what he's prepared that day and when it's done he closes, no matter what time it is. The wine comes straight from the barrel. It doesn't get more authentic than Diporto. Travel blogger Mark Wiens shared his experience at Diporto with more than 2 million people on his YouTube channel.
Last, but certainly not least is my favorite restaurant in Athens — Papadakis (corner of Voukourestiou and Fokilidou), by Argiro Barbarigou. If you're lucky, Argiro will be there to greet you. Her sweet personality makes the whole dining experience so much better at this Kolonaki hotspot.
But between her cookbooks, personal appearances and regular TV appearances, she's one of the busiest people in Athens. Make sure you reserve in advance for an evening meal because between press in Food and Wine Magazine and a host of other international publications, getting in on a busy night is tough. Papadakis is mostly seafood, although Barbarigou's been known to mix things up and add non-fish specialties.
Her salads are made of fresh ingredients from throughout Greece. The Santorini cherry tomato salad with xinomizithra and caper leaves from her native Paros is one of the best salads I've ever tasted. I usually have the Karavida Yiouvetsi when I go there — crawfish with orzo pasta in a light tomato sauce. It doesn't get much better than Papadakis for good, simple food with wholesome ingredients.
Must Visit
Forget Kolonaki Square for people watching. Agia Irini Square is the new place in central Athens to see and be seen. There are a bunch of cool and trendy coffee shops, bars and clubs and the square is always alive with young, hip Athenians. I prefer Rooster for my afternoon coffee and people watching. Take the metro to Monastiraki and walk up Agias Irinis Street and you'll run right into the square.
I love modern art and Athens has a great scene. Zoumboulakis Gallery is an important part of that scene and I love catching a show or exhibition when I'm there. Check their calendar and see what they have going on during your stay in Athens.
One thing I always do when I am in Athens is take a walk by the Athens Cathedral in Monastiraki, not so much to pray, but to pay tribute to one of the greatest Greeks ever in the history of our nation. Outside the cathedral is a giant statue of Archbishop Damaskinos, the WWII-era archbishop of the Greek Orthodox Church.
This man single-handedly did what no other major European Christian church leader did during the war — openly defy Hitler's "Final Solution" and break his own church's laws, as well as civil laws, to issue thousands of falsified baptismal certificates for the city's Jews. In doing so, he saved thousands of lives.
He also sent a letter to the Nazi commander in Athens telling him to leave the city's Jews alone, attracting his wrath. For me, a pilgrimage to Damaskinos' statue is a reminder of who we are as Greeks — humanity first, followed by everything else, including our nationality, our religion and so on. His story is here, in case you're interested.
Note: None of these places paid me to visit and write positive reviews about them in this column. These are purely my own experiences
---
---
Is The Pappas Post worth $5 a month for all of the content you read? On any given month, we publish dozens of articles that educate, inform, entertain, inspire and enrich thousands who read The Pappas Post. I'm asking those who frequent the site to chip in and help keep the quality of our content high — and free. Click here and start your monthly or annual support today. If you choose to pay (a) $5/month or more or (b) $50/year or more then you will be able to browse our site completely ad-free!

Click here if you would like to subscribe to The Pappas Post Weekly News Update