For years, Maria Makrogianni has been cooking for "visitors" to her island.
At first, she hosted them at her taverna on Samos, welcoming hundreds of people daily… Never asking where they were from, what they believed or looking at their skin color.
Gregory Pappas, publisher of The Pappas Post, visited Maria in February 2017 and shared his experience of spending an evening at her taverna.
"Jesus taught me to welcome the stranger," she said.
Since Europe's refugee crisis reached its peak during the summer of 2015, Maria has fed, clothed and otherwise helped thousands of refugees arriving on boats from Turkey.
Her nickname among those she has supported and continues to support is Mama Maria. Her innate desire to help is what wakes her up up in the morning.
The following 12 photos show Maria — and the essence of Greek philotimo — in action.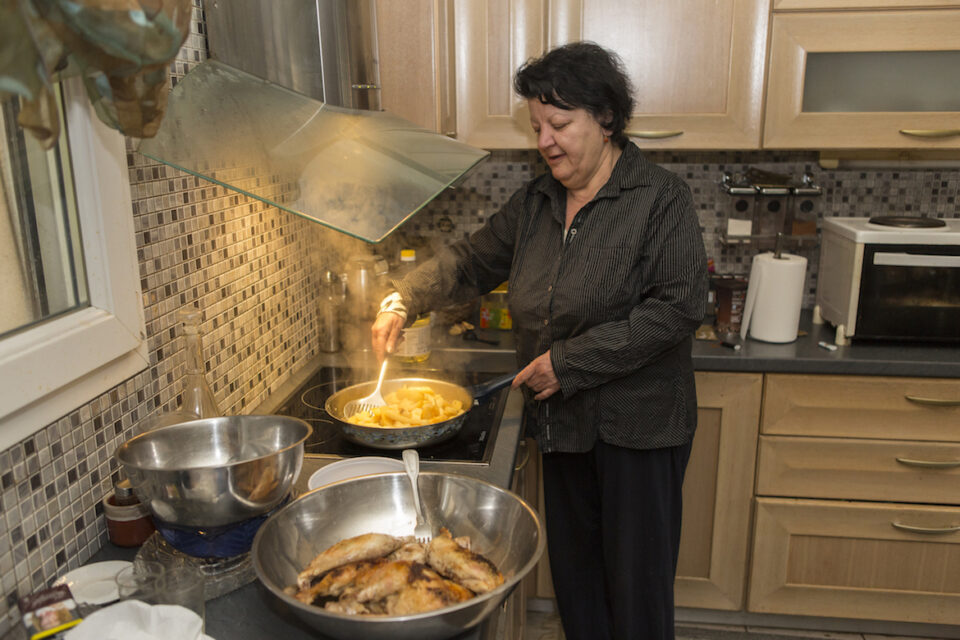 Maria at her home on Samos prepares dozens of hot meals.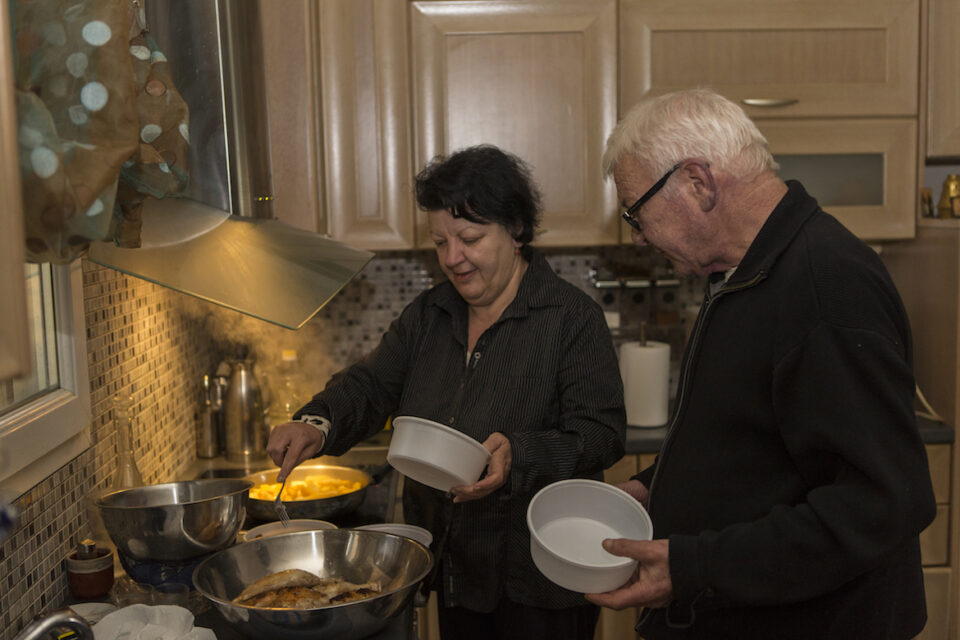 Her husband Michalis works side-by-side with her in their kitchen.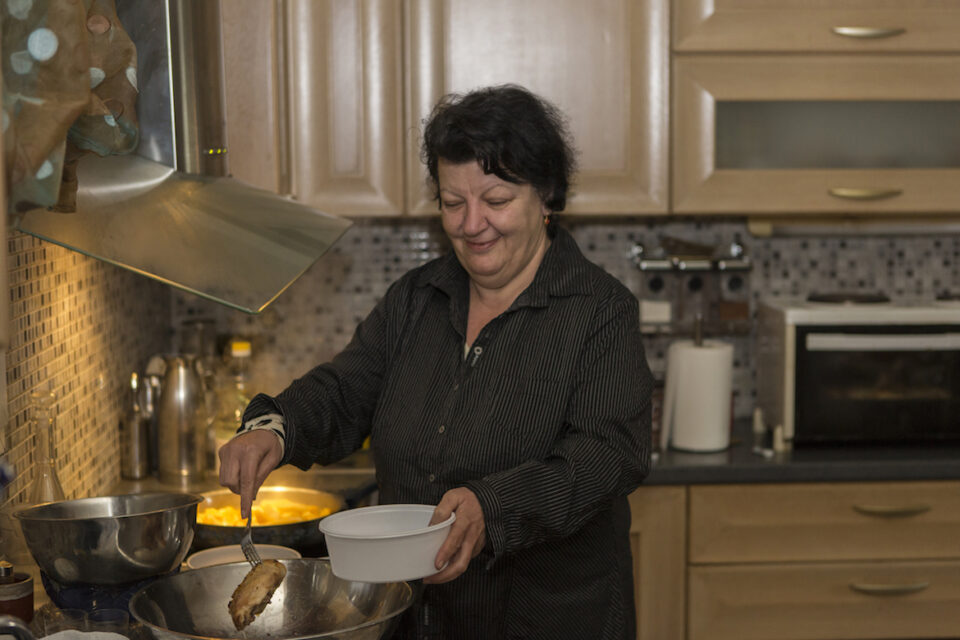 The daughter of refugees, Maria's family arrived on Samos from Cesme in Asia Minor in 1922. They fled due to Turkish President Kemal Ataturk's persecution of Greeks.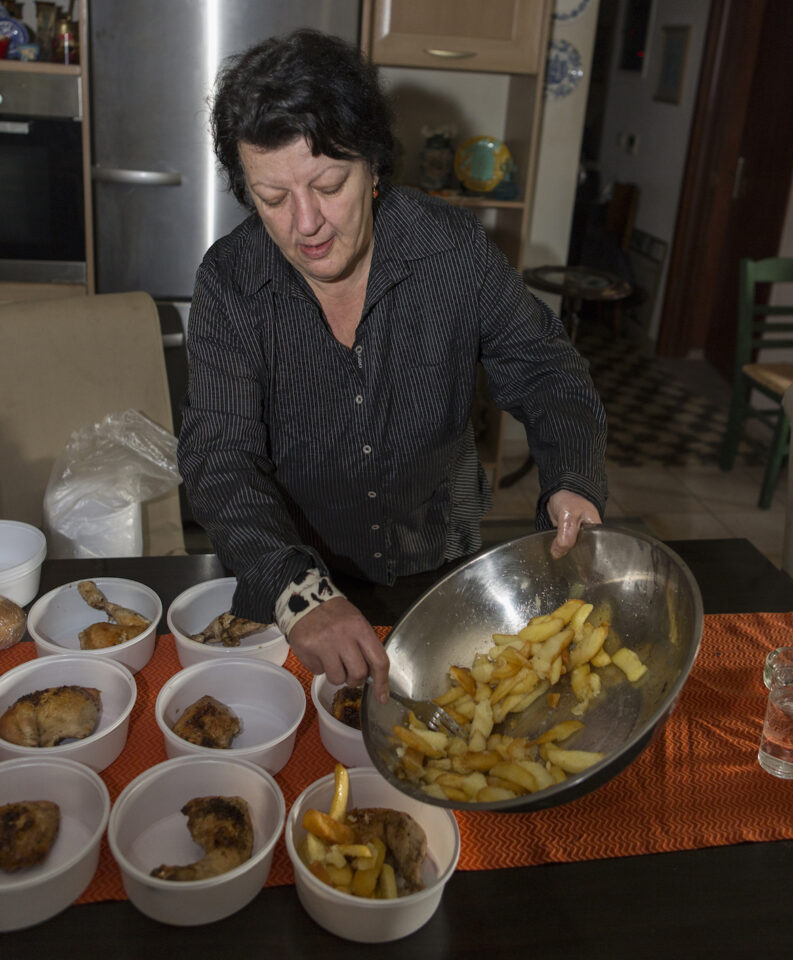 Many Samos locals disagreed with Maria and criticized her for helping refugees. This forced her to close her taverna when the neighborhood environment became unsafe for her and Michalis.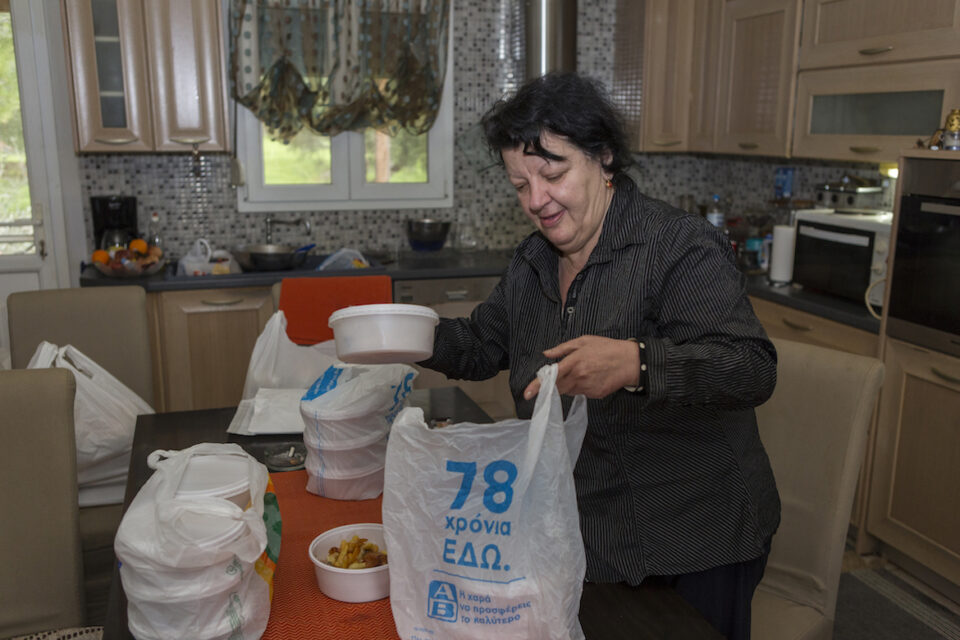 Maria no longer runs her famous taverna on the beach, but her acts of goodwill continue unabated — even after two strokes. She cooks dozens of meals at home and delivers them in plastic containers to the refugee camp where thousands of people still live.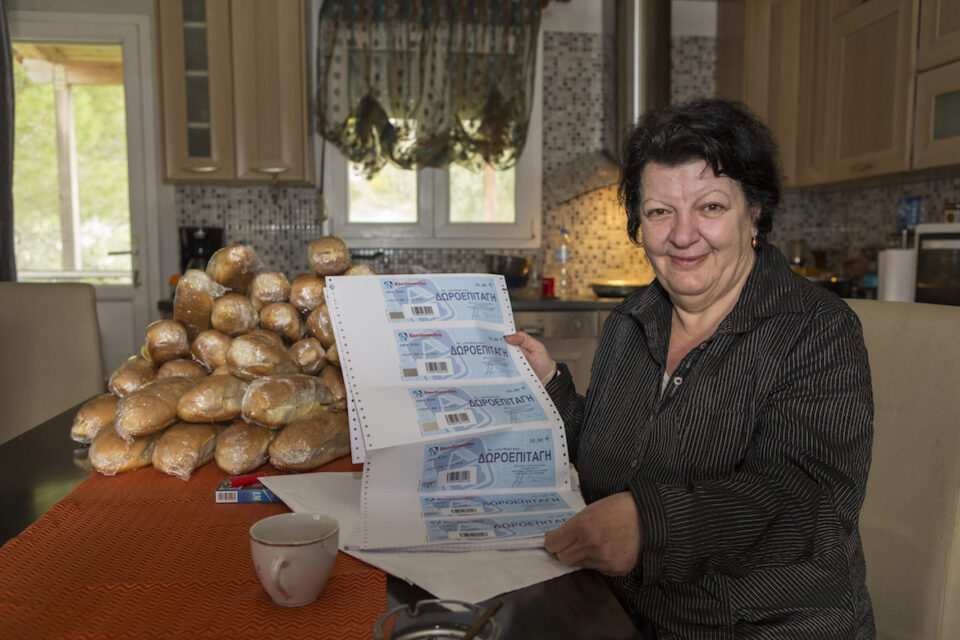 Thanks to previous donations from readers, The Pappas Post has supported Maria by providing her cash-value certificates at the local Vasilopoulos grocery store.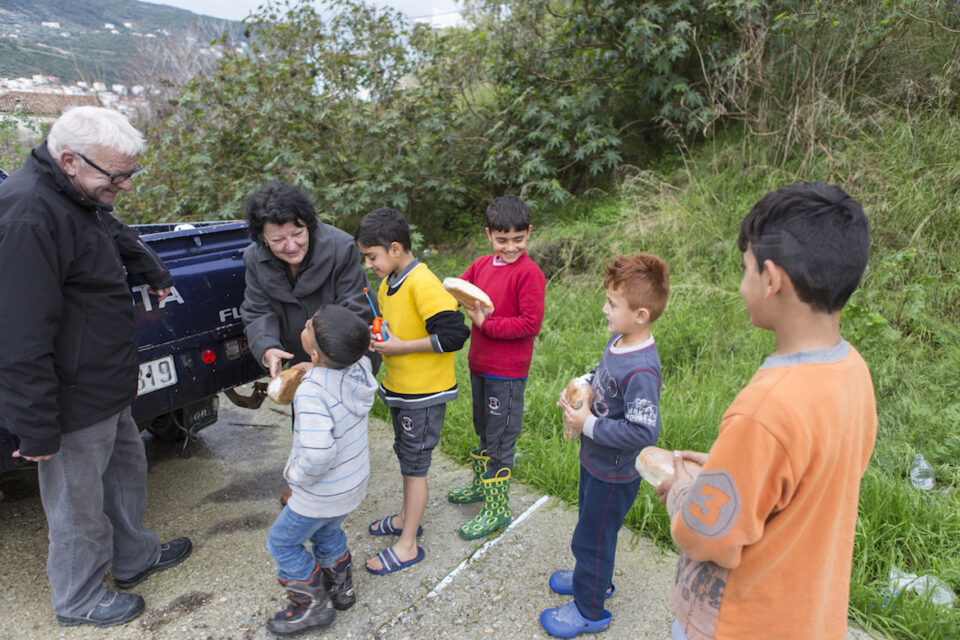 Sometimes there's a line out the door of her own home. Other times she and her husband park their truck load of prepared meals outside the nearby refugee camp.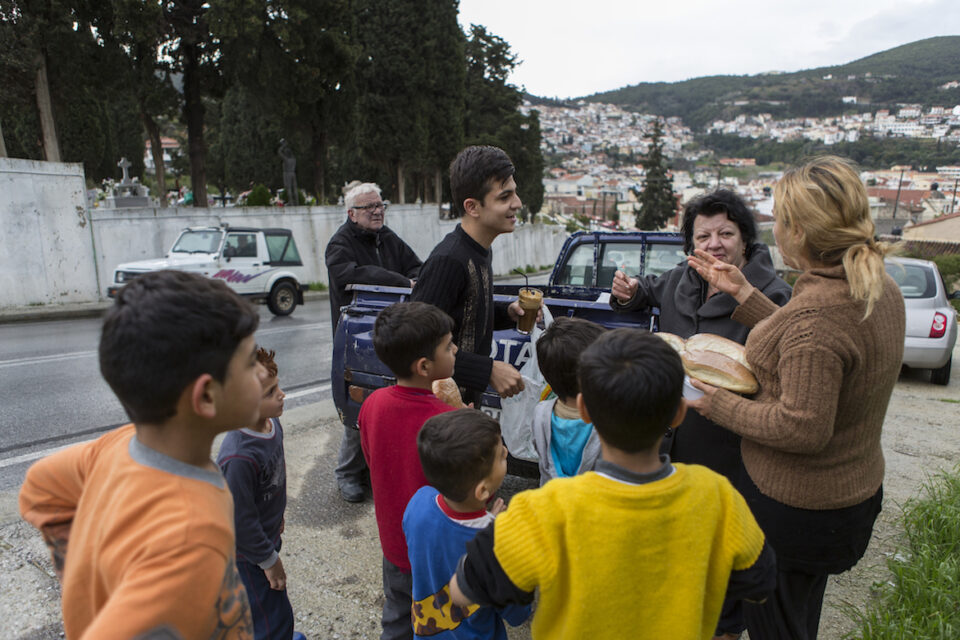 Maria does not speak Arabic, Farsi or any of the languages spoken by the refugees. But she has built personal connections with many of them.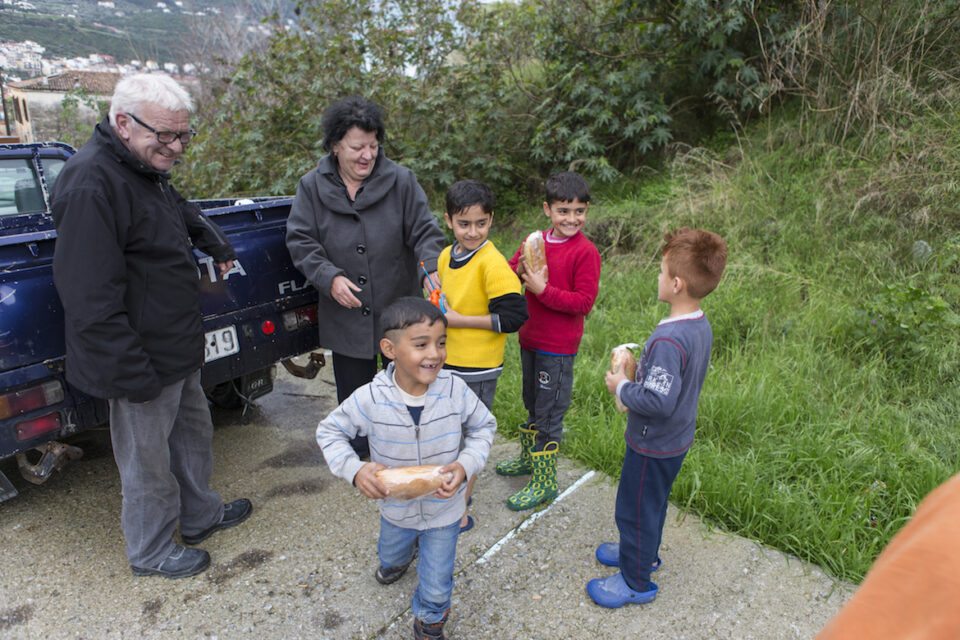 She earned the nickname "Mama Maria" after giving so many people, especially young kids, love and compassion that a mother would give.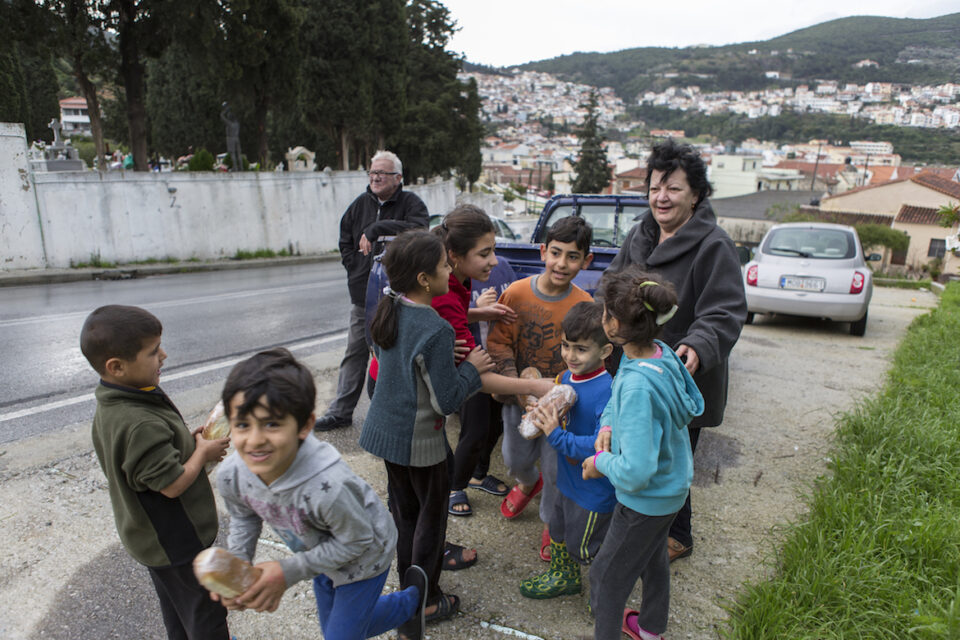 "When my mother came [to Samos] with her family, they were kicked and spit on. Locals — fellow Greeks and fellow Christians — called them 'tourkospori' (born from a Turkish seed) and weren't welcoming," Maria said. "The newspapers then were screaming against the Greeks arriving on the island from Asia Minor. I didn't want history to repeat itself."

"Hundreds of them, waiting for a decent meal," she said. "I don't know what they're serving these poor people inside but I know it's not good. One man showed me photos of maggots in their lentils. It was disgusting."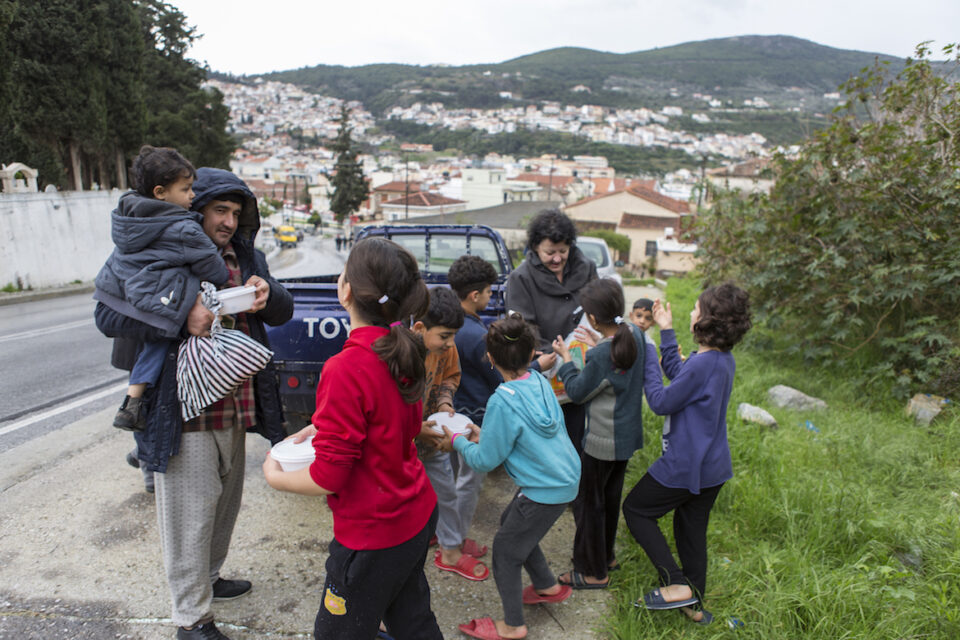 The refugee camp on Samos remains home to thousands of people waiting for asylum requests to be processed or to be moved to more permanent facilities.
Featured image credit: UNHCR/D. Anagnostou
---
Message from Gregory Pappas
I'm trying to build an army of supporters who will keep Maria cooking as long as she's physically able to do so.
I'm asking family, friends and readers of The Pappas Post who have been following Maria's story to help.
I've created a $10 payment per month campaign via PayPal. All you need to do is click the "Donate" button below to commit to helping Maria continue to cook and feed thousands of people.
For the cost of two fancy cups of coffee at Starbucks every month, you can help feed a dozen people. Even more.
You can also make a one-time donation if you prefer, but the monthly recurring payment model means Maria will have money for food on a regular basis.
How we help
Transparency remains key to our efforts to support Maria and the way we lend her that support is through the purchase of cash-value certificates at the local Vasilopoulos grocery store. We never give Maria cash. With these certificates, she can buy the food she needs from the grocery store.
Accountability is also important. If you're making a long-term, recurring commitment, then we owe you regular accountability. We have done this (and will continue to) via The Pappas Post and other media channels, including a collaboration with the BBC where we provided them with some of our original footage.
Sustainability is critical. We created the recurring payment model so that every month we can send Maria a set amount in certificates. We can easily pass a basket and you can decide to give a lump sum, if you like, but the monthly recurring payment model provides Maria with consistent money for food.
Please consider supporting a woman who embodies all of the good traits that we celebrate as Greeks.
Make a one-time donation (any amount)
Sign up for recurring donations ($10 monthly until you cancel)