Thousands of protesters marched Friday, November 17, 2017 to the U.S. Embassy in Athens to mark the anniversary of the 1973 crackdown by the military dictatorship on a student uprising.
As is often the case, the demonstration was peaceful but turned violent when masked anarchist youth attacked police officers with petrol bombs and rocks.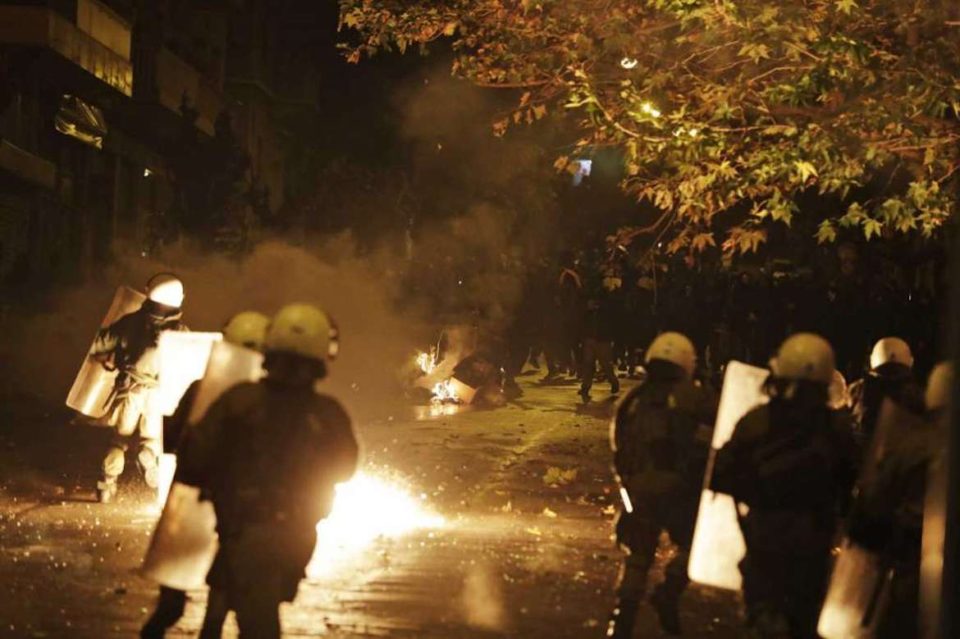 "We were here, remembering those who fought for our freedom against the dictatorship," said Maria Koromilaki, a Pappas Post reader who was sending regular updates along the way via email.
Koromilaki added that "the vast majority of people marching were peaceful. As always, it is a few masked anarchists who transform these demonstrations into a mess."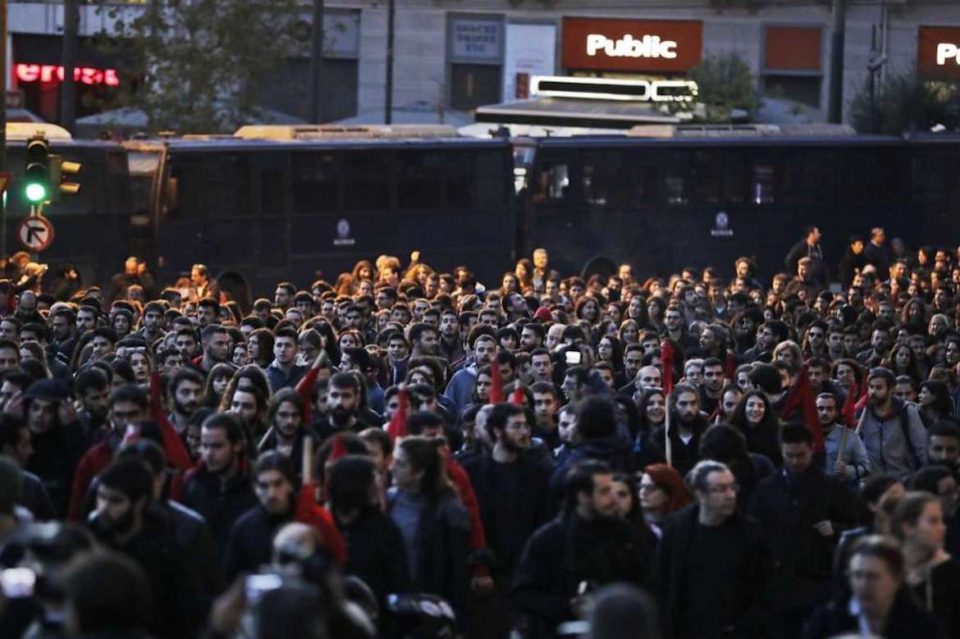 More than 5,000 police officers were on duty for the demonstration, which commemorates those who died in the violence that began after government tanks rammed through the gate of the Athens Polytechnic University on November 17, 1973.
The demonstration always begins at the gates of the Polytechnic, where the junta had sent a tank to crush the entrance gate as it cracked down on rebellious students holed up inside.
It is traditionally headed by protesters carrying a blood-stained Greek flag that was found at the polytechnic that night and ends at the U.S. Embassy.
The United States openly supported Greece's military dictators and even used CIA operatives to surprise the pro-democratic movement that was active leading up to the events of November 1973.
Demonstrations also turned violent in Thessaloniki, where numerous injuries were reported in local media.
*****
Since you're here… I have a small favor to ask.
More and more people than ever before are reading The Pappas Post and despite increasing costs to maintain the site and provide you with the quality content that you deserve, I will never "force" you to pay for our website or add a paywall.
I believe in the democracy of the internet and want to keep this site and its enriching content free for everyone.
But at the same time I'm asking those who frequent the site to chip in and help keep it both high quality— and free.
We've implemented a "free-will" annual subscription for those who want to support our efforts. I guess it's fair to call it a philotimo subscription… because you don't have to do it but it's really the right thing to do if you love the site and the content we publish.
So if you like The Pappas Post and want to help, please consider becoming a "philotimo subscriber".Click here to subscribe.
If you'd rather make a one time donation, we will gladly accept any amount, with appreciation. Click here to donate any amount.