This dish came about when Michael Psilakis and his team were looking for a Greek "hamburger" with the flavors of Cypriot cuisine. The recipe evolved from the more traditional Little Sausages. He highly recommends using a ring mold for the hamburgers, so that you can maintain consistency in their size, which aids in the cooking process. If you don't have a ring mold and have an extra plastic pint or quart container, like those delis use, you can make one with a pair of kitchen shears. Simply poke a hole about 2 inches from the top and cut around the container to form a ring. Just remember to work with the wider side of the makeshift ring mold down on a clean work surface, to allow for easy removal of the patty. This recipe is found in How to Roast a Lamb, a best-selling cookbook by Michael Psilakis.
Ingredients:
2 (1/4-inch-thick) slices Spanish or sweet onion
Blended oil (90 percent canola, 10 percent extra-virgin olive), as needed
Kosher salt and cracked black pepper
7 ounces ground lamb
3 ounces ground pork
1 tablespoon Dijon mustard
1/2 teaspoon ground coriander
1 tablespoon finely chopped parsley
1 tablespoon finely chopped dill
1 scallion, green part only, finely chopped
1 tablespoon Garlic Purée (page 264 of How to Roast a Lamb, optional)
1/2 teaspoon ground cumin
1/2 teaspoon ground fennel
About 2 ounces pork caul fat
2 kaiser rolls or sesame buns, or the roll or bread of your choice, brushed with olive oil and toasted
Htipiti (page 195 of How to Roast a Lamb) or lemon wedges and extra-virgin olive oil
Method:
Brush the onion slices with a little oil and season with kosher salt and pepper. On a hot grill pan or in a cast-iron skillet, grill until tender. Separate the onion into rings and chop fine.
In a bowl, combine the chopped grilled onion, lamb, pork, mustard, coriander, parsley, dill, scallion, and Garlic Purée. Season liberally with kosher salt and pepper. With clean hands, combine the mixture evenly and divide in half.
Place a 4- to 5-inch ring mold on a clean work surface (if one side is wider, place the wider side down). Lay a piece of caul fat over the top with a few inches overhanging all around.
Place half the lamb mixture in the center and press down to form a thick, flattened disk. Wrap the overhanging caul fat up and over the top, overlapping a bit but trimming off extra bits and pieces. Smooth the caul fat so that it is flat to the surface. Repeat to make the second burger, and place them on a piece of parchment. Cover with another piece of parchment and refrigerate for a couple of hours if not using immediately.
Preheat a charcoal or gas grill, ridged cast-iron grill pan, or cast-iron skillet, until hot. Brush the burgers lightly with olive oil and season with kosher salt and pepper. Place the side with the caul fat down first, grill, and turn over until firm and char-marked on both sides, to your desired doneness. Transfer to the bun of your choice and top with a spoonful of Htipiti (or drizzle with some lemon juice and extra-virgin olive oil). Serve with French Fries (optional).
* When you grill the onion for the burger mixture in the first step, grill two extra slices of onion. Leave whole and use to top the finished burgers.
* Instead of using the ground versions of coriander, cumin, and fennel, you can toast and grind your own. The "flavor will be far more complex. In a small, dry skillet, toast a pinch each of coriander, cumin, and fennel seeds. Cool and grind to a powder in a spice grinder.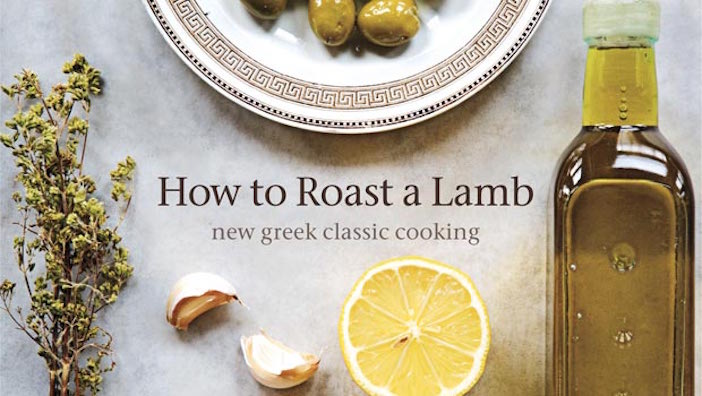 Get How to Roast a Lamb by Michael Psilakis by clicking this link.