Chef George Rallis, proprietor of William Hallet in Astoria shared a favorite pork dish that's perfect on any special occasion– especially the holidays when Greeks eat pork. The recipe he's shared has a distinct Greek hint to it– and is rich in family tradition.
"My mom use to make a similar dish during the holidays. She would take her spinach pie recipe and stuff it in a whole pork loin. She would have the butcher skewer it down the middle to create a hole where she would stuff the filling. I've taken her idea and gussied up the filling by adding more aromatics and the smoked feta cheese that we use at William Hallet for our Fried Smoked Feta Sticks, like mozzarella sticks but better."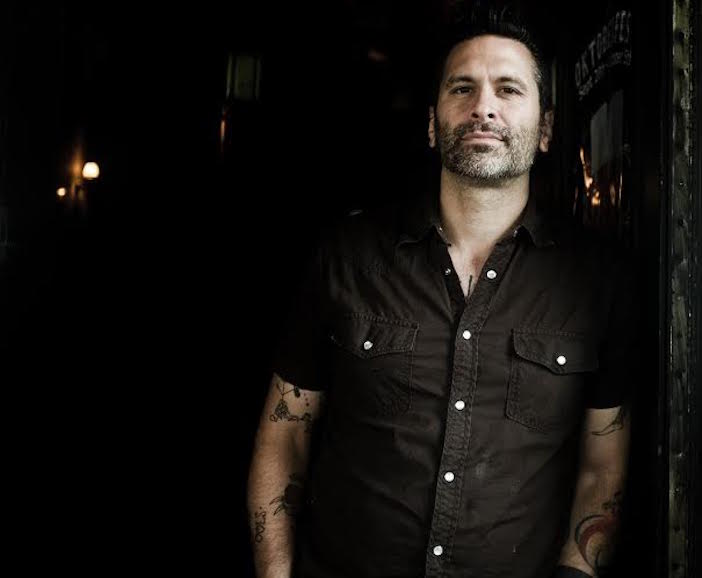 *William Hallet is located at 36-10 30th Ave in Astoria, NY, accessible from Manhattan on the N or Q trains and a short walk from the 30th Avenue station.
Smoked Feta & Spinach Pork Roulade With Roasted Purple Cauliflower and Fingerling Potatoes
4 to 5 pounds pork loin, Butterflied
(I do it myself but any butchers butterfly it for you. If you are in good with him he may even stuff, and tie it for you. Don't forget to tip him)
1 large head purple cauliflower
1 ½ pounds fingerling potatoes
Filling:
¾ lbs smoked feta (if you don't like smoked cheeses or have 20 minutes to smoke the feta, just use regular old feta. I like Dodoni Feta, creamier and not as salty)
3 lbs. spinach
2 celery stalks
1 large carrot
5 garlic cloves
1 large shallot
3 Tbsp fresh oregano (2 tsp of dry oregano, if you can't get your hands on fresh)
6 oz Extra Virgin Olive Oil
Salt & Pepper to taste
For Pork Loin
1. Cut of bottom of bunch of spinach and wash to remove any dirt
2. In large with 1 oz olive oil sauté spinach until slightly wilted and it has released a good amount of water.
3. Strain the spinach to remove excess water and set aside
4. Dice celery and carrots (small dice)
5. Slice the garlic, like Paulie does in Goodfellas when he's cooking the pasta sauce in jail. (do not chop, chopping releases essential oils and lessens the flavor)
6. Slice the shallots, again do not dice, like you would for a salad
7. Take 5 oz of the olive oil. I'm partial to my uncle's olive oil from the island of Hios, it's like liquid gold.
8. Toss in your carrots, celery, onions and garlic and sauté them until the shallots are translucent
9. Add the spinach and continue to sauté until the spinach is almost melted. Make sure not to burn the remaining ingredients, so keep an eye on the heat.
10. Add smoked feta (recipe on how to smoke feta to follow)
11. Mix to incorporate and adjust seasoning
12. Spread filling across ¾ of the butterflied loin, leaving the last ¼ uncovered, because as you roll it the filling will spread.
13. Tie the pork to keep it from unrolling
14. Throw it in 400 degree oven for half hour, check temperature.( I personally like my pork medium to med well. Contrary to popular belief you don't have to eat pork well done) It's done when temperature of meat is at 165
15. Let meat rest for 5 to 7 minutes then slice and serve
Cauliflower and Fingerling Potatoes
1. Clean and cut cauliflower into large florets
2. Slice potatoes in half
3. Toss both the cauliflower and potatoes in olive oil, salt and pepper
4. Place on sheet pan and place in 500 degree oven
5. Cook until potatoes are fork tender, approximately 20 minutes
6. Serve
Smoked feta
1. Slice feta cheese into 1 in slabs
2. Place soaked whiskey barrel chips into smoker. (for home use I would check out Camerons stovetop smoker)
3. Get chips smoking
4. Cover rack with aluminum foil and poke holes in it to allow smoke to pass through. Spacing on rack may be too far apart and cheese will fall apart and fall into chips
5. Place feta onto rack, and place in smoker
6. Smoke for 20 minutes at a medium heat.
7. While still hot add to spinach mixture and mix it. The cheese should blend
in smoothly
8. Now you are ready to roll