The Ribs King died December 3, 2011. Long live the memory of Ted Gregory. For more than 50 years he nourished millions of Greater Cincinnatians with his barbecued ribs, his wisecracks and his generosity— and in the process, built a nationwide ribs empire that stretched the coasts and even fed three American Presidents.
The founder and driving force of the internationally known Montgomery Inn and son of Greek immigrants built his restaurant empire on mountains of ribs— over 14 tons were being sold every week at the time of his death and 500,000 gallons of his signature famous barbecue sauce.
Gregory was full of goodwill and irreverent humor. During the summer's notorious heat waves, he would buy more than 1,000 fans and give them away to the city's poor. Always quick with a funny quip, usually told at his own expense, he once was asked about his favorite films: "I've only seen two movies in the last 20 years… Deep Throat. Twice!"
His sense of humor, his trademark cigars and a fondness for wearing a crown as the Ribs King made him one of the city's few, true happy-go-lucky, good-hearted characters. "You run out of words for Ted Gregory," said Cincinnati Mayor Charlie Luken at the time of his death.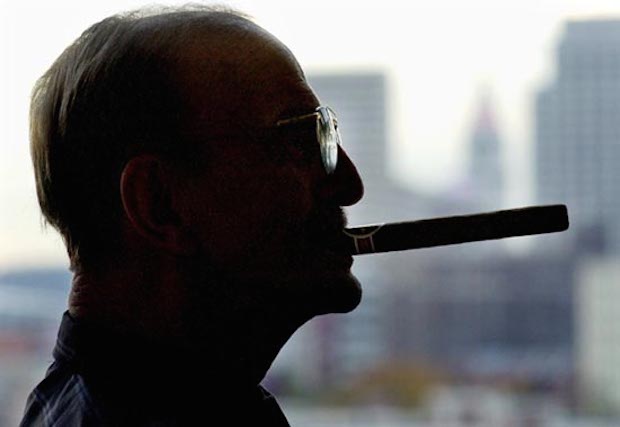 "No one should cry because my dad is gone," said his younger son, Dean Gregory. Like his siblings — Tom Gregory, Vickie Gregory Siegel and Terry Andrews — and their spouses, he works in the family business, carrying on their father's legacy.
"He lived life to the fullest," Dean Gregory added.
"His motto was: "Always leave 'em laughing.' "
Born in Windsor, Ontario, Ted Gregory grew up "a poor kid" in Detroit.
About his father's work ethic, Dean recalls, "Both sets of my grandparents were Greek immigrants who came to this country in the early 1900's. They didn't have formal educations and couldn't speak English but if you worked hard you could get a job in a restaurant. My parents more or less followed them into the business."
He never ceased to marvel at his success. As the Montgomery Inn prepared to celebrate its 50th anniversary Nov. 1, Ted Gregory recalled, in what would be his last interview, how his Greek immigrant parents ran a small restaurant and "went broke during the Depression."
He wound up having three former Presidents of the United States — Gerald Ford, Ronald Reagan and George Bush — call him by his first name. And he became the best of friends with another son of immigrants, Bob Hope. The 98-year-old comedian received weekly deliveries of Montgomery Inn ribs to his home in Palm Springs, California for years. The comic and the King met in 1976.
"Bob was in town that year with a bunch of country club types," Ted said in his final interview. "They were too tight to spring for his dinner. So they called and asked if I wanted to meet him and, could they bring him over to the Montgomery Inn. They knew I'd treat. I'm like that. I'm a giver."
Ted Gregory gave generously to his favorite charities: St. Rita School for the Deaf, Bob Hope House, the FreeStore, Sycamore High School, Riding for the Handicapped. But he never wanted anyone to know about it.
"He'd give thousands of birds — turkeys and chickens — to the FreeStore on Thanksgiving and Christmas," Dean Gregory said. "But he kept it quiet. He always taught us kids: "We've been really lucky. Give something back to the community. But don't do it for PR. Do it because it's in your heart.' "
His generosity extended to his customers as well as his employees. Many was the time he sent over free desserts to a table of diners who had obviously scrimped and saved to eat at his restaurant.
Zachary Green of Wyoming worked as a bus boy at the Montgomery Inn at the Boathouse. He remembered the Ribs King regularly dropping by to reward hard-working employees with a crisp $20 bill. Early one day, he gave Zachary a twenty. At the end of the day, when the King was leaving, he saw the bus boy again and tried to give him a second twenty.
"When I told him he had already given me one, he paused and said, "An honest man. Here, take a few more for your honesty.'"
Ted Gregory attributed his good fortune to a trip he made to Cincinnati in 1950. He came to town at the urging of a pool-playing pal from Detroit. The friend, Ted recalled, had "four blonde Greek nieces in Cincinnati. I figured I'd go see them and then head across the river to visit some chorines in Newport, which was then, Sin City."
He met one of those blondes, Matula Kalomeres. And he wound up finding a wife for life and founding an empire. Ted and Matula opened the original Montgomery Inn in the heart of Montgomery on Nov. 1, 1951. They started serving ribs and sauce — from Matula's still-secret family recipe — in 1959.
"Matula is my whole life," he said in a 1989 interview. "If I ever lost her, I'd be a lost ball in the weeds."
On the last Sunday of his life, just hours after losing her husband of 51 years at the Hospice of Cincinnati in Blue Ash, Matula Gregory — the woman he lovingly called "Mat" — said she hoped "people would remember Ted for his friendliness and his little smile."
That smile and Ted Gregory's profile are part of the Montgomery Inn's logo. They will remain, even though he's gone.
The King turned the Montgomery Inn into a business empire — including three restaurants and a banquet center — that ranks with the Colonel's as an American success story. Two of the Ribs King's palaces, the Montgomery Inn at the Boathouse and the original inn, regularly place among the country's top 100 independent restaurants.
In rankings compiled by Restaurants & Institutions magazine, the Boathouse, opened in 1989, stands at No. 20 with $12.5 million in annual sales from 800,000 customers. The original inn occupies No. 47 on yearly sales of $10.4 million and 580,000 diners.
"Ted Gregory is a person who personified making the American dream come true to have a restaurant empire that he has," said chef and restaurateur Paul Sturkey.
Ted Gregory's vision of his empire saw the Boathouse as his "last hurrah." When he decided to open a Montgomery Inn on Cincinnati's riverfront, he met with total opposition from his family.
"We took a vote," he said during his last interview, in the 12th-floor Adams Landing penthouse he shared with Matula.
"They voted 9 to 1 not to come downtown."
He cast the lone "yes" vote.
"They were out-voted by their democratic father," he said.
"I had already signed the lease. I told them: "We're going downtown. Business will be phenomenal.' "
History proved the Ribs King right.
"And I was always only too happy to tell them:
" "I told you so.' "
Ted Gregory puffed on his ever-present cigar and chuckled over his victory.
Reflecting on 50 years of triumphs, he said, "what a wonderful life I've had.
"I've lived like a king."