The following recipe and story come from our reader Tammy. She has shared a rice pudding recipe which she adapted from the cookbook titled "It's Greek to Me" by the Daughters of Penelope Mendon Chapter in Marlboro, Massachussets.
---
This cookbook and another were given to me in 1998 when my husband and I got engaged. Having not been raised in a Greek family, Greek food and cooking especially was very new — and intimidating — to me back then!
Over the last 20+ years I have learned to love and do well with quite a few Greek foods including various breads, pitas, traditional foods such as youvetsi, kritharaki, soutzoukakia, avgolemeno, desserts and cookies – kourabiethes, pasta flora, rizogalo and the many salads (my favorites!) of course — pantzaria, tzatziki, horta of course, but also various lentil, fennel, chickpea, bean and tomato/onion based salads; using lots of olive oil (Greek of course!) and fresh/dry herbs.
Having now been part of Greek family longer than not (and now more than half my life!), I love Greek food/cooking and exploring new challenges to ensure my family are able to enjoy and appreciate the incredible foods of their heritage.
These local, church based cookbooks have been a godsend as they often include specifics on methodology which is really helpful. Between these books and my mother-in-law, who is an amazing cook, I've done pretty well. Other favorites include Diane Kochilas' books, too. And my most recent addition, Nicholas Tselementes' Greek Cookery. I particularly love the older cookbooks.
Below please find the rizogalo recipe we very much enjoy — lovingly adapted by this non-Greek — and very well-received by my husband and children, as well as non-Greek neighbors.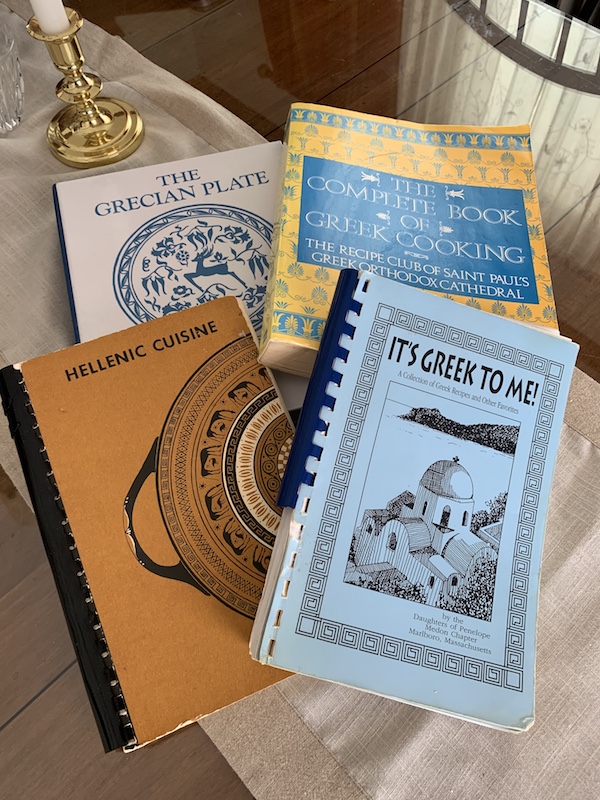 Rice Pudding (Rizogalo)
** NOTE: This recipe can be made vegan-friendly by removing eggs and replacing the milk with a vegan milk — e.g. almond milk, coconut milk, etc.
Ingredients
1/2 cup long grain white rice (we use Carolina Rice)
1 cup water
2 cups 2% milk; slightly warmed (original recipe calls for whole milk)
1 small cinnamon stick (optional)
1/4 tsp salt
1/2 cup sugar
1 egg
2 tsp vanilla extract
1 tsp cornstarch
Ground cinnamon for dusting, optional
Instructions
Boil rice until water is absorbed; be careful not to scorch.
Add 2 cups 2% milk, slightly warmed. Add 1 cinnamon stick.
Simmer about 30 minutes. Stir often to avoid sticking to pot. Mixture will thicken; rice fluffy/soft.
Whisk together in a bowl: 1/2 Cup Sugar, 1 egg, 2 tsp Vanilla and 1 tsp cornstarch.
Whisk one cup of rice/milk mixture into the sugar mixture. Mix well.
Slowly stir the sugar mixture into the larger pot of rice/milk. Blend well.
Remove cinnamon stick, if using. Add salt.
Continue to simmer over low heat. Stir frequently to avoid scorching bottom of pot.
When consistency is thick, pour into small sized ramekins or custard cups and cool. This small batch version will fill approximately five 5-ounce custard cups.
Dust lightly with cinnamon.
May cover and refrigerate when cool.
---
Is The Pappas Post worth $5 a month for all of the content you read? On any given month, we publish dozens of articles that educate, inform, entertain, inspire and enrich thousands who read The Pappas Post. I'm asking those who frequent the site to chip in and help keep the quality of our content high — and free. Click here and start your monthly or annual support today. If you choose to pay (a) $5/month or more or (b) $50/year or more then you will be able to browse our site completely ad-free!

Click here if you would like to subscribe to The Pappas Post Weekly News Update