Run through and immerse yourself in ancient and medieval history on the legendary island of Rhodes, in Greece's Dodecanese island group. Officially approved and sanctioned by Segas, Greece's athletic governing body, the new Rhodes Marathon is certain to become one of the world's most alluring races. The inaugural Rhodes Marathon will take place on October 12, 2014.
The Rhodes Marathon is the brain child of a Greek American from Pittsburgh and an American whose wife is from Chios. "The marathon race will raise the island's presence internationally, stated George Zaras,, whose mother is from Rhodes. Sparked by the Greek financial crisis, Zaras wanted to create something special for his ancestral island that would help the local economy and simultaneously share his own love for the island, its cuisine, history and culture with the world.
Co-founder Wayne Kurtz, a well-known speaker, author and race organizer only knew the Greek island of Chios prior to hatching the idea with Zaras, but quickly fell in love with the island.
Aided by a team of people on the ground, led by Marietta Papavasiliou, the regional coordinator, the locals were organized and supported the efforts from the beginning, according to Zaras and Kurtz.
As one of the top tourist destinations in Europe, runners will see the island where the famous Colossus of Rhodes, one of the Seven Wonders of the Ancient World once stood, and run through the medieval Old Town, which has been declared a World Heritage Site.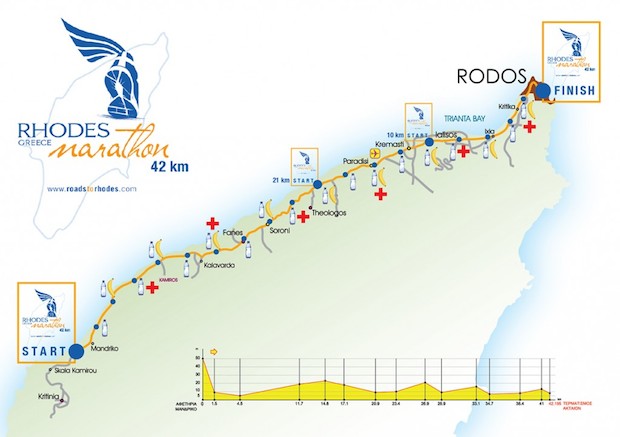 The race route will traverse the western coastal part of the island and will end in the center of the main town. Along the route, runners will experience spectacular views of the blue Aegean Sea.
There will be simultaneous 21 kilometer and 10 kilometer races, as well.
Registration details are available at the Road to Rhodes official marathon website, including opportunities to join locals and tourists alike in various volunteer capacities. The committee has been quick to tap the power of social media for their international marketing efforts with a Twitter and Facebook page.