The year was 1957 and a coffee salesman named Dimitris Vakondios was setting up the Nestle booth at the Thessaloniki International Trade Fair.
One of Nestle's biggest-selling products was its instant coffee that was — up to then — made with boiling hot water.
(For our American readers who grew up in the 1950s-60s or even the 1970s, this was akin to "Sanka" instant coffee that was prevalent in the United States at the time).
Vakondios was unable to find hot water to make his daily cup of coffee while setting up the Nestle booth at the trade fair.
At the time, the company was in the process of marketing a new chocolate milk drink for kids that required a shaker. He spotted one and experimented with his Nescafe Classic — and some cold water.
And the rest, as they say, is history.
Today, many will argue that the Frappe has replaced "traditional Greek coffee" as the national coffee drink of Greece.
While methodology and sweetness differs, depending upon personal taste — some use a milkshake blender, others a small, hand-held mixer and others insist on shaking in a shaker — the fact remains that if you're not using real, authentic, Greek Nescafe Classic coffee, it just isn't the same.
That being said, today several coffee companies have created their own forms of powdered instant coffee that make tasty, frothy frappe, including a family owned-company from the Peloponnese named Nektar (Buy your Nektar Frappe Instant Coffee powder here).
Make your own authentic Frappe (ingredients, materials below)
What you need:
Nescafe Classic (from Greece)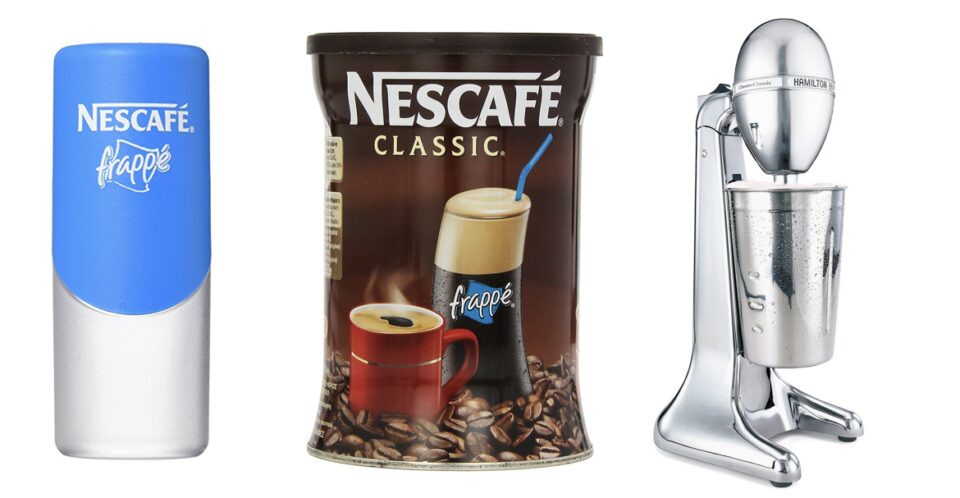 ---
Is The Pappas Post worth $5 a month for all of the content you read? On any given month, we publish dozens of articles that educate, inform, entertain, inspire and enrich thousands who read The Pappas Post. I'm asking those who frequent the site to chip in and help keep the quality of our content high — and free. Click here and start your monthly or annual support today. If you choose to pay (a) $5/month or more or (b) $50/year or more then you will be able to browse our site completely ad-free!

Click here if you would like to subscribe to The Pappas Post Weekly News Update