When Despina Flouras Anastasopoulos arrived at Athens airport to board her SkyGreece flight for JFK in New York City early on Tuesday morning, the word "cancelled" on the monitor should have been a warning that there would be problems. She was there— pregnant, with her husband and three sons, ready to fly home after their vacation in Greece.
After an hours-long wait for someone from the Canadian-based startup airline to arrive, representatives from Goldair Handling, the airline servicing agency at Athens Airport showed up and assisted the passengers with hotel accommodations across the street at the Sofitel Athens Airport.
Employees from SkyGreece were nowhere to be found. And countless attempts to phone the company's Athens office went unanswered.
More than a day later, dozens of stranded passengers turned to social media to vent their frustration and Despina reached out to one of the founders, Fr. Nicholas Alexandris, via Facebook messenger. The priest respond, telling Despina that he resigned from the board two weeks ago and offered the phone number of the "main shareholder" and "president" Mr. Ken Stathakis.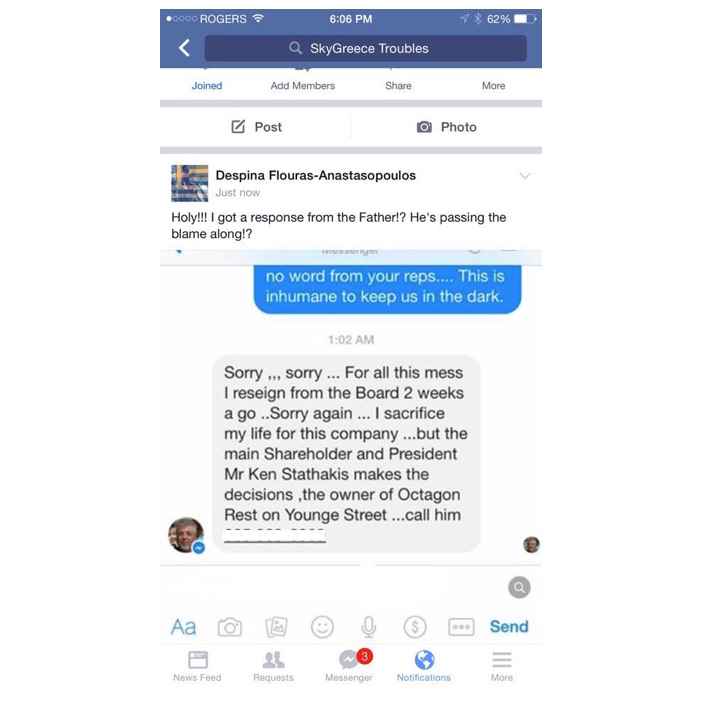 *We covered the number but according to Despina, who called to check in with Mr. Stathakis, an employee of the Octagon Restaurant answered and said that the owner, Mr. Stathakis, was not in.
And despite claiming to have resigned from the board, Fr. Alexandris' Facebook status was updated yesterday with an announcement in Greece about the flight– announcing to his followers updated flight schedules and flight arrival and departure times.