The Pappas Post has recently embarked on a fundraising endeavor to "support those supporting the refugees." There are dozens of people and organizations throughout Greece who, although facing their own financial and economic stress, are involved in superhuman endeavors to help those arriving in Greece en route to other European countries. Concurrently, we will share these stories of these people and organizations. Please consider sharing and/or supporting this campaign. Click here to donate and see the campaign details.
Limnos hasn't been in the headlines as much as neighboring Greek Islands so when refugees land here, it makes the news and the news travels throughout the island fast.
Early in the morning of September 21st, news of a group of Syrian refugees arriving on the island spread like wildfire, reaching a Greek Air Force official named Thanasis Fanariotis who mobilized the military base to bring bread and water.
Eventually the news reached a 33-year-old shepherd named Nasos Karagiannakis.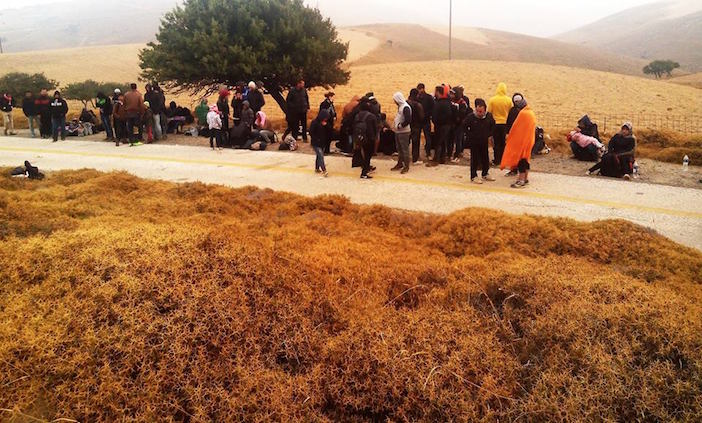 The refugees— amongst them several children— landed near the Mourtzouflos Peninsula in the northwest of the island and were making their way on the road, heading towards the capital to complete the necessary registration, as required by all incoming refugees.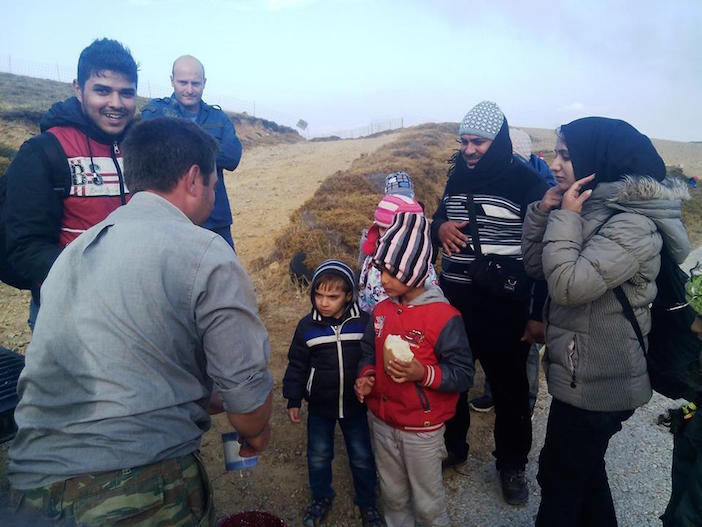 Karagiannakis only knew a few words in English but was able to communicate with one of the leaders of the group. The refugees were scared and hungry and many of the children were crying constantly, he told the daily Greek newspaper Ethnos in an interview.
He left the refugees and headed to his farm and started milking his goats, filling buckets of fresh milk and returning over an hour later to offer the refugee children some nourishment.
Karagiannakis told Ethnos that "we weren't able to communicate because I only spoke Greek and they spoke Arabic, but I could see the hunger, pain and suffering in their eyes."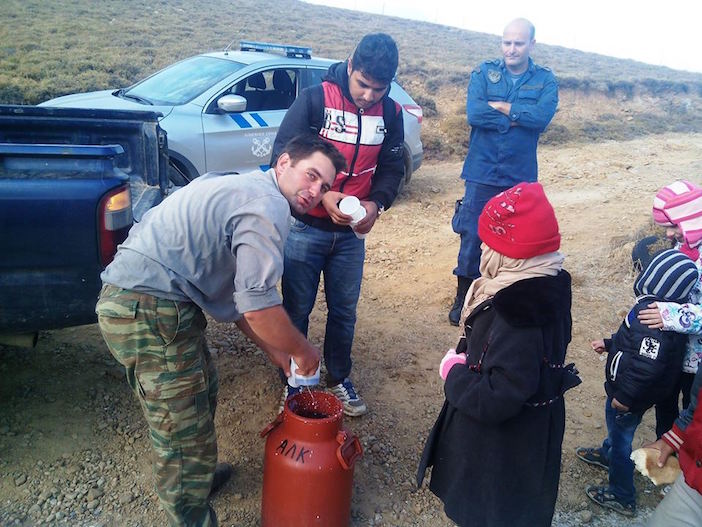 He added: "There are people here, Greeks, fellow villagers of mine who are saying bad things about the arriving refugees. It may have even passed through my mind, as well. But if these people would have seen these people's eyes, they would change their mind in a minute. We need to help— any way we can. It's imperative that we help these people."